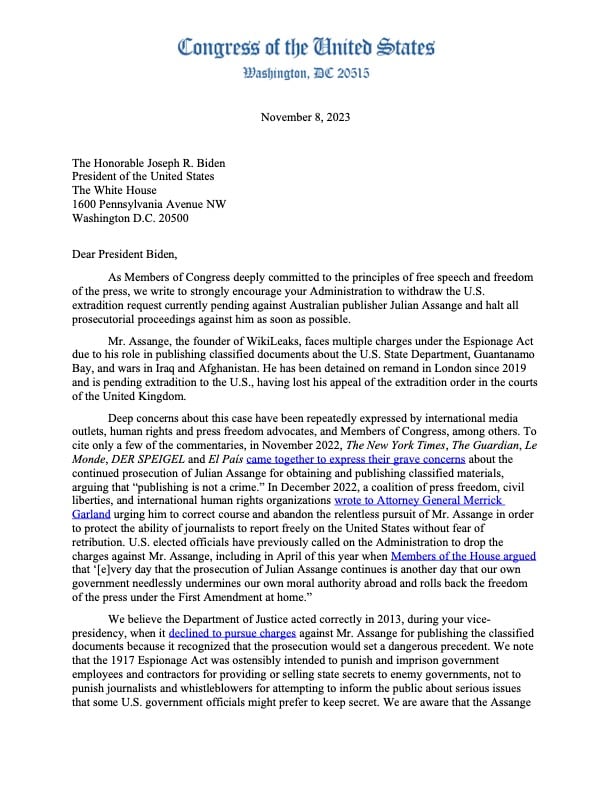 Send an urgent message to Canadian legislators urging them to stop more online censorship laws
If you're tired of censorship and dystopian threats against civil liberties, subscribe to Reclaim The Net
(Reclaim The Net) — Marjorie Taylor Greene, a Republican, and Alexandria Ocasio-Cortez, a Democrat, have established an alliance in their mutual objective to liberate the Australian founder of WikiLeaks, journalist Julian Assange.
Together with 14 other U.S. Congress members, this unlikely duo has penned a candid letter to President Joe Biden, appealing for an immediate halt to the U.S.'s extradition and prosecution plans against Assange. The collective voice warns of potential harm to U.S.-Australia bilateral relations if Assange's prosecution continues.
READ: Tucker Carlson visits Julian Assange in London prison
The letter has been signed by Reps. Alexandria Ocasio-Cortez (D-NY), Jamaal Bowman (D-NY), Ayanna Pressley (D-MA), Greg Casar (D-TX), Ilhan Omar (D-MN), Cori Bush (D-MO), Rashida Tlaib (D-MI), Eric Burlison (R-MO), Marjorie Taylor Greene (R-GA), Paul Gosar (R-AZ), Jesús "Chuy" García (D-IL), Pramila Jayapal (D-WA), Matthew Rosendale (R-MT), and Sen. Rand Paul (R-KY).
The open letter to the president emphatically states that "it is the duty of journalists to seek out sources, including documentary evidence, in order to report to the public on the activities of the government." The group further cautions that such a frivolous prosecution could potentially criminalize standard journalistic practices, thereby suppressing the workings of a free press. The collective plea demands that this case be concluded in the shortest possible time frame.
READ: Trump says he'd consider Tucker Carlson for VP
Assange remains confined in Belmarsh prison in London, where he is resisting the U.S.'s extradition efforts intended to charge him under the Espionage Act, among other charges. This is in response to the publication of hundreds of thousands of confidential documents related to the wars in Afghanistan and Iraq.
Republished with permission from Reclaim The Net.
Send an urgent message to Canadian legislators urging them to stop more online censorship laws