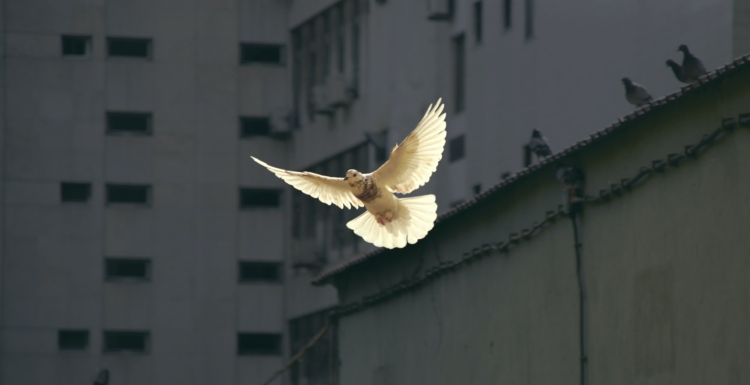 Peace.  It is not being in a place where there is no noise, trouble, or challenge. It is our ability to be in the midst of these things and still be calm in our heart. This is a saying on a magnet that has been on my fridge for about thirty years. It is something I must remind myself of quite often these days.
Today, we face many things that attempt to destroy our peace.  Wars, rumors of wars, exorbitant gas prices, skyrocketing living costs, food shortages, and daily battles concerning our freedom.  All these things demand our attention and attempt to annihilate our peace.
The peace the Bible talks about is not a mental attitude, it is something that comes from deep within.  It is based on a consistent relationship with God.  It is a response to His grace and faithfulness.
Peace, God's peace, is available to all of us. Sadly, we do not all pursue peace on purpose.  As believers, we know that when we need healing, we must pursue healing. We dig out scriptures that affirm our belief in the healing power of God. We confess those scriptures over our bodies daily and stand firm in faith until healing manifests.
It is the same with prosperity.  When we are convinced God wants to bless His people, we pursue that blessing. We dig out scriptures that give validity to this belief. We create prayer boards. We confess God's Word over our finances and our debts, and we stand firm in faith until we see His blessings come into our life.
There is nothing wrong with either of these responses. In the same way, I believe we should pursue peace.
Many believe we can't possibly have peace in the chaos in our world today. But that is not what the Bible says. Jesus said, "Peace I leave with you, My peace I give to you; not as the world gives do I give to you. Let not your heart be troubled, neither let it be afraid" (Jn 14:27, NKJV.)
Unexpected and prolonged difficulties such as what we have faced in the last two years can evoke fear and anxiety. People have felt overwhelmed as everything around us appears to be out of our control. Beyond what is going on in the world, many are facing personal challenges such as job loss, grief, sadness, fear, and confusion. It is in times like these that we must pursue peace on purpose and attempt to remove all negative emotions that will affect our physical and emotional health.
Proverbs 14:30 says, "A heart at peace gives life to the body."
The aftermath of the COVID pandemic, impending war, and the chaos we have walked through in the past months, have significantly impacted us, both mentally and physically. Stress is at an all-time high. The future seems murky and uncertain for those who have endured the loss of loved ones, and jobs. Trauma is prevalent across the world and its long-term effects can have devastating consequences.
We must pursue peace on purpose.
If we do not, we will deal with the residual effects of the stress of this season for years to come. According to recent surveys, mental health issues and substance abuse are up 30% since 2019. Four out of ten people report they are dealing with anxiety and depression disorders since the Covid pandemic.
The enemy is working daily to steal the peace that Jesus left us. Why? Because he understands God's peace is a bomb that explodes all his plans. His tactics are all fear-based. His plan is for you to believe him and repeat his lies, instead of God's Word.  If we choose to believe him over what the Word of God says, he's got us.  However, we must choose to remain in peace, ultimately trusting in God and His Word. When we do that, we destroy the enemy's plans.
The Strong's Concordance describes peace as "the tranquil state of a soul assured of what Jesus purchased at the Cross, and one who fears nothing that is to come." Oh! That we could all walk in this kind of peace. The Bible tells us in Hebrews 12:14 to pursue peace. The word pursue means to run swiftly after to catch it.  In other words, we must go after peace until we attain it. Peace is a commodity that, in this current atmosphere, is priceless.  We must go after it.
How do we do that? John F. Kennedy once said, "Peace is a daily, a weekly, a monthly process, gradually changing opinions, slowly eroding old barriers, quietly building new structures. And however undramatic the pursuit of peace, that pursuit must go on."
We must dig into the Word of God concerning peace. We must daily tear down old, negative, fearful mindsets and build new, strong, peace-ruled structures by confessing His promises of peace over our lives.  It won't happen in a day – but it will happen if we pursue it. Peace remains a free gift from God, but it is up to us to walk in it. Our very lives depend on it, both physically and mentally.
My prayer for you today is this, "May the God of your hope so fill you with all joy and peace in believing that by the power of the Holy Spirit you may abound and be overflowing, bubbling over, with hope" (Rom 15:13, NKJV.)
Peace is a Gift We Must Receive
Peace I leave with you, My peace I give to you; not as the world gives do I give to you. Let not your heart be troubled, neither let it be afraid (John 14:27, NKJV.)
God, we thank You for the peace that Jesus gave us.  Today, we receive that peace in fulness.  Help us to walk in it daily.  We say, according to Your word, we will not let our heart be troubled and we refuse fear, in Jesus' name.
Peace is a Fruit of the Spirit
But the fruit of the Spirit is love, joy, peace, longsuffering, kindness, goodness, faithfulness, gentleness, self-control. Against such there is no law (Gal 5:22-23, NKJV.)
God, I thank You that peace, Your peace, is a fruit of the Spirit that is available to me.  Today, I choose peace.  I ask You to develop the fruit of peace in me fully.  Grant me the grace to choose peace in every situation. This I ask in Jesus' name.  Amen.
Peace Is a Result of the Right Focus
You will keep him in perfect peace, whose mind is stayed on You, because he trusts in You (Is 26:3, NKJV.)
Father, Your Word says I will remain in PERFECT peace as I keep my mind and my thoughts upon You and Your Word.  Today, I purpose in my heart to keep my eyes, my mind and all my thoughts upon You and Your Word.  In doing so, the peace of God that passes understanding will be mine.  I thank You that I walk in that peace, this day, and every day of my life.  In Jesus' name.  Amen.
Peace Must Be Pursued
Depart from evil and do good; seek, inquire for, and crave peace and pursue (go after) it! (Ps 34:14, Amp.)
God, I deeply desire peace in my life.  I crave it.  Today, I ask You for peace.  I ask You to show me exactly how to pursue and attain a lasting peace that cannot be disturbed.  I believe I receive that peace, this day, in Jesus' name.  Amen.
Let Peace Rule Our Hearts
And let the peace (soul harmony which comes) from Christ rule (act as umpire continually) in your hearts [deciding and settling with finality all questions that arise in your minds, in that peaceful state] to which as [members of Christ's] one body you were also called [to live]. And be thankful (appreciative), [giving praise to God always] (Col 3:15, Amp.)
Father, today, we choose to let the peace, the soul harmony, which only comes from Jesus Christ, rule in our heart.  His peace in us will lead us and guide us at all times.  I choose to stay in a peaceful state, as You instruct me to.  Today, I give You praise for Your peace in me.  In Jesus' name.  Amen.
God, Himself, Grants Us Peace
Now may the Lord of peace Himself give you peace always in every way. The Lord be with you all (2 Thess. 3:16, NKJV.)
According to Your Word, God, You have granted me peace.  A peace that rules my life always and in every single situation.  You are with me.  Therefore, peace is with me.  Thank you for this, in Jesus' name. Amen.
His Peace Overcomes All
These things I have spoken to you, that in Me you may have peace. In the world you will have tribulation; but be of good cheer, I have overcome the world (Jo 16:33, NKJV.)
Jesus, we thank You for the peace we have in You.  Oh, what a wonderful peace.  Thank You that this peace remains during times of difficulty, challenge, and chaos.  Nothing can shatter this peace that You have given us.  Thank You for this peace.  We receive it today and declare that this peace, Your peace in us, causes us to overcome in every situation.  For this we give You praise in Jesus' name.  Amen.
Did this article encourage you? Don't you know someone who needs this message? Please share!
Author Kim Potter is a writer and the founder of A New Thing Ministries, which sends a daily teaching to thousands of people all around the world. Her articles have appeared on The Elijah List, Charisma, Spirit Fuel and iBelieve.com. Kim's message is one of hope. She speaks to the heart of those who have grown discouraged or disappointed by the circumstances of life, imparting hope. To receive her daily inspirational writings, go to www.anewthingministries.com. Photo Credit: Sunguk Kim on Unsplash