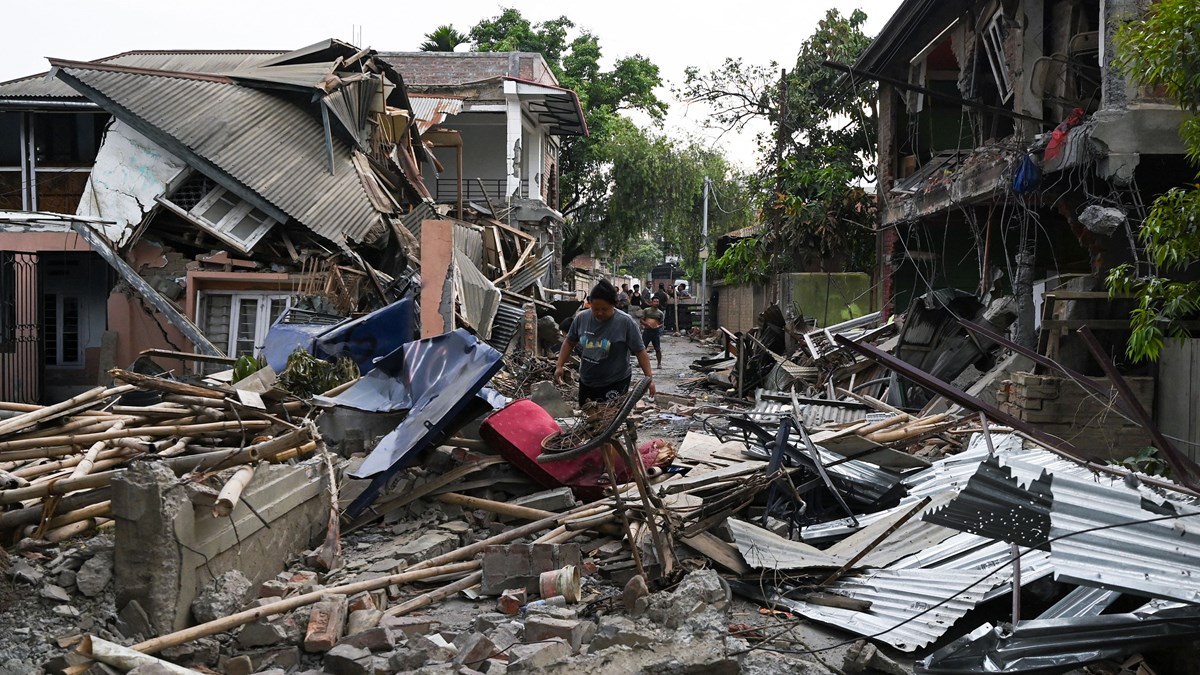 On May 3 of this year, Koireng (identified only by his first name) first heard reports that an unidentified group had lit a famous war memorial on fire. As a Meitei pastor in Churachandpur, a district in the Indian state of Manipur, Koireng grew alarmed by the news that the arson had escalated into widescale property destruction.
Tensions had been steadily increasing for weeks between the Kuki-Zo, a predominantly Christian tribal community, and the Meitei, Manipur's biggest and largely Hindu ethnic group. Over the next couple of weeks, mobs burned down dozens of homes, sending hundreds of Churachandpur residents into the forest for refuge, and retaliatory attacks killed two civilians on the first day of violence. (The current total death toll is at least 180, after six months of intermittent violence.)
At the beginning of the year, a number of different communities, including Christian Meiteis, Hindu Meitis, and Kuki-Zo Christians, resided in Churachandpur, which was also home to 21 Meitei churches, said Koireng, the pastor of Evangelical Free Church of India (EFCI) in Churachandpur.
Koireng had heard that Kuki-Zo mobs spared churches, though not Meitei Christian homes.
"They recognized the Christian Meitei houses from the non-Christian houses, but they equally burnt down all the homes," said Koireng, who quickly called all his church members to gather inside his church to stay together.
The attacks outside of Churachandpur and in the capital city of Imphal were fomented by Meitei mobs and led to thousands of Kuki-Zo fleeing their homes and the region. Since then, Christians like Koireng have found themselves in a bind: They cannot turn to either their ethnic kin or their fellow Christians for any sense of solidarity.
"We are the real victims—not the Kuki-Zo Christians or the Hindu Meitei community," said O. Kumar, the president of Meitei Christian Churches Council Manipur (MCCCM).
Few churches spared
During September's United Nations General Assembly, the World Evangelical Alliance (WEA) organized a virtual side event discussing the violence in Manipur. As the event concluded, one Hindu Meitei leader from India, who had not been invited to speak, interrupted the meeting, claiming that the panelists had painted a one-sided picture of the crisis.
"Meitei churches have been completely vandalized and razed in Kuki-Christian dominated areas in Churachandpur, right on the first day [of the conflict] before violence broke out in Imphal," alleged Khuraijam Athouba, the spokesperson of the controversial group Coordinating Committee on Manipur Integrity.
Athouba's claims were later widely disseminated on social media by trolls and bots, which also harassed the event's moderator, Wissam al-Saliby (the WEA's Geneva director), and panelist Florence N. Lowe, who founded the North American Manipur Tribal Association and is of Kuki-Zo ethnicity.
Almost 250 Meitei churches have been burned down or vandalized in Imphal Valley since May, says Kumar. But in Churachandpur, churches were spared that night and have been protected since.
As referenced above, Koireng also disputes Athouba's assertions. After a harrowing night, on the morning of May 4, "I received a call from the army that they are coming to escort us out of Churachandpur and all of us will be evacuated—both Christians and non-Christians," said Koireng, whose house was among those burned down and who has lived in a relief camp since.
Kuki-Zo mobs burned down 172 Meitei Christian houses, said Witamsinbou Alex Newmai, a Naga tribal Christian who coordinated relief for the Meitei Christians. He was disturbed by the meticulousness of the destruction, pointing to the fact that the mob used bulldozers and JCBs (large machines used for digging and moving earth) to level the homes.
"At least the Kukis had the burden to give safe passage to Meiteis before things went out of their hands, as the mob culture was growing on both sides. Unlike the Kukis who were massacred in the valley, there was no casualty of the Meiteis in the hills," he said.
Simon Raomai, the president of All Manipur Christian Organisation (AMCO), says he has visited Churachandpur several times since May and has not seen any destroyed churches.
"Out of anger and rage, some miscreants might have just thrown a stone and broken a window glass or hit against the wall, but the church buildings still stand strong unharmed," said Raomai.
He also advised against unconfirmed claims of churches being looted, burned, or vandalized.
'The Kuki-Zo disowned us'
Meitei Christians only make up 1.06 percent of Manipur's population, according to a 2011 census, whereas Meitei Hindus are 53 percent of the total population.
Since the May attacks, the community has been bullied by non-Christian Meitei, who often troll them on social media, issuing death threats if they don't convert back to Hinduism or Sanamahism, the Meitei indigenous faith, says Newmai. Being Christians, they are perceived as being on the Kuki-Zo side and accused of violence against their own (Meitei) community.
"We're not considered part of Hindu Meitei anymore and we're not Kuki-Mizo tribals either," said Kumar. "We see ourselves as independent, but Meitei Hindus label us as Meitei tribals, trying to highlight our differences from the Meitei community and likening us to Kuki tribals."
These prejudices led to Meitei militants attacking Meitei Christian churches across the hill districts. In the month of May, Arambai Tenggol and Meitei Leepun, two militant Meitei groups, attacked and vandalized Meitei Christian churches, said Kumar.
"Most of the Meitei people thought that all Meitei Christians supported the Kukis, so they wanted to completely wipe out Meitei Christian churches," said a leader on condition of anonymity.
The situation was further complicated by the fact that Meitei churches often included people from multiple ethnic backgrounds, including the Kuki-Zo, and were financially supported by Kuki-Zo and Naga Christians.
"They thought that we would be more faithful to the Christian tribals rather than the Meiteis," he said.
"But when it came to owning us as their brothers and sisters in Christ, the Kuki-Zo disowned us, and we had to move out of the Kuki-Zo dominated area," said Kumar.
Peace talks
In Imphal, leaders from the Naga Christian Forum and legal experts from the Meitei Hindu community have come together to establish the "Forum for Justice," a movement dedicated to promoting peace and justice in the region.
In September, 20 leaders convened, including 9 representatives from the Naga Christian Forum advocating for Meitei Christians.
"Because I am a Naga Christian, I can move around freely in the hill districts and the valley districts and initiate peace talks," said Simon Raomai, the president of AMCO, who spearheaded the discussions.
Raomai provided a comprehensive account of the Christian Meitei perspective, outlining their hardships and presenting startling statistics, including the shocking revelation that 249 Meitei churches were either vandalized or set ablaze.
The attorneys involved were taken aback by the staggering figure, expressing their lack of awareness regarding the extent of the damage.
"We are trying to advocate for our Meitei brothers and hoping to engage influential figures in conveying our feelings to the Hindu Meiteis and the fanatic groups," said Raomai.
The Forum for Justice is scheduled to convene once again on November 6 and plans to include Meitei Christians for their third meeting.
Nowhere to go
Before the May violence, more than 10,000 Meitei Christians lived in Churachandpur. Today, around 700 Meitei Christians live in relief camps because they have nowhere to go, said a Meitei Christian leader who did not want to be named for security reasons.
Meitei Christians cannot return to their homes in Imphal or the valley districts without risking pressure from Hindu Meiteis to renounce their faith. (Even within the camps, Meitei Christian leaders say militant Meitei groups have threatened both lay Christians and pastors to pressure them into recanting their beliefs.) Relocating to Manipur's hilly areas is also off the table, because the state is divided on ethnic lines due to previous civil war.
In the aftermath of the May violence, Santi Kumar, a Meitei Christian from Churachandpur, suffered the devastating loss of his home and the Sunday school he ran for 30 years with his wife, Oinam Ibemcha, when mobs burned it to the ground.
Deeply attached to his hometown, Kumar was nevertheless reluctant to return.
"We are working on peace talks, and when they reach an amicable conclusion, we will go back to Churachandpur because that is our home," said Kumar.
Currently Kumar's family and several other Meitei Christians from hill districts continue to reside in relief camps, holding on to hope that the government will take proactive steps to initiate peace talks with Kuki leaders.
They also anticipate the government's support in rebuilding their homes.
As of September 1, more than 58,000 individuals (up from 38,000 in May) were living in 351 relief camps across Manipur, including more than 22,000 children and 300 people over 80 years old. About 24,000 camp occupants are from the Meitei community, though it is unclear how many of these are Christians.
"We are wondering who will help Meitei Christians," said O. Kumar. "When relief comes for Christians, it all goes to Kuki Christian areas. When relief comes for Meiteis, it all goes to Hindu Meiteis, who allege that we Christian Meiteis are getting help from Kuki-Zo Christians."
"It is a double blow for us, as we are overlooked and despised on both sides."