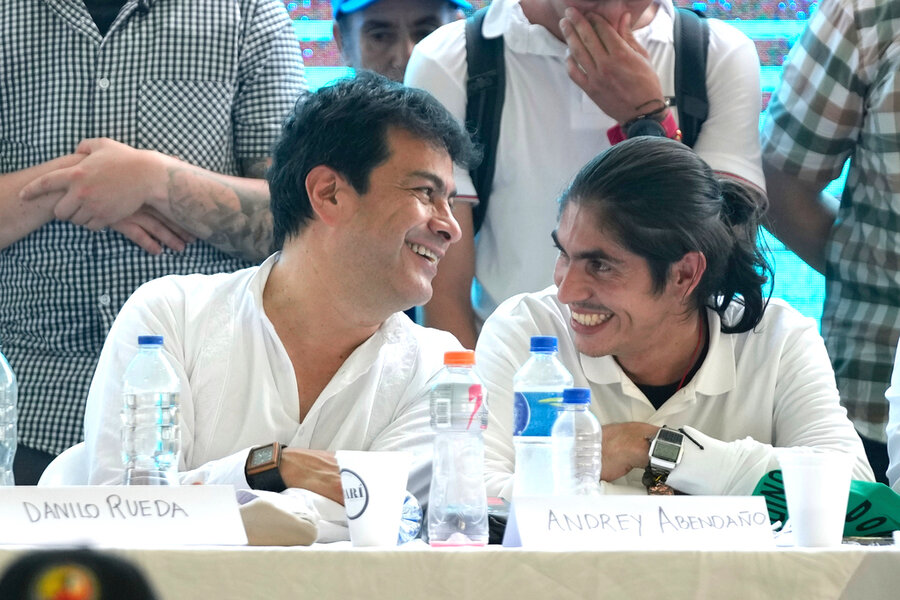 Whoever governs Gaza after Israel ends its military operations in the Palestinian enclave will have to address what gave rise to Hamas and its extremist ideology. One place to look for that sort of discernment is Colombia, where the government's year-old Total Peace plan shows signs of curbing the violent radicalization of many armed groups.
South America's second-most populous country has long tried to end decades of ideology-based warfare and violence driven by guerrilla groups, gangs, and drug cartels. The current government's all-at-once strategy has plenty of doubters, but it has led to negotiating peace agreements with as many as 26 armed groups simultaneously.
The government's main assumption in the talks: Equality and trust are building blocks not only for negotiations but also for creating a just and gentle society.
Even setbacks can provide lessons. Last weekend, for example, one armed group broke off negotiations, accusing the government of bad faith. Yet the group said it would honor a joint cease-fire that began in September and even acknowledged a need for self-criticism. "I do not believe that we are perfect," one of the group's leaders, Jaime Muñoz Dorado, told EFE, a Spanish news agency. "If there is a will for peace from the Government, the most coherent thing is that we prolong it."
Mr. Dorado's comments underscore the idea that a vision of peace can create its own momentum as it relies on humility to listen and an assumption of goodwill by the other side. That idea is well practiced in Colombia, notably in a landmark 2016 accord between the government and the Revolutionary Armed Forces of Colombia, or FARC, a movement that had waged guerrilla warfare for half a century.
President Gustavo Petro has vowed to engage all armed factions in a similar way as well as lift the economy to prevent young people from joining such groups. Since taking office last year, he has increased public investments in education and agriculture. And his initial framework for talks with Mr. Dorado's faction was dubbed an "agreement on respect for the civilian population."
Yet in raising expectations about curbing violence and poverty, Mr. Petro has also stirred impatience. The one-on-one negotiating tracks with individual armed factions have been disrupted by kidnappings, extortion, and car bombings. Within months of taking office last year, the president saw his public approval ratings plummet. His party took a drubbing in local elections last month.
Such disruptions, however, have not diminished his initiative. The president expects armed groups to take "maximum responsibility" for building a peaceful future. The armed groups, as one gang leader told The Associated Press, expect the government to nurture trust "not with words, but through actions." For many Colombians, such forward-looking expectations are the language of reconciliation that they want the world to note.