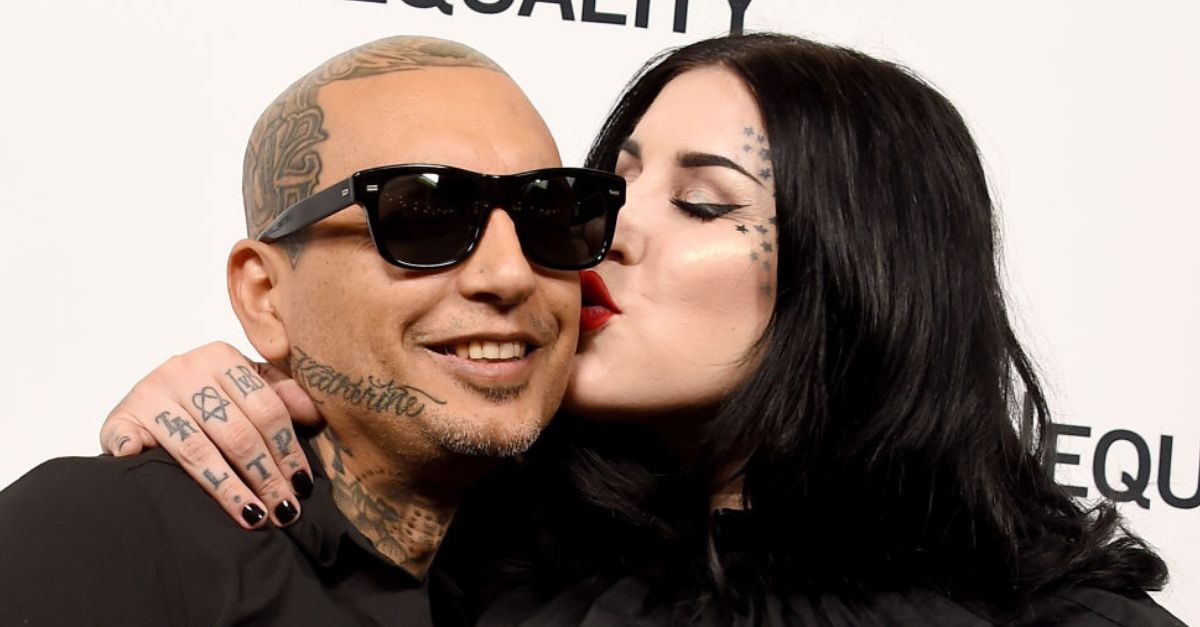 A month after publicly announcing her baptism, celebrity tattoo Kat Von D shared her testimony on coming to faith in Jesus Christ and how Christians can pray for her unsaved husband rather than criticizing him. 
On Monday's episode of the "Relatable" podcast, she told host and Christian conservative commentator Allie Beth Stuckey how her conversion came about after spending years in witchcraft and the occult. 
"When the lockdowns happened … my husband [Rafael Reyes] just said, 'Hey, baby, I think we got it wrong. You know, I think we got a lot of things wrong,'" Von D, whose full name is Katherine von Drachenberg, recalled in the interview.
"You have to understand at the time … BLM was going hard," Drachenberg continued. "I was in the middle of it. Like, I lived three doors down from the mayor of LA, so we had Antifa in our front yard after they threatened to do the Molotov cocktails and stuff like that. So we were just seeing things in real-time, and they were much worse in real life than what [the media] put on TV."
"I started re-evaluating, kind of going down the list of what I'm doing with my life," she added. "And it got to the part of my spirituality, and that's where I started really rethinking many things."
As Christian Headlines previously reported, Von D shared a video of her baptism last month, a year after she renounced her connection to witchcraft and the occult. 
Even though she grew up with missionary parents, she told Stuckey that her conversion to Christianity came about recently, The Christian Post reports. 
"I feel like I'm the best wife and the best mother I can be now because of the changes that I've had," she said. "There's been a de-programming that has taken place. Things that I used to find attractive are disgusting to me." 
"I wish I could put into words how amazing those changes are," she added.
Despite her newfound faith, Von D noted that she has received negative comments from Christians and nonbelievers, adding that her husband has also received backlash since he is not a Christian at the moment.
"The one person that I think about through all this is my husband because when we got together, we were both not Christian. We got married, and then he's really helped me, without knowing, find my way, and he's not necessarily on the same page," she told Stuckey.
Von D, who described her husband as "very supportive," continued: "We go to church together every Sunday; he always supports me, and we pray together. But there's part of him that's still questioning, and after getting so much grief from people, it spilled over into my husband. I remember the next morning, he was like, 'Babe, I don't want to be a part of that.'"
While holding back tears, Von D shared that she has been trying to witness to her husband so that he would also come to save faith.
"I'm trying not to get emotional because I've been working for years trying to lead by example and share my stepping stones with him, so hopefully, one day, he can come to me and say, 'Hey, guess what? I've given my heart to Jesus.' That hasn't happened yet," she maintained.
Regarding the attacks from the Christian community, Von D stressed that it "turns people off."
"I think that's what I wish for the most. If these people genuinely cared about me or my husband, instead of picking us apart or picking him apart, I would hope that you would just pray for us instead. It's already hard enough in real life to live through a lot of this stuff, then to just publicly harass or humiliate [us]," she said. 
Photo Courtesy: ©Getty Images/Gregg DeGuire / Stringer
Video Courtesy: Allie Beth Stuckey via YouTube
---
Milton Quintanilla is a freelance writer and content creator. He is a contributing writer for Christian Headlines and the host of the For Your Soul Podcast, a podcast devoted to sound doctrine and biblical truth. He holds a Masters of Divinity from Alliance Theological Seminary.
LISTEN: How United Should the Global Church Be?
The views and opinions expressed in this podcast are those of the speakers and do not necessarily reflect the views or positions of Salem Web Network and Salem Media Group.
WATCH: 5 Signs Your Church Might Be Heading Toward Progressive Christianity
 Stock Footage & Music Courtesy of Soundstripe.com Thumbnail by Getty Images