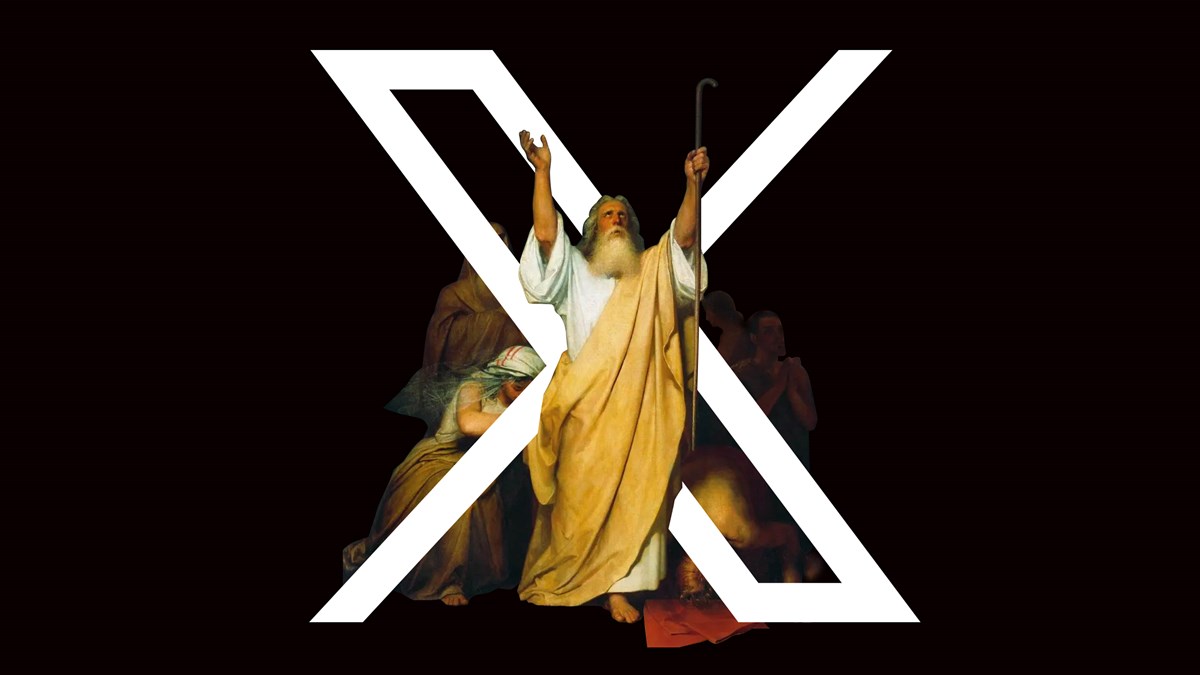 Scrolling through our Twitter X feeds over the last several weeks, we've seen familiar Christian names, from David French to Sam Allberry, signing off the platform. Many more are wondering aloud whether they want to stay much longer.
"Yet another person I really enjoy following left this platform yesterday," tweeted Bible teacher Beth Moore, who's amassed almost 1 million followers on the site. "I may not last long on here either. Shoot, I could close my account tomorrow."
Since its acquisition by business mogul Elon Musk last year, the microblogging platform has changed more than its name. Its original verification system for journalists and public figures is gone, replaced by blue checkmarks (and a host of other perks, including "prioritized rankings") for paid subscribers. In October, the platform stripped headlines from articles and announced that new users might need to start paying $1 a month in an attempt to combat bots.
For many loyal Twitter users, including Christians, these changes have made "the bird site" harder to navigate: less egalitarian and more pay-to-play, less a source of vetted news and interesting ideas and more a source of confusion.
In the last year, X has "hemorrhaged" users and advertisers. A Pew Research survey from May 2023 found that a majority of US users have taken a break from the platform in the past year; a quarter said they weren't likely to use it in a year's time. Those who've stuck around have seen engagement on their posts drop, while spam, trolling, and vitriol remain.
"I think the worse that Twitter becomes, in the sense of user experience, the more that raises the question 'Why do I put up with this anyway?'" said New Testament scholar and New York Times columnist Esau McCaulley. "To say that you have to pay for it or we're going to continue to make it worse and worse and worse … Now I have to start over and build my audience all over again. Is it worth it?"
On a platform that "rewards antagonism," McCaulley said he has had to make a conscious effort to keep from retweeting and screenshotting opponents, avoiding "forming communities around mutual disdain." Yet his presence on Twitter/X has also been part of his ministry, and he mourns the loss of his ability to share writing that might bless others.
The dilemma McCaulley faces—how to adapt as social media setups shift and audiences disperse—is shared by not only individual Christian commentators but also Christian organizations.
Digital communications managers and consultants for churches, ministries, and denominations are changing their social strategies in response not only to X's struggles but also to the rise of short-form, vertical video on Facebook, Instagram, and YouTube and plummeting traffic to outside links on Facebook.
They're also asking deeper questions about their presence on the platforms in the first place and wondering how much time and money to invest. (As the audience engagement editor for Christianity Today, I include myself in this group.)
Justin Brackett is the founder of Digifora, a marketing agency that's done work for churches like Joel Osteen's Lakewood, ministries like The Voice of the Martyrs, and Christian leaders like Christine Caine.
Since he started doing social media professionally in 2007, "people have just assumed that these platforms were always going to benefit the user," but "they're all built for profits," he said. "When they make these changes, they're simply trying to increase their revenue."
So he encourages clients to prioritize what they own—their websites, their podcasts—with social media in a supporting role. Constant "chasing of the algorithm" doesn't do any good.
"The mass exodus of Twitter, the greatly suppressed reach of Meta … Organizations right now, fourth quarter of 2023, have to start committing dollars and energy into their own platforms," Brackett said.
Andy Jones runs Roundtree Agency, which provides marketing services for Christian nonprofits. He's also advised clients to focus on media they can "own," like email lists or even snail mail, as they seek to raise support for their causes.
When they do post on social, Christian nonprofits shouldn't chase viral success, understanding that building donor relationships requires patient, clear, and dependable communication.
One of Roundtree's clients, Langham Partnership, uses Instagram to share inspirational quotes from pastors it serves in the Majority World, then encourages followers to sign up for its daily email devotionals.
Another client, Geneva Benefits, which manages retirement assets for Presbyterian Church in America staff, uses social media to raise money for its relief fund—sharing the stories of a newly widowed pastor's wife or a minister who got into a mountain biking accident.
"The relief fund has grown quite well over the last few years," said Jones. "Part of that's through social, but a lot of it is clear communication across all channels."
And not all channels lend themselves to fundraising. "Twitter sounds like your uncle talking at a backyard barbeque three beers in," he joked. It isn't a place where an organization can easily "cast a positive vision for the world."
Peter Slayton, manager of media relations and social media for The Lutheran Church—Missouri Synod (LCMS), focuses his Facebook, X, Instagram, and LinkedIn efforts on promoting awareness and evangelism; connecting people with local LCMS congregations; and sharing denominational resources, like Bible studies.
"The mission has always come first," he said. "When it comes to different platforms, the question becomes 'Can we still remain faithful to who we are, to what our confession is, to who we believe Jesus is, and what we want the world to know about him?'"
Slayton has been working in social media long enough to remember when Facebook Live was the "shiny new thing"; now, his denomination is hiring another social team member to focus on making reels, trading fancy camera equipment for iPhones, iPads, and some microphones.
"One constant in social media is change," he noted, but the consequences of that change aren't predictably good or bad. LCMS has actually seen increased engagement on X this year; Slayton isn't sure whether to attribute that to more conservatives joining the platform or an increase in spam accounts.
For Christy Chappell Belkin, director of public relations and editorial for the college ministry InterVarsity Christian Fellowship, "what you're actually trying to accomplish" is getting college students off the apps and into embodied communities.
Student leaders run their own chapter accounts on Instagram and TikTok; they're learning how to be faithful online just as they're learning to teach Bible studies and plan retreats. The ministry provides some guidelines for them as they post: "Be humble. Point to the hope of Jesus. Be compassionate. Be truthful and accurate."
While social engagement metrics are down for everyone, the clients Justin Brackett has seen garner success are focused on consistency, both in their posting frequency and in their messaging. Searches for "church" on Instagram, he says, too often bring up the same kinds of graphics in different color palettes. It's not just "selling them on Sunday," he insists, and "no one really cares about your next event."
Instead, he thinks churches should be using social media to answer the questions followers are really asking—questions about grief and mental health and marriage and current events. "Why should I have hope today?" he asks. "We need to have an opinion."
In today's social media landscape, Christian thinkers who've long made a living by "having opinions" are wondering what's next.
"I consider myself lucky enough to have gotten on social media at a time when words and thoughts mattered," says Christian writer Hannah Anderson. "If I had to try to start my career today or even five years ago, it would never have happened."
Contemporary social media, as she sees it, privileges charismatic entrepreneurs who perform well on camera, not necessarily writers "who excel in reflection or observation." With that in mind, Anderson acknowledges, she needs to pivot—perhaps by building a platform of her own on the email-newsletter service Substack.
"I'm going to have to accept that Twitter is gone," she said, "that what it did for me in terms of circulating ideas and meeting people isn't going to come back."
Scholar Karen Swallow Prior doesn't know whether X was so beneficial for writers in the first place: "Increasingly, I came to realize that, especially on Twitter, people don't read the articles (sometimes because of paywalls, but mainly because of laziness) and simply respond to headlines (which are increasingly clickbaity)." She hopes her Substack, The Priory, will serve readers "weary of the hot takes and the clickbait" who "hunger for something deeper and more substantial."
Esau McCaulley won't start a Substack; he's already got a regular writing commitment with the Times. But he, too, is awaiting what's next. "We don't own these social media spaces. We only rent them. And hopefully, we did some good ministry while they were healthy. And now we pack up shop and go to the next town; we could do some good work there as well."
And Beth Moore? She might "pack up shop" and head to Threads. But she knows it won't be the same.
"Most of my friends who have moved to threads still come over here to check Twitter for this or that," she tweeted. "And why?? Because we know good and well we've had something here we haven't been able to find anywhere else. Variety. So for now, I do things like block, mute, ignore and get on here less often. And still get to be in your good company. Fact is, I just flatly love a lot of people on here."
Kate Lucky is CT's senior editor of audience engagement.
Print & Digital Issues of CT magazine

Complete access to every article on ChristianityToday.com

Unlimited access to 65+ years of CT's online archives

Member-only special issues