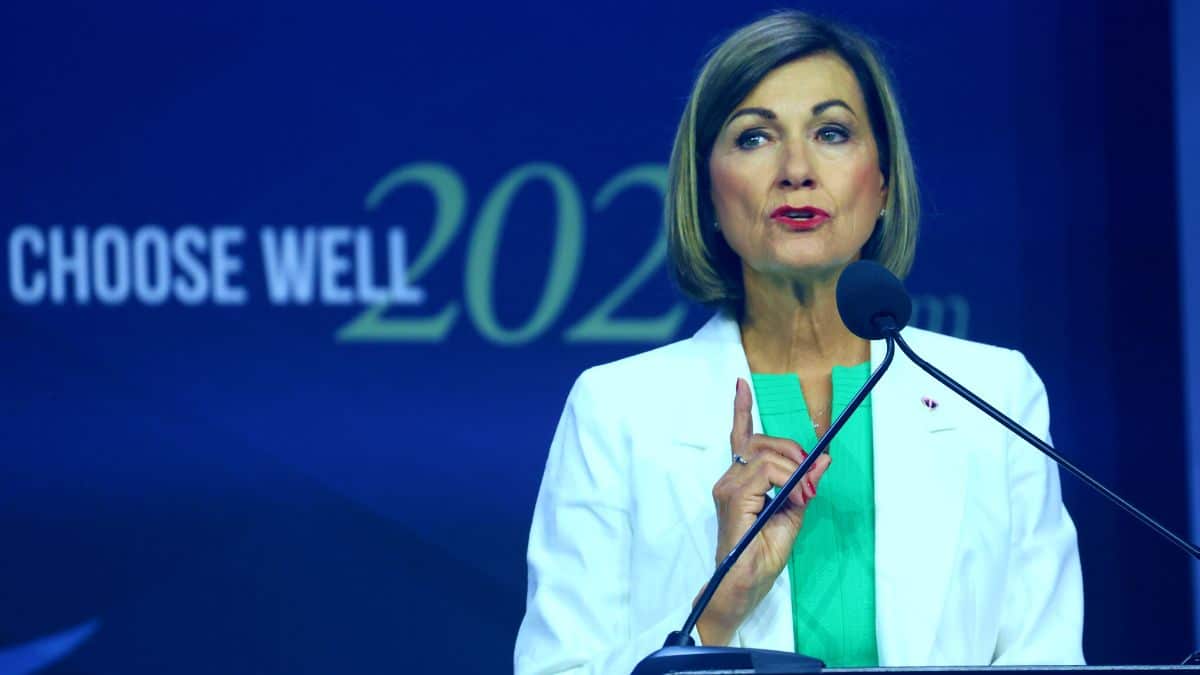 Iowa Governor Kim Reynolds (R) has endorsed Florida Governor Ron DeSantis (R) for president.
In a video for DeSantis PAC Never Back Down, Reynolds says, "We are living in unprecedented times. Our country is in trouble, the world is a powder keg."
"I'm here to tell you that Ron DeSantis is the person that we need leading this country," she continued. "Ron is the person who will fight for you. Ron is the person who will not back down, and in short, what I love most about Ron is he gets things done."
"A year from now, Ron DeSantis will beat Joe Biden and be the next president of the United States of America!"
Speaking to NBC News, Reynolds said, "I believe [DeSantis] is the candidate that can win. And we also not only need somebody that can win, but we need somebody that has the skill and the resolve, which he clearly does, to reverse the madness that we see happening across this country."
When asked if she is concerned about Donald Trump, Reynolds said, "I don't think he can win."
Ahead of Reynolds' endorsement, Trump, who previously supported the Iowa governor, shared on Truth Social, "If and when Kim Reynolds of Iowa endorses Ron DeSanctimonious, who is absolutely dying in the polls both in Iowa and Nationwide, it will be the end of her political career in that MAGA would never support her again, just as MAGA will never support DeSanctimonious again. Two extremely disloyal people getting together is, however, a very beautiful thing to watch. They can now remain loyal to each other because nobody else wants them!!!"
While Iowa's governor endorses DeSantis, five Republican Florida state legislators have switched their 2024 presidential endorsements from DeSantis to Trump.
State Reps. Jessica Baker, Webster Barnaby, Alina Garcia, Kevin Steele, and State Sen. Debbie Mayfield have all switched their endorsement to the former president.
"As instability grows around the world and economic uncertainty takes root here at home, folks across my district tell me constantly they want to see President Donald Trump back in the White House and Gov. Ron DeSantis back on the job here in Florida, finishing the work he promised to do less than a year ago," Baker said in a written statement.
State Sen. Debbie Mayfield said it was "time to unite our party behind Donald Trump, prepare for the year ahead and work together to prevent another four years of Joe Biden's disastrous policies from destroying this nation that we all love so dearly."