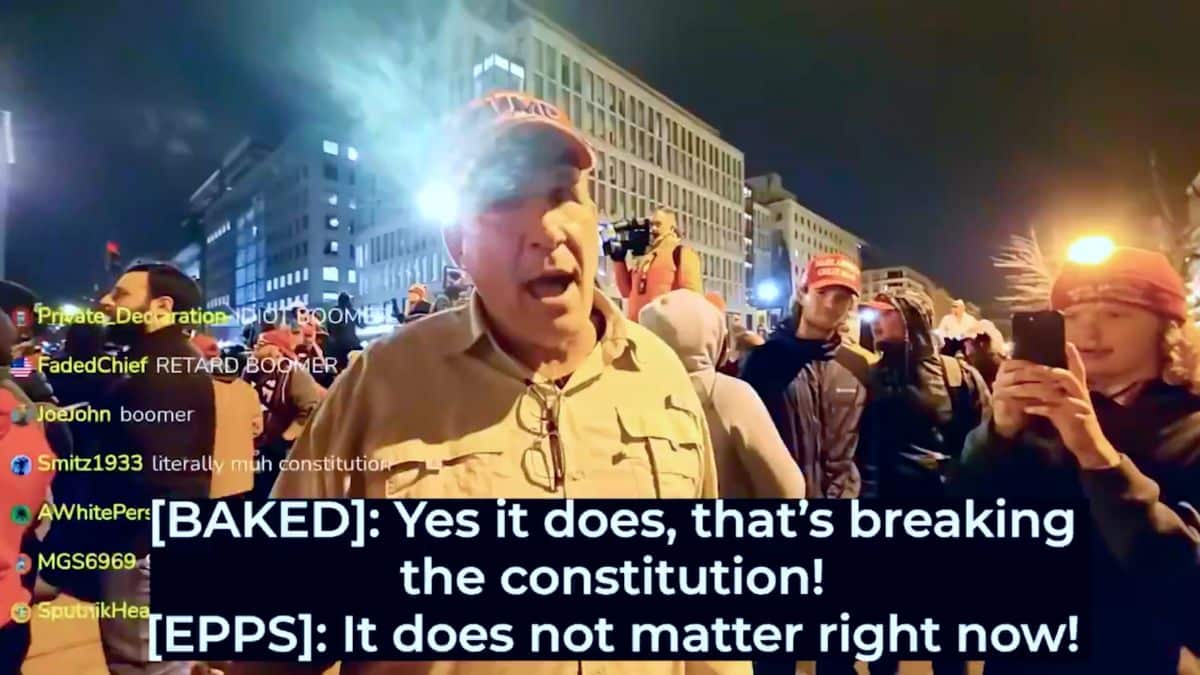 A new video from the night before January 6, 2021, shows Ray Epps rallying people to enter the Capitol building.
Epps was shown on camera encouraging supporters of Donald Trump to go "into the Capitol."
"I'm gonna put it out there – I'm probably going to go to jail for it, okay – tomorrow, we need to go into the Capitol! Into the Capitol," Epps told the crowd.
The crowd reacted to Epps by crying out "No!" while others booed and chanted, "Fed! Fed! Fed! Fed!"
The footage released by Truth in Media was recorded by Anthime "Tim" Gionet, also known as "Baked Alaska."
In the video, Epps tells Gionet, "In fact tomorrow – I don't even like to say it because I'll be arrested – we need to go into the Capitol."
Gionet tells the crowd, "I didn't see that coming," before walking away from Epps.
Epps also repeated the same phrases, a strategy believed to be used in spreading propaganda.
"Keep your focus!" Epps declared numerous times, as well as crying, "This is not what we're here for!"
Warning: The video below contains explicit language.
Why was Ray Epps treated as victim by the same people who condemned almost everyone around him as a threat?

We try to answer some lingering questions about the one "election-denying-Donald Trump-supporter" the media and the government didn't seem to hate. pic.twitter.com/1u5dXtSGLv

— Truth In Media (@Truth_InMedia) November 3, 2023
American Faith reported that Ray Epps was recently charged with a misdemeanor count for actions related to January 6.
According to the DOJ's charging document, Epps "knowingly, and with intent to impede and disrupt the orderly conduct of Government business and official functions, engage in disorderly and disruptive conduct in and within such proximity to, a restricted building and grounds."
The document cites his actions on the Capitol grounds, specifically in an "otherwise restricted area within the United States Capitol and its grounds, where the Vice President was and would be temporarily visiting."