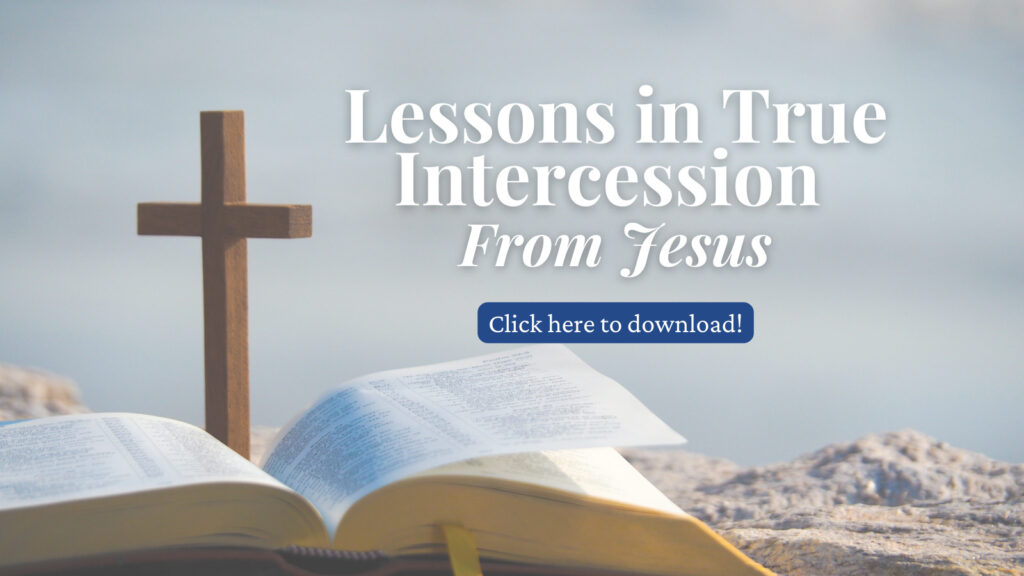 Dear intercessor, is your heart hurting because you don't fit in at your local church? If so, you are not alone.
So many intercessors have told me over the years how they have yearned to find fellowship within the Body of Christ but have been unable to. Many have had to deal with false perceptions embraced by many church leaders, such as:
"Intercessors are weird."
"Intercessors have an agenda."
"Intercessors aren't under authority."
And the facts are evident:
Intercessors are certainly different from people who do not pray. The amount of time intercessors spend before the throne makes them different from those who do not, but not in a bad way — and godly intercessors will never flaunt that or brag about it. They simply serve humbly, for they minister to Jesus and to His heart first and foremost.
Also, like every Christian, intercessors should have an agenda — but only an agenda for heaven to come. An intercessor's agenda should be for God's Word to be manifest and carried out in all its fullness in every place, secular and sacred. This is the agenda that every true Christian should have.
And intercessors, if they are godly people who obey God's Word, should always be under authority — a help to their godly local church leaders, never a hindrance.
But even when these conditions are met, intercessors and even the process of intercession itself are not always welcomed in the local Church.
Friend, this has to change — and if we want to see it change, we're going to have to pray in the change we want to see.
The Body of Christ at large, including all its local-church expressions, must return to the ancient paths: to fasting and prayer; to waiting on the Lord; and to interceding for heaven to come on a daily basis. This is what the Word of God prescribes.
As Scripture says:
Therefore I exhort first of all that supplications, prayers, intercessions, and giving of thanks be made for all men, for kings and all who are in authority, that we may lead a quiet and peaceable life in all godliness and reverence. For this is good and acceptable in the sight of God our Savior, who desires all men to be saved and to come to the knowledge of the truth (1 Timothy 2:1–4).
It is when we return to the corporate prayer of agreement — yoking up together at the same time, in the same place, and with the same heart cry, agreeing with one another (not merely praying as individuals without interacting with others in unity) — that we will see miracles. This kind of praying is what the apostles did:
And when they had prayed, the place where they were assembled together was shaken; and they were all filled with the Holy Spirit, and they spoke the word of God with boldness (Acts 4:31).
Related: Read some of IFA's free articles about how to become an intercessor here:
Beloved, do you want to see this kind of praying return to the Body of Christ and to every local church? If so, let's pray the prayer below in agreement and unity today:
Dear Heavenly Father, we come to You in Jesus' name.
Father God, thank You for teaching us how to pray in Your Word. Thank You for giving us Jesus' example and instructions about how to pray. Thank You for the extreme privilege of boldly coming before the throne of grace, where we may obtain mercy, and find grace to help in time of need.
We praise You for Your grace and mercy toward us. And it is because of that grace and mercy that we come to You today.
We have too often become prayerless. Many of our churches have become prayerless churches, not the houses of prayer which You have ordained. And for that, Father, we repent. Please forgive us. Forgive us for our prayerlessness; for our disobedience in failing to pray; and for letting our love for You grow cold. Please forgive our sins, Father, in Jesus' name.
And we join together today to pray in agreement that You would pour out Your Spirit of prayer upon Your people once again, right now.
We remind You of Your words in Zechariah 12:10, which says: "And I will pour on the house of David and on the inhabitants of Jerusalem the Spirit of grace and supplication. … " And Father, we ask right now that You would pour out on us, on we Your people in the American church (and indeed worldwide), Your Spirit of grace and supplication once again.
Return us to a craving and yearning for deep times of prayer.
Anoint every person to pray.
Teach us how to pray.
As You woo and draw us to pray, help us to hear Your wooing and answer it — coming aside with You to commune with You in the secret place of the Most High.
Teach us how to harness the prayer of agreement effectively, not merely praying alone but praying in concert with one another — a grand symphony of unity being lifted up as sweet incense into Your nostrils.
Father, we ask in Jesus' name that churches would embrace intercessors — and that every member of every local church would become an intercessor.
You commanded us all to intercede, Father. This is not a unique call, but rather a corporate one. Therefore:
Please dethrone every unholy construct or myth about intercessors.
Demystify the label of "intercessor" in the Body of Christ.
Help all Your children to desire to become intercessors after Your own heart.
Help every person to see the fullness of joy that comes only in Your presence, lost in deep times of prayer with You.
Give every one of Your sons and daughters, young and old, a holy passion and fervor to pray like You desire us to pray.
Use us all to pray and intercede for Your heart's desires, for Your kingdom to come and Your will to be done on earth as it is in heaven.
Let every person in every church in these United States of America become a powerful intercessor of God, and pour out Your Spirit on us all.
Help every intercessor to find godly, holy fellowship and friendships in the local churches again.
Let the habit and passion for intercession — with all that the intercessory call contains — become the norm amongst Your sons and daughters, not a rarity.
O Holy Father, pour out Your Spirit of grace and supplication again.
Let churches embrace prayer and intercession; let the prayer of agreement become the lifeblood of our times of fellowship in the Body. Take away our desires for every useless thing, and turn our hearts to focus fully on eternity once more.
Thank You, Abba Father. We love You and bless You, and it's in Jesus' holy name we pray. Amen.
Did you pray this prayer for churches to embrace intercessors and intercession again? If so, leave a comment below!
Jamie Rohrbaugh is the author of Healing from Church Wounds: You Can Be Whole Again and 7 Days of Healing from Rejection and Abandonment: You Can Be Free In Christ. She is the founder and CEO of From His Presence, a global ministry dedicated to equipping you in prayer, the prophetic word, the supernatural lifestyle, inner healing, and Kingdom wealth. Her writing can be found on YouVersion, Charisma Magazine, The Elijah List, Spirit Fuel, and various other ministry outlets. Download her free ebook, Praying the Names of God: 555 Biblical Names of God and How to Use Them in Prayer and Worship, here. Photo Credit: Aaron Burden on Unsplash.