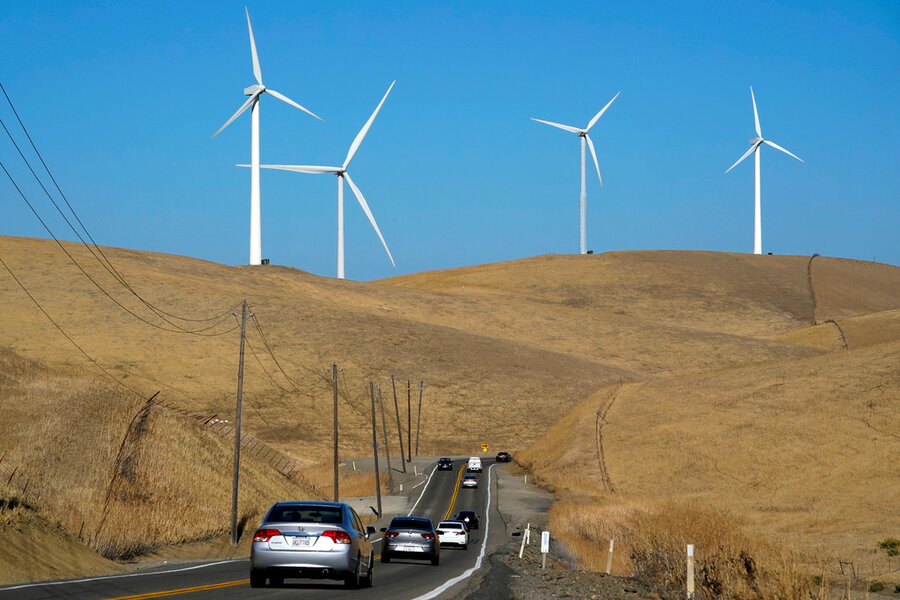 The transition to a green energy future required a long prologue as scientists and engineers sought efficient ways to harness wind, sunlight, and other renewable sources of power to curb climate change. Now that future may depend on tapping forces more commonly associated with building democracy than with developing technology.
That's because green projects like wind turbines and solar farms, and new runs of high-tension power lines, face regulatory hurdles and opposition from diverse groups, calling on civic virtues such as listening, honesty, and fairness.
New polls show that more Americans may be willing to live near energy-producing infrastructure. One reason is that power producers are learning how to win over communities through patient engagement. Some critics of such projects "just don't want it because they don't want it," Lisa Grow, CEO of Idaho Power, told the Los Angeles Times. So much of that resistance, she said, is based on misunderstanding. "But for people that have specific needs, I think it is worth the time to have a process where they can be invited in, and you can deal with some of those things upfront. If you wait until the end, you just have a fight."
In a poll published Thursday, the LA Times and the University of California, Berkeley found that 56% of Californian voters support installing wind turbines in their communities. Even more (69%) say they would welcome solar farms. Almost double the number (52% versus 27%) back offshore offshore wind turbines visible from their beaches.
Those views are even more widely upheld in polls across the United States. A Washington Post-University of Maryland poll in July found that more than 70% of Americans said they would be comfortable with solar farms and wind turbines in their communities. Engaging opponents of such projects, Doug Vine, director of energy analysis at the Center for Climate and Energy Solutions, told The Washington Post, is "the secret sauce in making sure that these things come together."
That idea is now the focus of a new course at the Massachusetts Institute of Technology, the first of its kind to focus on energy regulatory reform in the context of engaging communities. Larry Susskind, the professor who designed the course, argues that ignoring community concerns creates acrimony. The course looks for solutions to what often causes projects to stall – such as misinformation or concerns about environmental injustice. A listening-first approach for regulators in granting permits for new projects may seem simplistic, but it is winning converts.
"A lack of perceived fairness and equity, particularly in the decision-making processes at the local level, increases opposition" to proposed new energy projects, a group of researchers at UC Santa Barbara concluded in a paper published in September. That underscores the value of enabling the full range of stakeholders in a community to feel heard, they wrote.
A transition from fossil fuels is increasingly feasible because of technology advances. Public support is also helping that transition, driven by the light of patience and respect.