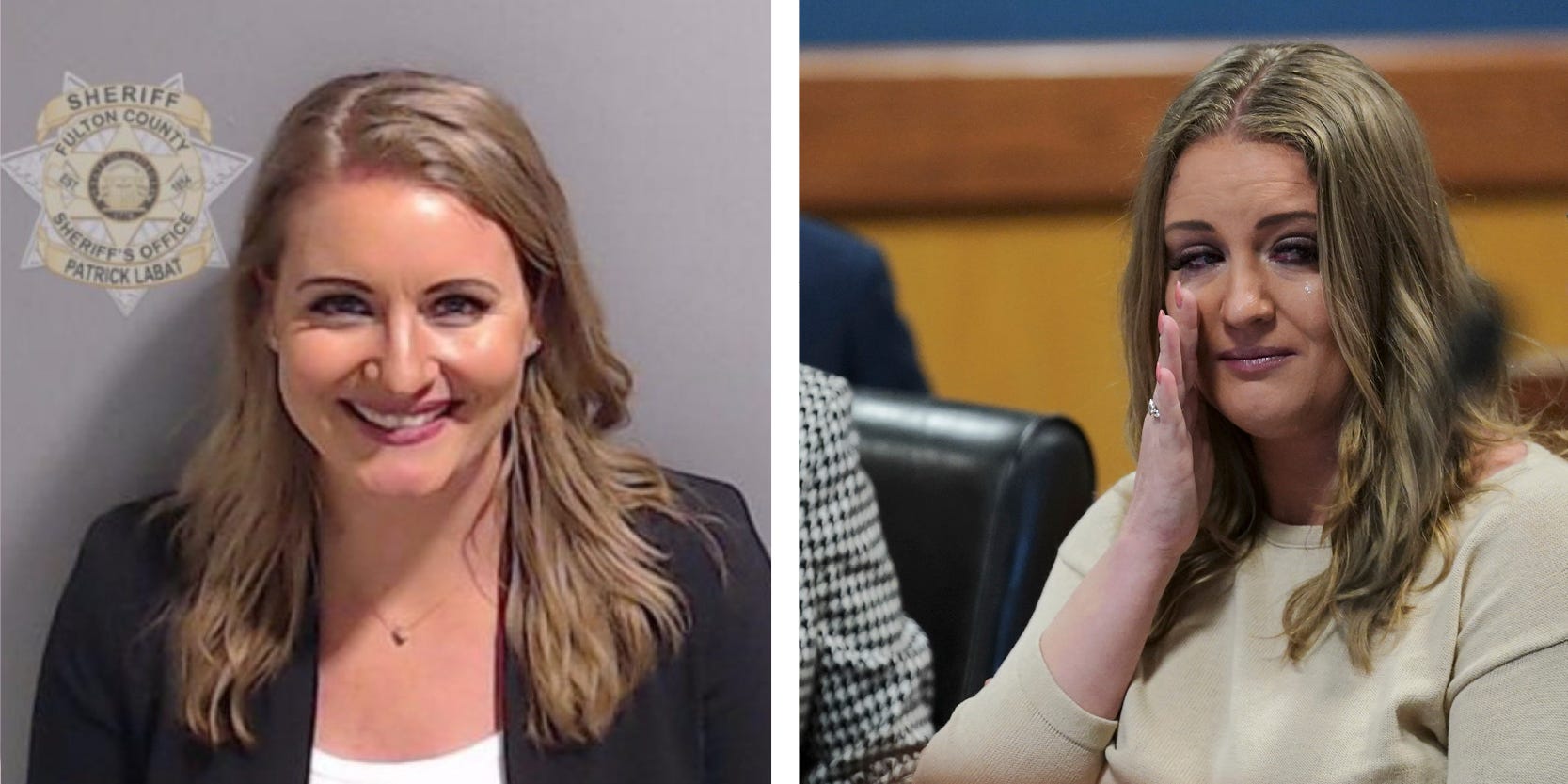 The progression in the criminal case against former Donald Trump attorney and Christian radio show host Jenna Ellis looks like that "how it started, how it's going" meme. One of Trump's attorneys who tried to overturn the 2020 presidential election, Ellis was indicted in Georgia along with Trump, co-attorneys Rudy Giuliani and Sidney Powell, a Lutheran pastor, and more than a dozen other people. When she turned herself in two months ago, Ellis put on a big smile for her mugshot. She then proudly shared the mugshot on social media along with two Bible verses: Matthew 5:44 about praying for those who persecute you and Psalm 32:10-11 about how those "who are upright in heart" trust and rejoice in God.
Two months later, we saw a very different Ellis in a Fulton County courtroom. Wiping away tears as her voice cracked, Ellis last week pleaded guilty to a felony count of aiding and abetting false statements, admitted the election wasn't stolen, confessed to spreading false claims in the media and to state lawmakers, and apologized for her work on behalf of Trump.
"As an attorney who is also a Christian, I take my responsibilities as a lawyer very seriously and I endeavor to be a person of sound moral and ethical character in all of my dealings," Ellis told the judge. "I failed to do my due diligence. … If I knew then what I know now, I would have declined to represent Donald Trump in these post-election challenges. I look back on this experience with deep remorse."
After she pleaded guilty, the judge sentenced Ellis to five years of probation and ordered her to pay $5,000 and perform 100 hours of community service. She became the fourth of the 19 defendants in the Georgia case to plead guilty and agree to cooperate in the cases against other defendants.
This also marked the second time Ellis faced accountability from a judge this year. In March — long before her smiling mugshot — a judge in Colorado officially censured Ellis after she admitted that she made multiple false claims about the 2020 election and agreed to pay fees related to the investigation into her misconduct.
Last year, Ellis called A Public Witness "a bad actor" after a report I wrote noted her election lies. So I assume her apology to us will be coming next now that she's twice admitted under oath that our reporting was correct and she was …. what's the phrase … a bad actor!
While Ellis finds her legal career discredited in two states, she continues as a news talk show host for Christian companies. Salem Media Group started running The Jenna Ellis Show in September 2021 and American Family Radio started broadcasting Jenna Ellis in the Morning in January 2023. Both large Christian media companies gave Ellis shows because of the fame she gained by spreading what she now admits were lies about the 2020 election.
I reached out to the companies to see if they would continue to give her a platform after what she admitted in court. (I also reached out to multiple sponsors who pay to have her read a promotion on one of her shows; none of them responded, but they continue their advertising after her guilty plea.) While Salem didn't respond to my comment request, the head of the American Family Association that operates American Family Radio did.
"Jenna Ellis is a talk show host for American Family Radio and she does an excellent job in that role," AMA President Tim Wildmon told me. "We fully support her during this time and will continue to stand by her and pray for her."
Apparently, lying about the 2020 election and trying to overturn our democracy isn't disqualifying for a radio network that claims on its values section that it "believes true morality flows from biblical principles and directs people to the manner in which God intends them to live." And Wildmon offering his full support to Ellis is quite different from how he and AFA reacted when President Bill Clinton lied to the American people. As Wildmon himself argued in 1999 as he blasted Clinton's lies, "When truth becomes a word game, we all lose." Unless, apparently, it attracts listeners to your "Christian" radio station.
While such partisan hypocrisy on morality and "family values" isn't unique to Wildmon and Ellis, we shouldn't allow ourselves to become numb to it. So this issue of A Public Witness looks at the morality tale of Ellis as a warning against exchanging the truth of God for a lie.
The rest of this piece is only available to paid subscribers of the Word&Way e-newsletter A Public Witness. Subscribe today to read this essay and all previous issues, and receive future ones in your inbox.