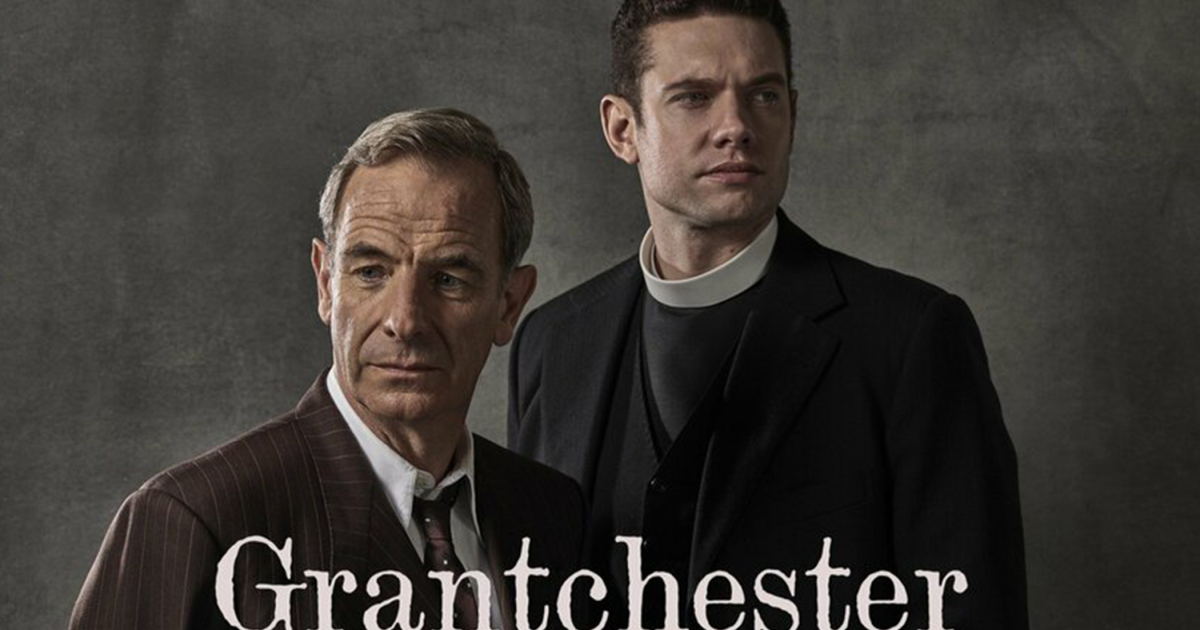 I always love to settle in for another season of Grantchester, PBS Masterpiece's longest running show after the ending of Endeavor. In this mystery/drama series, Will Davenport (Tom Brittney), a vicar in the Anglican church of the 1950s, solves crimes along with his best friend, police detective Geordie Keating (Robson Green), in the English village of Grantchester, Cambridgeshire. 
Together, they are joined by a chummy, lively cast of characters who become a found family for them, an aspect of the show that makes it extra heartwarming.
It's warm and cozy, yes, but Season 8 delves into a darkness of the soul previously not experienced by the good vicar. After he accidentally causes a fatal accident, Will plunges into deep guilt and depression, despite the joys of newly married life with a wife and stepson he adores and a new baby on the way. This is the main overarching narrative of the season, along with several subplots. As he spirals further into a cesspool of shame, self-blame, and even a budding addiction, he laments, "It's been so long since I heard [God], I feel unworthy of being a vicar." 
Former curate Leonard (Al Weaver) reassures him of God's love, but he has his own problems. The halfway house he started for men reentering society after prison is a source of suspicion in the community, never more so than when a murder takes place there. Will Leonard lose his place of home, work and ministry? 
Will's wife Bonnie, great with child, leaves him temporarily to take care of her sick mother in another village. She is a source of support, though she herself does not believe in God, a weird choice for a character who plays a vicar's wife. 
For that matter, the writers (led by showrunner Daisy Coulam, the granddaughter of a vicar) do sometimes make strange choices for a show about a vicar. Last season had a pre-marriage Will sleeping with a woman he had fallen for, and behaving rather badly at times. Leonard's relationship with a man is portrayed in a "closed door" manner, at least in Season 8. Overall, Season 8 is mild, content wise, other than the dead bodies befitting a murder mystery series and some coarse language.
Coulam has said that the show is as much about the human condition as it is about who committed that episode's crime. This is true as Will and Geordie interview suspects and victims' loved ones. Will always takes an intuitive approach to solving crime, and, like Father Brown of the Father Brown mystery series, he approaches each person, even if they have committed a heinous crime, as a person God created. Often he is at the ready with some pastoral care for those he encounters on his other job, which sets him apart from most detectives and detective assistants. Even the dead bodies are treated with respect and dignity, a far cry from the usual conduct on TV and movies. 
Grantchester is a good bet for those who enjoy English murder mysteries, especially period pieces. The 1950s costumes, sets and props are gorgeous, and the Cambridgeshire setting is sublime. As a bonus, this series offers the added layer of a main character whose life revolves around his love for and service to God, even when he strays far from the fold. (PBS Masterpiece Theater; Amazon Prime)