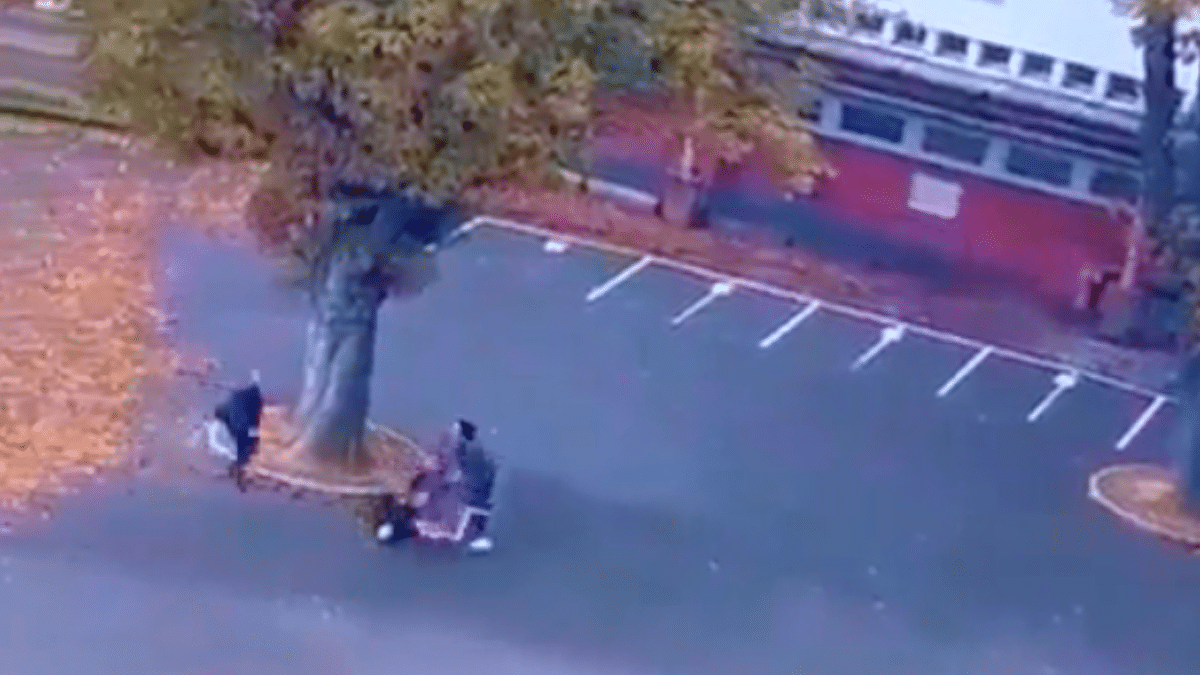 A tragic event has unfolded outside a school in Arras, a city situated roughly 115 miles north of Paris, near the Belgian border.
The assailant, believed to have extremist ties, allegedly stabbed and killed a teacher, leaving at least one other injured.
The attacker was identified as Mohammed Mogouchkov, a 20-year-old Chechen immigrant who was already under watch by French authorities due to potential terror connections.
Reports indicate that during the attack, Mogouchkov shouted the Arabic phrase "Allahu Akbar!"
Sliman Hamzi, one of the first police officers to arrive at the scene, confirmed hearing the same, adding that the attacker was once a student at Lycee Gambetta High School, the location of the unfortunate event, according to a report from Fox News.
A distressing cellphone video captured part of the confrontation.
Filmed from what seems to be an upper-floor window, the clip displays a group of individuals scuffling in a courtyard.
An individual, seen wielding a chair, is knocked to the ground.
As he is warned by observers about the assailant's knife, another attempts to fend off the attacker using the fallen chair.
This brave individual loses his footing and is assaulted multiple times by Mogouchkov before staggering a few steps and collapsing.
The video ends there.
Highlighting the eeriness of the situation, the attack occurs almost exactly three years after a similar incident, in which another French teacher, Samuel Paty, was beheaded by a radicalized individual of Chechen origin.
Marin Doussau, a philosophy teacher at the same school, spoke of the chilling echo of the past attack.
"When he turned around and asked me if I am a history teacher, I immediately thought of Samuel Paty," Doussau said.
He continued, stating how he narrowly escaped, managing to "barricade himself behind a door until police arrived."
The attack follows an announcement from the Islamic Resistance Movement, known as Hamas, in which the group called for a global Muslim uprising on Friday, October 13.
Hamas titled the day "Al-Aqsa Flood Friday."
In the statement, the group directed not only Palestinians but also the wider global Muslim community to "mobilize" and "participate actively."
Explicitly addressing Palestinians within Israel, Hamas declared that Friday "is your day to mobilize, assemble, and stand united in guarding the blessed Al-Aqsa Mosque."
Highlighting their intention for an international response, they proclaimed, "We declare next Friday, 'The Friday of the Al-Aqsa Flood,' as a day of general mobilization in our Arab and Islamic world and among the free people of the world. It is a day to rally support, offer aid, and participate actively."
"It is a day to expose the crimes of the occupation, isolate it, and foil all its aggressive schemes. It is a day to demonstrate our love for Palestine, Jerusalem, and Al-Aqsa," Hamas continued. "It is a day for sacrifice, heroism, and dedication, and to earn the honor of defending the first Qibla of Muslims, the third holiest mosque, and the ascension of the trusted Messenger."