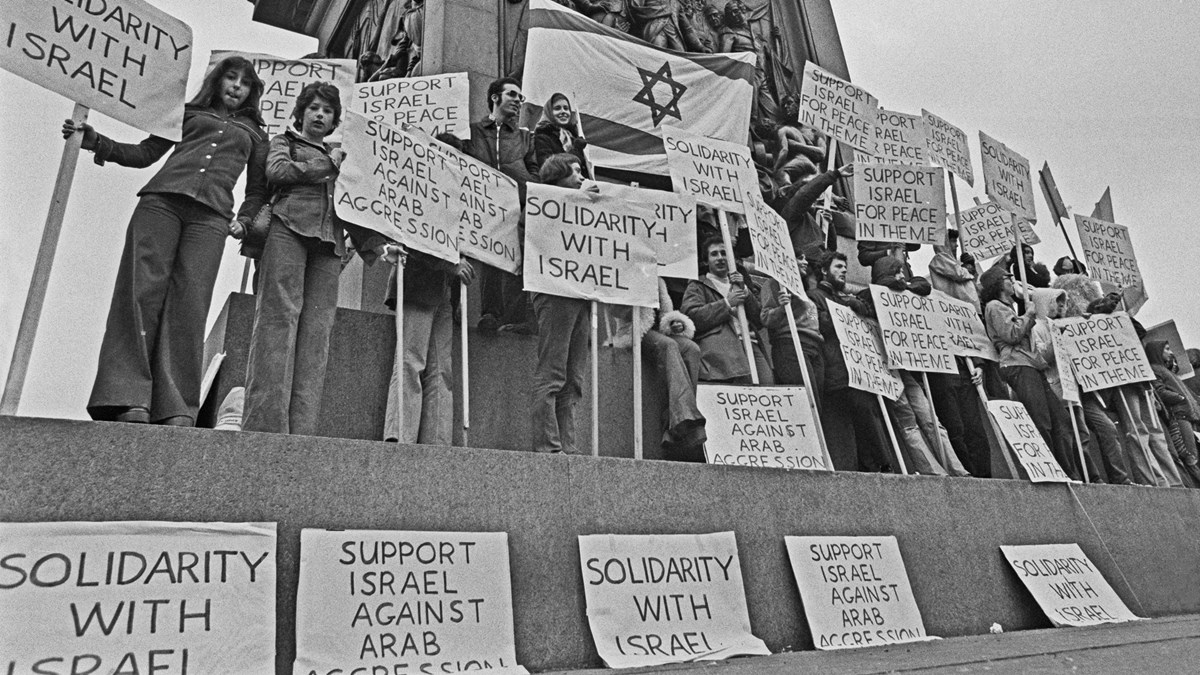 The horrific attacks on Israel on October 7 came almost 50 years to the day since the start of the Yom Kippur War. Then, hostilities began after the surprise invasion of Israel by Egypt, Syria, and Jordan on October 6, 1973. This time, the violence began with a brutal onslaught by the terrorist group Hamas.
Comparisons between the two can be overwrought. But tracking how evangelicals (and especially American evangelicals) responded to these crises 50 years apart—how our reactions changed, but also what stayed the same—is revealing. Evangelicals are paying closer attention to the Middle East now than we were then, and we're doing so from a wider range of perspectives.
Just days into the conflict, we've already seen prominent, public evangelical responses to Hamas's unprecedented acts of violence and hostage-taking. CT's own Russell Moore called for Christians to "stand with Israel under attack," and the National Association of Evangelicals' statement condemned violence on both sides.
Samuel Rodriguez, president of the National Hispanic Christian Leadership Conference, declared on Twitter/X, "Hamas is the new ISIS and must be stopped!" Shane Claiborne, the evangelical pacifist and activist, criticized both Israel and Hamas for "doing things that do not lead to peace." Greg Laurie, pastor of Harvest Christian Fellowship in California, speculated that the attack by Hamas was prophetically significant.
These responses are unsurprising. Today, we take it almost as a given that dozens, if not hundreds, of evangelical associations, parachurch organizations, churches, and leaders will weigh in on this tragic situation, and that those statements will vary in their stances.
But that wasn't always the case—and certainly not before the Yom Kippur War. Over the last 50 years, a veritable ecosystem of ministries and lobby groups has grown around Israeli-Palestinian relations, including some with explicitly Christian Zionist and pro-Palestinian commitments.
Of course, missions agencies dedicated to the Middle East have been around for more than two centuries. The same goes with evangelical leadership and support for humanitarian efforts in the region amid numerous wars in the modern era. But the single-issue advocacy devoted to the ongoing Israeli-Palestinian conflict is a more recent historical development in the evangelical world than many realize.
This phenomenon reflects a confluence of trends and factors unique to evangelicals—as well as the way evangelical attitudes have been shaped by our wider political and geopolitical context.
In 1973, a relatively small circle of leaders commanded most of the institutional and media influence when it came to speaking for "evangelicals" on the Middle East. That media environment centered on a small and fledgling Christian Zionist network forged in the early years of Israeli statehood. This network grew in prominence after the seismic Six-Day War in June 1967, wherein Israel decisively defeated its Arab neighbors.
Many of these spokesmen had one or two degrees of separation from CT founder Billy Graham, the proverbial sun around which much of postwar evangelical-Jewish relations orbited. Graham played a crucial behind-the-scenes role in October 1973 (during the Yom Kippur War), encouraging President Nixon to greenlight the largest airlift in US history to aid Israel.
And outside of Graham, the evangelical responses in 1973 represented a much narrower band of opinions than we see today. American evangelicals quickly and consistently came to Israel's defense. Arnold T. Olson, a then-recent president of the NAE and longtime president of the Evangelical Free Churches of America, described the attack on Israel as "further evidence of the depths to which the human mind can fall."
G. Douglas Young, the Canadian founder of the American Institute of Holy Land Studies (now Jerusalem University College), a graduate school in Jerusalem, compared the wartime challenges Israel faced to Jews in Germany in the 1930s, alleging that the relative silence by Christians in the second week of the war was reminiscent of the silence of the churches during the Holocaust.
For all his work with Nixon, Graham's Christianity Today had probably the least passionate analysis, denouncing the invasion but acknowledging that an "unwillingness to let go of any substantial part of its Six-Day acquisitions" meant Israel had "left behind the seeds of another conflict."
In the following decade, an entire class of Christian Zionist organizations would emerge and eclipse, at least in numbers, those evangelical authorities of 1973. The movement started by figures like Olson and Young, who were relatively closely aligned with Graham, would soon be displaced by a new crop of fundamentalist and Pentecostal-run organizations.
These were more ideologically (and eschatologically) driven conservatives who commanded far more resources and members than Olson's denomination and Young's grad school. Not only that, but their alignments would extend beyond theological stances—and prescriptions for US policy regarding Israel—to support emerging right-wing Israeli politicians like Menachem Begin.
Jerry Falwell Sr., Pat Robertson, and a young John Hagee engaged in dedicated pro-Israel activism beginning in the late 1970s. In 2006, Hagee founded Christians United for Israel, a lobbying organization, with Falwell serving on the board of directors.
By then, American Christian Zionists, most of them evangelicals, were ready for a single-issue umbrella organization to speak for them as a voting bloc. Today, Hagee's organization claims more than 10 million members.
While the advent of organized Christian Zionism is a defining development in how evangelicals now engage with the Israeli-Palestinian conflict, it is not the whole story. A parallel, if smaller, movement also emerged after the 1973 war, giving voice to the fledgling evangelical Left's critique of Christian Zionism and identification with Palestinian Christians.
Magazines like The Post-American (now Sojourners) began to critique the theological and political motives of pro-Israel evangelicals. And by the 1980s, international figures like John Stott encouraged—through the Lausanne Movement and elsewhere—evangelical organizations to combat Christian Zionism and forge relationships with Palestinian Christians.
Evangelicals for Middle East Understanding formed in 1986, and Sabeel, a theology center headquartered in the West Bank, was founded in 1989 by Palestinian Anglican liberation theologian Naim Ateek. In recent years, Bethlehem Bible College, the related Christ at the Checkpoint conference, and a growing network of pro-Palestinian organizations have also emerged.
Today, the balance between pro-Israel and pro-Palestinian advocacy is nowhere near equal—Christian Zionists have never been more organized and unified than in the last decade and a half. They indisputably contributed to former president Donald Trump's move of the US embassy in Israel to Jerusalem in 2018, a long-held Christian Zionist goal.
After this month's Hamas terrorist attacks, the International Fellowship of Christians and Jews, a Jewish-led organization supported primarily by evangelical Christians, immediately pledged $5 million in relief. Hagee's Christians United for Israel also promised to "confront and overcome any elected official in Washington who would try to undermine Israel's ability to defend herself" in the war with Hamas.
And yet, it seems younger evangelicals are either more sympathetic to Palestinian political arguments (which does not mean support of Hamas) or disengaged entirely from the issue. Pro-Israel organizations like Passages—inspired by the popular Birthright Israel tours for American Jewish students—seek to halt this shift, but polling results continue to show a generational gap. The landscape has shifted significantly in 50 years.
Some of that has less to do with the situation in the Middle East than with political changes here in the US. Partisan realignment on foreign policy is a major part of this story, as is the growth of domestic lobby groups such as the American Israel Public Affairs Committee (AIPAC). Support for Israel, while still broadly bipartisan among most Americans, has increasingly become a culture war skirmish, pitting conservatives against progressives and young against old.
The introduction of the internet and social media, meanwhile, means American evangelicals are more aware of the daily lives of both Israelis and Palestinians than ever before. Of course, what we know is shaped by the filters of the organizations and outlets we follow. A faithful viewer of the Christian Broadcasting Network (consistently pro-Israel with a dedicated Israel broadcast) will have a strikingly different understanding of current events than a fellow Christian who gets updates from Sabeel or B'Tselem, a Jerusalem-based peace organization.
Levels of evangelical tourism to Israel have remained high, giving thousands of visitors firsthand (if not necessarily representative) experiences of life in Israel and the disputed territories. In addition, the growth of Pentecostal leadership in conservative evangelical circles—from Hagee to Messianic Jewish activist Mike Evans to popular author Joel Rosenberg—has paved the way for Christian Zionism to grow beyond America and into a global movement.
But changes in the Middle East matter too. This includes the long-term political presence of Israeli prime minister Benjamin (Bibi) Netanyahu (a Christian Zionist favorite), the widening footprint of Jewish settlements in disputed Palestinian territories, the rising regional influence of Iran, and the violent and despotic acts of Hamas and ISIS, among other bad actors in the region.
This first week of fresh conflict in Israel has made indisputably clear how much evangelicals' Israeli-Palestinian conversation has changed since 1973—and how it has come to command far more of our attention. The present Israel-Hamas war may well see it evolve further still.
Daniel G. Hummel works at Upper House, a Christian study center on the campus of the University of Wisconsin-Madison. He is the author of Covenant Brothers: Evangelicals, Jews, and U.S.-Israeli Relations.
Print & Digital Issues of CT magazine

Complete access to every article on ChristianityToday.com

Unlimited access to 65+ years of CT's online archives

Member-only special issues