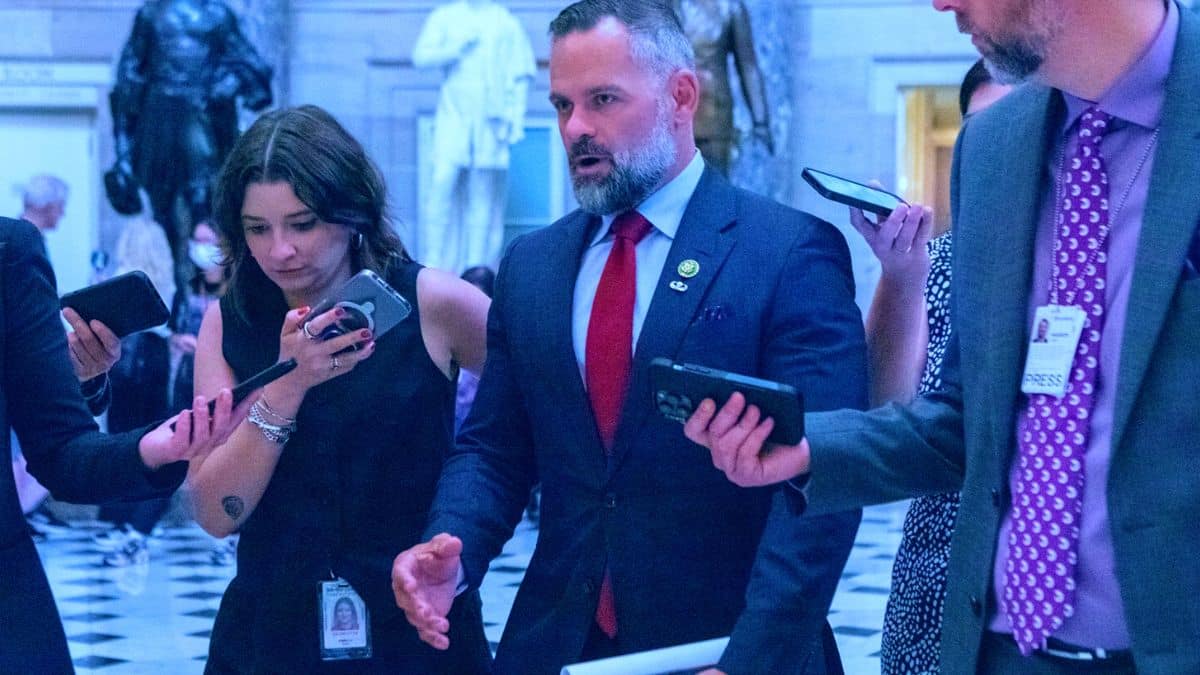 In a powerful expression of courage and love for one's countrymen, a Florida Republican Congressman, Representative Cory Mills, has taken it upon himself to rescue Americans stranded in Israel, which has recently been besieged by conflicts with Hamas.
With the help of the U.S. embassy in Jordan, Rep. Mills managed to assist in the evacuation of 77 U.S. citizens who found themselves unable to secure a flight out of Tel Aviv due to widespread airline cancellations.
He is reportedly planning further missions to evacuate more American citizens from Israel in the days to come.
These rescued Americans were safely transported across the Jordanian border, from where they booked their flights back home.
Rep. Mills told Fox News Digital, "You know, for me, there's a statesman and there's a politician. One acts and the other one talks, and I just couldn't sit there knowing Americans were losing their lives."
Highlighting the gravity of the situation, he further added, "And, look, I'm not making a massive dent in things. There's thousands of people that are still trapped there. I got 32 people out today, and I hope to get a lot more tomorrow."
Despite the rescue's success, Mills encountered unexpected challenges.
Initially, he intended to use an armored vehicle for the evacuation, but after this plan fell apart, Mills resorted to hailing a taxi to Israel.
Subsequently, new arrangements were made to transport the stranded individuals via bus.
In his effort to secure everyone, he made stops in two cities, where the Americans had grouped together, awaiting help.
Interestingly, many of these stranded Americans reportedly reached out to the U.S. State Department for assistance but did not receive the necessary support.
The current advice given to U.S. citizens by the embassy reads, "Ben Gurion International Airport remains open, but some flights have been reduced or suspended. U.S. carriers have temporarily suspended flights to Israel. Please check with the airlines on the availability of flights and flight status."
The crisis of flight cancellations arose when a rocket, believed to have been fired by Hamas, landed perilously close to the Tel Aviv airport.
Consequently, insurance companies informed major airlines that full coverage for aircraft wouldn't be provided, exacerbating the predicament of stranded U.S. citizens.
Mills, who took office earlier this year, mentioned that his involvement in these rescue operations meant missing crucial GOP speakership discussions in the House, Fox News notes.
However, he expressed no regret, stating, "I mean, there's Americans who are sitting here dying. There's hostages being taken" and "lives that are being lost."
"And I just feel like when you have an opportunity where you're blessed with the capability to be able to do something about it, how can you not?" he asked.
Reflecting on the evacuation, he shared, "This went very smoothly. I'm blessed. I feel like I was very lucky in this one and, you know, I want to continue to be able to do more."
On Wednesday, Mills revealed his office was getting "a ton of requests" from stranded Americans looking for help getting out of the region.
"I just kind of made the decision that I needed to step up and do something," he told reporters. "We talk about the difference between statesmen and politicians. One acts and one talks."
The Florida representative blamed the failures of the Biden administration.
"Since the Biden admin has failed to do their job once again, I've stepped in to rescue Americans stranded in war-torn Israel," Mills posted on X, formerly Twitter.
"In 2021, I was part of the team that conducted the first successful overland rescue mission of Americans from Afghanistan after the withdrawal of U.S. troops. Against all odds, our team saved four American citizens, even with the Biden administration working against our efforts. While this admin has a record of leaving Americans behind, I refuse to be a part of their reckless inaction."