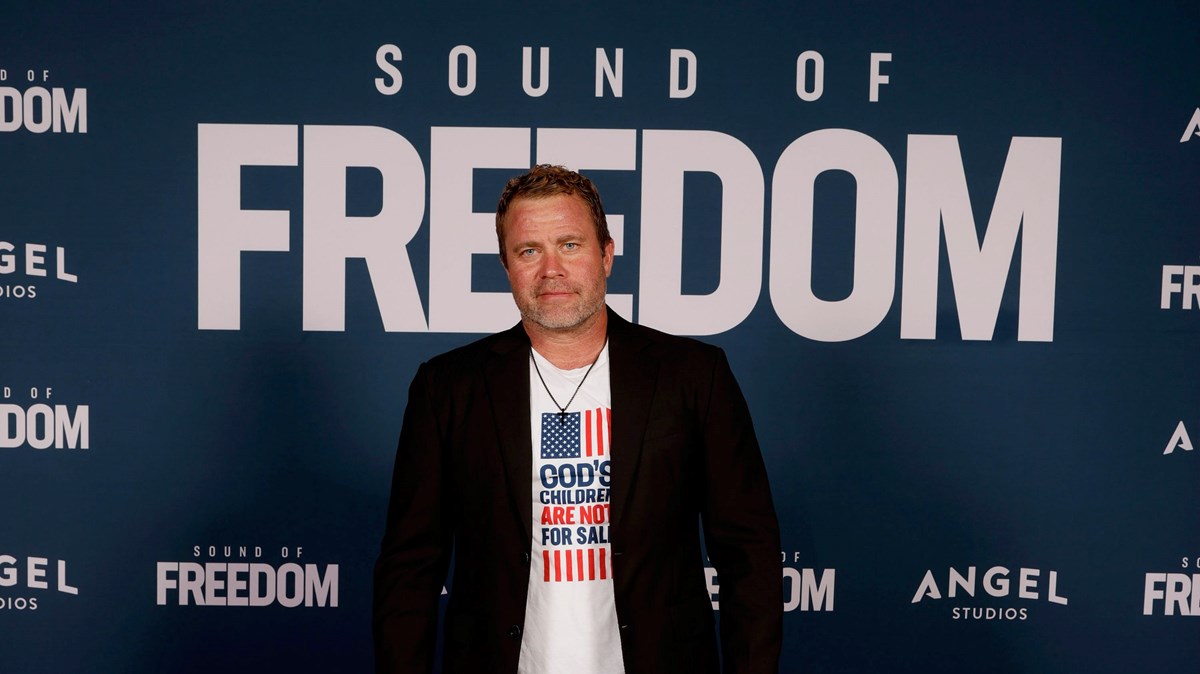 Tim Ballard, the star figure depicted in the summer hit movie Sound of Freedom, has been accused of battery and sexual assault by women who worked alongside him in anti-trafficking rescue operations.
In a lawsuit filed this week in Utah, five unnamed women share detailed accounts of their experiences with Ballard. The film, which was released by the faith-based distributor Angel Studios, depicts the dramatic rescues that his organization, Operation Underground Railroad (O.U.R.), became known for.
The women say that Ballard—a fellow Mormon and married father of nine—would pressure them into pretending they were a couple, signing a non-disclosure agreement once they agreed, and performing sexual acts, supposedly as a way to fool traffickers. But the women­ said he would also assault them when they were alone while describing his actions as "training" for pretending to be a couple on an operation. Ballard has denied the allegations.
One woman said that during her first meeting with Ballard, he explained the sexual acts she would need to act out with him in detail. "I would have to be willing to do these things in order to save children," she stated in the lawsuit.
The women allege in various instances that he asked them to describe their sex lives and to prove to him that they could sexually arouse him. They also described his insistence that this "couples ruse" was a "revelation from God," that Mormon leadership had approved it, and that the women had been "carefully selected to save lives in a very unique way that God has trusted us to do."
While trafficking rescue operations can involve covert identities, experts say this alleged behavior would not be acceptable. Suzanne Lewis-Johnson, a former FBI agent and a Christian who worked on child trafficking cases in Ohio for a decade, reviewed the lawsuit against Ballard.
"I ran operations in this arena. They did not look like that," she said. "There's nothing normal about what I read in the lawsuit."
She said no law enforcement operation would require sex acts to do a rescue, and that coercing staff to engage in sex acts in their jobs could itself be considered forced labor under federal trafficking statutes.
Most US anti-trafficking ministries do not center their work around covert rescue operations, but they often find that volunteers expect that kind of work because they have seen it depicted in movies.
Christian audiences flocked to Sound of Freedom this summer, a movie that raked in $184 million at the US box office, more than the latest in the Mission: Impossible and Indiana Jones franchises. In recent decades the fight against human trafficking has sparked increasing support and funding from evangelicals, with Christian groups describing anti-trafficking work as a new "abolitionist" movement.
The movie is centered on Ballard's story of leaving work as an agent at the Department of Homeland Security to catch child traffickers himself. What the lawsuit alleges is that the sting operations Ballard became known for were often tools for his own sexual gratification, where he would take female staff to massage parlors and strip clubs as part of training and operations. The women describe him pressuring them into sexual encounters and nudity in strip clubs and massage parlors with escorts, as well as groping them and engaging in other sexual activity.
"I kept thinking about how he had this government background and that they had probably taught him these techniques and that I should trust him," said one of the women in a statement.
The lawsuit says the women did not have previous experience in such operations, but got into the work at O.U.R. because of a personal passion to fight trafficking, and then were almost immediately recruited to act as Ballard's girlfriend. They said they had confided vulnerabilities to Ballard, like one woman being a rape survivor or another being a single mom.
The women say that O.U.R. provided little accountability for Ballard, that he misused organizational funds, and that two of their marriages ended because of his actions. They said they were shut out of rescue missions if they rejected Ballard's advances.
The lawsuit accuses O.U.R. of negligence after learning of the allegations and letting Ballard resign quietly ahead of Sound of Freedom's release. That allowed the organization to use Ballard's "face and the worldwide opening tour of Sound of Freedom to raise money," the lawsuit alleges. One woman who accuses Ballard of sexual assault in the lawsuit said she met him at an early screening of the movie.
Ballard resigned from O.U.R. in late June 2023, shortly before Sound of Freedom's theatrical release on July 4, but that was not publicized until after the film's release.
In September, the Church of Jesus Christ of Latter-day Saints released a rare statement, saying that Ballard had "betrayed" his friendship with the church's acting president, M. Russell Ballard, by using the president's name for "personal advantage and activity regarded as morally unacceptable." The statement did not specify what the morally unacceptable behavior was.
Vice has also reported allegations against Ballard, as well as The Blaze, a media organization founded by one of Ballard's biggest boosters, Glenn Beck. Beck has recently distanced himself from Ballard because of the allegations, saying he was "duped" by him. Ballard has been considering a Senate run to take retiring Sen. Mitt Romney's seat.
Following these media reports, Ballard released a statement saying, "During my time at O.U.R., I designed strict guidelines for myself and our operators in the field. Sexual contact was prohibited, and I led by example. Given our meticulous attention to this issue, any suggestion of inappropriate sexual contact is categorically false."
O.U.R. did not respond to a request for comment, but stated to Vice that it had previously commissioned a law firm to conduct a third-party investigation, that Ballard resigned, and that it "does not tolerate sexual harassment or discrimination by anyone in its organization."
Following his resignation, Ballard started The Spear Fund, another anti-trafficking organization where he is now listed as a "senior advisor."
In a statement, the organization's attorney Mark Eisenhut said, "The Spear Fund did not exist during the time of the alleged conduct and had nothing to do with it. Mr. Ballard vehemently denies the allegations brought by these unnamed women. He looks forward to vindicating his name in the courts where evidence, and not unsubstantiated accusations in the media, decides the outcome."
Whatever the outcome of the case, Lewis-Johnson, the former FBI agent, thinks Christian ministries should not do covert rescue operations themselves, because they lack consistent professional protocols and accountability.
She understands frustrations with law enforcement, because "we don't see the system doing what we think it should." But she said the alternative shouldn't be to set up a less accountable organization to carry out such operations.
"It's why I have such strong feelings that these things should not be done in a ministry context," she said. "We don't get to make it up as we go along. The stakes are so high."