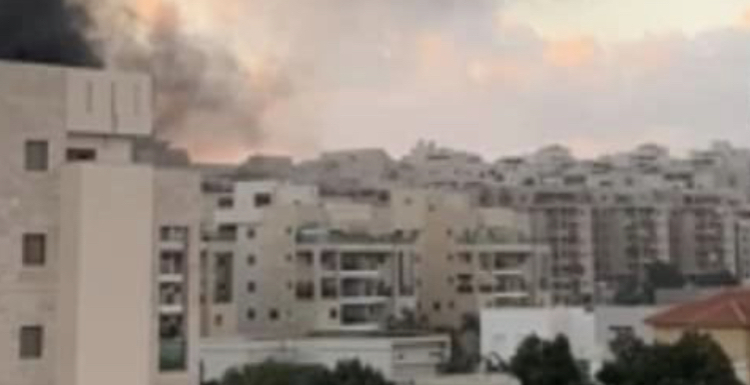 Updates will be forthcoming as they become available.
Sunday, Oct. 8, 2023, evening: The death toll has exceeded 600. Israel National News is reporting that Defense Minister Benny Gantz has warned about the future of the nation of Israel, revealing that threats were received through WhatsApp last week. In light of the threats, the invasion, and the attacks, Gantz warns that Israel may be reduced to the geographic area in the center of the nation.
The threatening messages included this:
"Continue to curse, you have no chance against Allah. Slowly slowly we are eating away at your country. We have land in the Negev that is the size of Gush Dan (central Israel -ed.), which is filled with tin shacks with little Bedouin children. What are you going to do? This is Palestinian land, essentially, and the moment a single tractor comes – we will use the leftist organizations such as 'Peace Now' and 'B'tselem,' which will turn to the real ruler of the country (the Supreme Court) to issue a cease and desist order. We will send children and youths to throw stones and barricade themselves at the scene until you run like mice from the area. …

"The Galilee, with Allah's help, will also be ours soon. We are buying a dunam for 50,000 shekel from the Administration, while the Jews pay 1,150,000 shekel. Already today we are 85% of the Galilee's population, and we are taking over at a fast pace, building homes in every corner without permits. Why, who will bother us? The Jews who live in the Galilee – they are all running to the center of the country. Why? They suffer from harassment, violence on the roads, extortion, shootings, thefts, and bribery."
These messages remind us of the story in 2 Kings 18, in which Sennacherib sends threatening messages to King Hezekiah. We learn how that king responded in 2 Kings 19:1: When King Hezekiah heard this, he tore his clothes and put on sackcloth and went into the temple of the Lord. Let's pray that the leaders of Israel will go straight to God for help and guidance.
Sunday, Oct. 8, 2023: The UN Security Council will meet today to discuss the war in Israel. Major airlines have canceled all flights in Israel. You can read details about the chaos and horror of the invasion here. If you would like a deep dive explanation of what Hamas is, go here.
We must continue to pray for the release of the hostages, and that they would cry out to God in their time of need.
Prime Minister Netanyahu has promised: "We will take mighty vengeance for this dark day." Let's pray for him to lead like King David at his best, looking to God for guidance and direction as well as understanding this truth from the Torah: "Vengeance is mine, and recompense, for the time when their foot shall slip; for the day of their calamity is at hand, and their doom comes swiftly" (Deuteronomy 32:35).
Please post your insights and prayers in the comments section.
Saturday, Oct. 7, 2023: In the wake of the Hamas attack, Prime Minister Netanyahu made the following statement this afternoon at a Security Cabinet meeting in Tel Aviv:
"Since this morning, the State of Israel has been at war. Our first objective is to clear out the hostile forces that infiltrated our territory and restore the security and quiet to the communities that have been attacked.

"The second objective, at the same time, is to exact an immense price from the enemy, within the Gaza Strip as well. The third objective is to reinforce other fronts so that nobody should mistakenly join this war.

"We are at war. In war, one needs to be level-headed. I call on all citizens of Israel to unite in order to achieve our highest goal — victory in the war."
IFA brings you the following report from David's Tent about the attack on Israel that has led that nation to declare war. Intercessors will want to know that this is the anniversary of the Yom Kippur War (and also the birthday of Russian President Vladimir Putin). Post your prayers below for the peace of Jerusalem (Psalm 122).
From David's Tent. At approximately 06:30 am Israeli time, on a quiet Shabbat morning, we were awakened by the repeating wailing of air raid sirens. For the past four hours the Islamist terror group Hamas has been firing rockets across southern Israel (Beersheva, Arad, Dimona, Sderot, Ashkelon, Ashdod, etc.) and also at the Greater Tel Aviv area and at the outlying suburbs of Jerusalem.
Though the Iron Dome anti-rocket defenses have managed to stop most of the rockets, some of landed. A 60 year old woman was murdered by a direct hit; some are moderately wounded.
Simultaneously, at least ten white pickup trucks driven by Hamas suicide squad jihadis crossed into Israel (as well as some on ultra-light single-place powered parachutists) and attacked approximately 21 sites, including kibbutzim and moshavim (farms), small towns (including police stations). They have been slaughtering civilians, including mothers and children, breaking into houses and indiscriminately killing the inhabitants. We have friends who have terrorists in their house as I write.
At least five IDF soldiers have been kidnapped and spirited away to Gaza. A Hummer armored vehicle most likely belonging to them has been paraded in the streets of Gaza — shades of 2 Samuel 1:20: "Tell it not in Gath, Proclaim it not in the streets of Ashkelon, Or the daughters of the Philistines will rejoice, The daughters of the uncircumcised will celebrate." There are sketchy details of at least 35 others kidnapped. Scores of IDF soldiers have been murdered. Over 80 casualties have been brought to Beersheva's Soroka hospital, and other figures quote 150 wounded. The situation of the ground is quite fluid.
At the moment of this writing, there are still many active sites of military confrontation between terrorist gangs and Israeli citizens/the IDF — 21 sites was the figure Israel's Chief of Police mentioned thirty minutes ago. Islamic Jihad has joined in the hostilities against Israel in the last hour.
(From David's Tent reports.)
Here is a video from Tikkun Global:
A brief summary of this video:
1. Hamas is on a suicidal mission based on its apocalyptic views of the future: The terrorist organization believes there must be chaos and war so that the Mahdi (a messianic "guided one") can come to earth and bring peace.
2. The aftermath of this war could bring disunity within the Israeli government — accusations and counteraccusations over who is at fault and why the country was caught unprepared.
3. The taking of Israeli hostages could force Israel to do a ground operation into Gaza, which could cause widespread psychological pressures among many.
4. Some say this happened because recent divisions in Israel have led enemies to believe that Israel is weak, making this a good time to attack.
5. The attack could also have been intended to disrupt recent moves toward a peace treaty between Israel and Saudi Arabia. Such a treaty would help Saudi Arabia resist Iran and its jihadist government, which is funding Palestinian terrorists.
6. Many also see Iran's hand in all this, because they view the attack as too big a move for Hamas to handle on its own. The Hamas terrorists are submitted to and receive funding from Tehran.
7. Above all, this crisis is spiritual: Our battle is not against flesh and blood. Tikkun Global, the video's producer, denies being primarily political — pro-Jewish and anti-Arab. This is a spiritual battle, the ministry insists, saying:
We pray for victory, which is more followers of Yeshua. He is not just the sacrificial lamb, but he is also the commander-in-chief of the armies of Heaven.
Pray that the outcome of the war will be good.
Pray correctly and strongly for good results, whether it's people repenting, Arabs and Jews uniting, humbling ourselves. Maybe this will result in revival. Ultimate victory is not military, but people receiving life in Yeshua, both Arabs and Jews.
Lift our Messianic Jews and our Arab Christian brothers and sisters up in prayer.
There are probably more people praying for Israel now than at any other time in its history. Let's believe God for a good outcome.
IFA received the following from a believing friend in Israel:
Shalom, dear ones! A war has broken out in Israel. Unfortunately… From 6.30 there was shelling and terrorists entered Israeli territory. Many cities have been shelled, there have been hits, fires… Explosions, fighting in several cities: Sderot, Netivot, Ashkelon… in many small settlements… Hostages were taken, 5 military, and civilians. Civilians shot… More than 1,000 missiles have been fired since the morning. This is the official message. It is recommended that no one go outside. Because it is not known how far the terrorists could have penetrated. There are real battles in the south of Israel. My friend's niece lives in Sderot. She sits with her 12 year old daughter in a fortified room with a knife in her hand. He hears explosions and machine gun fire… This is a believing family. Also in the same city is our friend Pastor Mikhail. I wrote to him, our pastor called him… right in front of their house, terrorists shot a family of 6 people (women and children).
We pray… There has not been such a full-scale invasion of Israel since at least the Yom Kippur War. By the way, this is the anniversary… And by the way, it's Putin's birthday. And Russia funds the Palestinian Authority… one can draw conclusions... We pray…
Our friends in Beersheva ask us to please pray as the Psalmist did: Arise, LORD, confront him, make him bow down; Save my soul from the wicked with Your sword (Psalm 17:13 NASB).
Intercessors, let's pray for the defeat of the terrorists invading Israel; entreat the Lord to rescue the Israelis who are under siege and those who've been kidnapped; pray for the wounded and for the families of the slain; ask our God to give divine wisdom to all of Israel's leaders; pray that IDF commanders might devise effective strategies; and implore the Lord to empower and shield the Israeli troops and to grant them victory.
HOW ARE YOU PRAYING FOR ISRAEL TODAY? Share below your scriptures and prayer strategies.