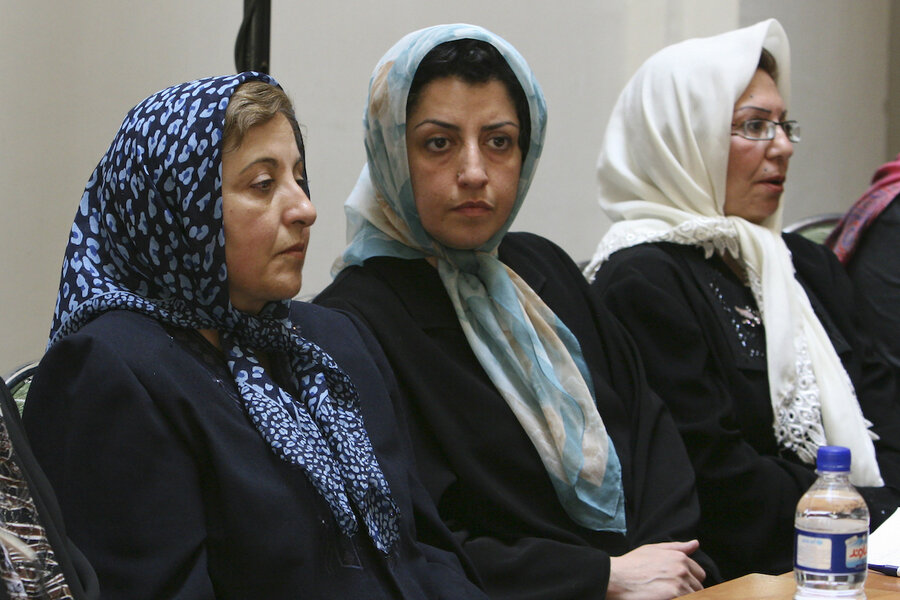 Imprisoned Iranian activist Narges Mohammadi won the Nobel Peace Prize on Friday in recognition of her tireless campaigning for women's rights and democracy and against the death penalty.
Ms. Mohammadi has kept up her activism despite numerous arrests by Iranian authorities and spending years behind bars. She has remained a leading light for nationwide, women-led protests, sparked by the death last year of a 22-year-old woman in police custody. Those demonstrations grew into one of the most intense challenges ever to Iran's theocratic government.
"This prize is first and foremost a recognition of the very important work of a whole movement in Iran with its undisputed leader, Narges Mohammadi," said Berit Reiss-Andersen, the chair of the Norwegian Nobel Committee who announced the prize in Oslo.
She said the committee hopes the prize "is an encouragement to continue the work in whichever form this movement finds to be fitting." She also urged Iran to release Ms. Mohammadi in time for the prize ceremony on Dec. 10.
For nearly all of Ms. Mohammadi's life, Iran has been governed by a Shiite theocracy headed by the country's supreme leader. While women hold jobs, academic positions, and even government appointments, their lives can be tightly controlled. Laws require all women to at least wear a headscarf, or hijab, to cover their hair as a sign of piety. Iran and neighboring Afghanistan remain the only countries that mandate it.
In a statement to The New York Times, Ms. Mohammadi said the "global support and recognition of my human rights advocacy makes me more resolved, more responsible, more passionate, and more hopeful."
"I also hope this recognition makes Iranians protesting for change stronger and more organized," she added. "Victory is near."
Ms. Mohammadi, an engineer by training, has been imprisoned 13 times and convicted five times, according to Ms. Reiss-Andersen. In total, she has been sentenced to 31 years in prison. Her most recent incarceration began when she was detained in 2021 after attending a memorial for a person killed in nationwide protests sparked by an increase in gasoline prices.
She has been held at Tehran's notorious Evin Prison, whose inmates include those with Western ties and political prisoners.
Her brother, Hamidreza Mohammadi, told The Associated Press by telephone that he has not been in touch with his sister but that the prize "means a lot to her."
Despite that and the fact that "the prize means that the world has seen this movement," the award will not affect the situation in Iran, he said.
"The regime will double down on the opposition, and it will have no effect on the regime," he said. "They will just crush people."
Waiting for the announcement "was nerve-wracking," he said. But he knew immediately that his sister had won when he heard Ms. Reiss-Andersen saying three words in Farsi: "woman, life and freedom" – the slogan of the recent demonstrations.
"I felt very great," said Hamidreza Mohammadi, who lives in Norway.
Narges Mohammadi is the 19th woman to win the Nobel Peace Prize and the second Iranian woman, after human rights activist Shirin Ebadi won the award in 2003
It's the fifth time in the 122-year history of the awards that the peace prize has been given to someone who is in prison or under house arrest. Last year, the top human rights advocate in Belarus, Ales Bialiatski, was among the winners. He remains imprisoned.
Ms. Mohammadi was in detention for the recent protests of the death of Mahsa Amini, who had been picked up by the morality police for her allegedly loose headscarf. More than 500 people were killed in a heavy security crackdown while over 22,000 others were arrested.
But from behind bars, Ms. Mohammadi contributed an opinion piece for The New York Times last month.
"What the government may not understand is that the more of us they lock up, the stronger we become," she wrote.
In a first reaction from Tehran, the semi-official Fars news agency dismissed Ms. Mohammadi as someone who "persisted in creating tension and unrest and falsely claimed that she was beaten in prison."
Fars is believed to be close to Iran's hard-line paramilitary Revolutionary Guard, which answers only to Supreme Leader Ayatollah Ali Khamenei.
Abuse in Iranian prisons – something Ms. Mohammadi has campaigned against both outside of and behind bars – has been widely reported by the United Nations and human rights groups.
"The women of Iran have been an inspiration for the world. Their courage and determination in the face of reprisals, intimidation, violence and detention have been remarkable," said Ravina Shamdasani, spokeswoman for the U.N. human rights office in Geneva. "We call for her release and the release of all other human rights defenders detained in Iran."
Before being jailed, Ms. Mohammadi was vice president of the banned Defenders of Human Rights Center in Iran. Nobel laureate Ms. Ebadi, who Ms. Mohammadi is close to, founded the center.
In 2018, Ms. Mohammadi was awarded the Andrei Sakharov Prize. Earlier this year, PEN America, which advocates for freedom of speech, gave her its PEN/Barbey Freedom to Write Award. The organization applauded her win.
The choice "is a tribute to her courage and that of countless women and girls who have poured out into the streets of Iran and faced down one of the world's most brutal and stubborn regimes, risking their lives to demand their rights," PEN America CEO Suzanne Nossel said in a statement.
The Nobel Prizes carry a cash award of 11 million Swedish kronor (about $1 million). Winners also receive an 18-carat gold medal and diploma at the award ceremonies in December.
Unlike the other Nobel prizes that are selected and announced in Stockholm, founder Alfred Nobel decreed that the peace prize be decided and awarded in Oslo by the five-member Norwegian Nobel Committee. The independent panel is appointed by the Norwegian parliament.
The Nobels season ends next week with the announcement of the winner of the economics prize, formally known as the Bank of Sweden Prize in Economic Sciences in Memory of Alfred Nobel.
This story was reported by the Associated Press. Elena Becatoros and Jan M. Olsen also contributed to this report.