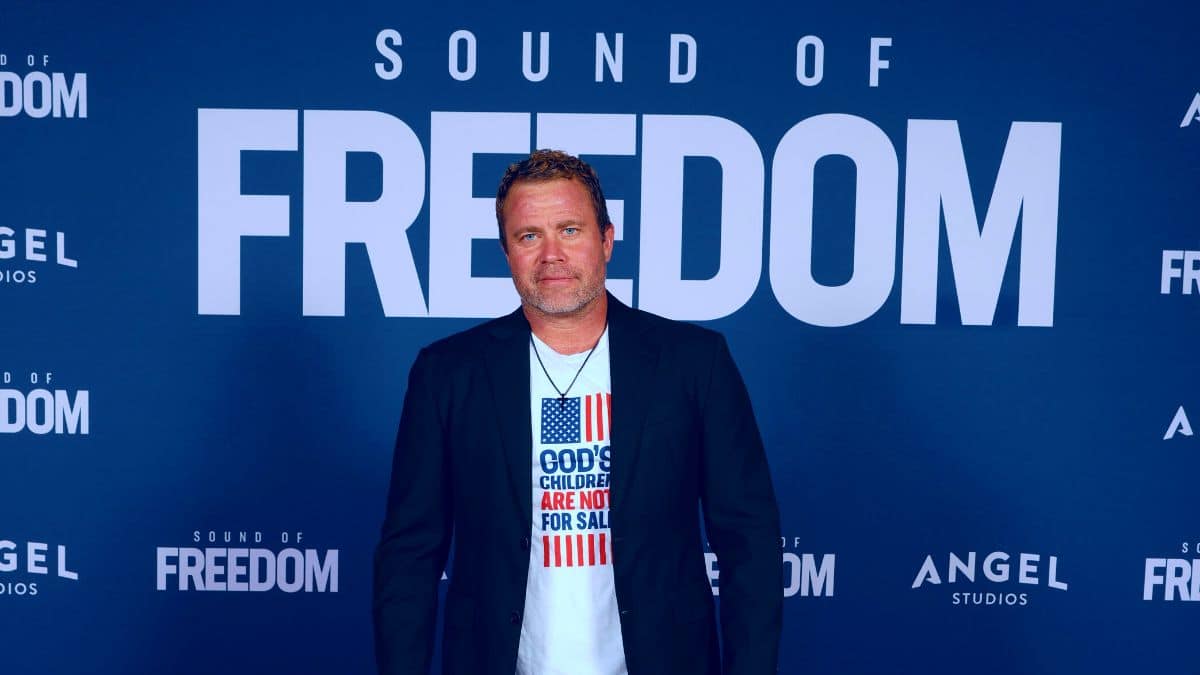 The Church of Jesus Christ of Latter-Day Saints is distancing itself from Ballard's alleged "morally unacceptable" behavior.
QUICK FACTS:
Far-left media outlet VICE has alleged that sex trafficking rescuer Tim Ballard engaged in numerous instances of sexual misconduct.
Tim Ballard is the leading figure in the film "Sound of Freedom," played by actor Jim Caviezel.
Ballard's exit from Operation Underground Railroad (OUR) followed an investigation into his alleged sexual misconduct.
Anonymous sources reportedly close to the matter claimed Ballard encouraged women to pose as his "wife" on missions, inviting them to share a bed and even asking one woman "how far she was willing to go" to save the children.
"Several weeks ago, an OUR employee who accompanied Tim on an undercover operation filed a sexual harassment complaint against him with OUR's HR department," an anonymous letter reads. "This resulted in an extensive internal investigation into Tim and his individual operational tactics and led to more women speaking up as part of the investigation process."
According to VICE, the letter continued, "It was ultimately revealed through disturbingly specific and parallel accounts, that Tim has been deceitfully and extensively grooming and manipulating multiple women for the past few years with the ultimate intent of coercing them to participate in sexual acts with him, under the premise of going where it takes and doing 'whatever it takes' to save a child."
The outlet also claimed that "prosecutors believe Ballard communicated with a psychic to speak to the prophet Nephi 'to get intel' on how to rescue children."
The VICE report follows a leak to the press that Ballard is preparing a run for the U.S. Senate to replace Republican Mitt Romney.
BALLARD RESPONDS TO CLAIMS:
"It's not true, nothing you hear is true," Ballard told supporters during an American Covenant Tour in Boston. "This is breaking down my family like you can't believe."
The Church of Jesus Christ and Latter-Day Saints issued a statement to address the situation, which noted in part that Ballard's behavior was "morally unacceptable."
The LDS statement noted the broken relationship between Tim Ballard and church elder President M. Russell Ballard, who is of no relation, stating, "Once it became clear Tim Ballard had betrayed their friendship, through the unauthorized use of President Ballard's name for Tim Ballard's personal advantage and activity regarded as morally unacceptable, President Ballard withdrew his association."
"President Ballard never authorized his name, or the name of the church, to be used for Tim's personal or financial interests," the statement continued.
"I don't believe the Church did this," Ballard said. "I truly don't. Can you imagine that the Church of Jesus Christ of Latter-Day Saints would publicly condemn one of its members?"
Ballard stated in the video, "I'm as human as anybody. But how is it that my decisions and my actions which led to the rescue of over 7,000 women and children and the arrest and imprisonment of over 5,000 traffickers and pedophiles, you tell me how I'm the bad guy in that story. How is it possible?"
"I pray to God the Church of Jesus Christ of Latter-Day Saints wasn't part of this."
BACKGROUND:
VICE previously condemned the film "Sound of Freedom," writing that Operation Underground Railroad has a "long history of false claims."
The left-wing outlet claimed that actor Jim Caviezel has "garnered attention for his support for QAnon-linked conspiracy theories about children being trafficked" and killed.
The outlet noted other forms of "QAnon mythology" connected to Ballard and Caviezel and suggested, "a number of OUR's claims about its work are dramatically overstated or without clear documentary evidence."