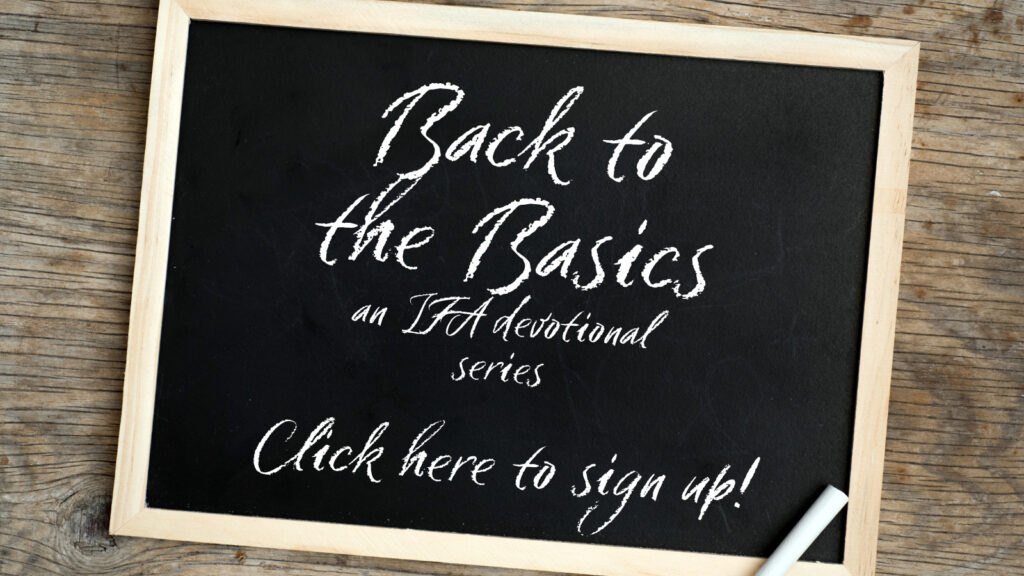 The following is an excerpt from our daily devotional series "Back to the Basics," written by IFA contributing writer Gloria Robles.
But the Jews who were not persuaded, becoming envious, took some of the evil men from the marketplace, and gathering a mob, set all the city in an uproar and attacked the house of Jason, and sought to bring them out to the people. But when they did not find them, they dragged Jason and some brethren to the rulers of the city, crying out, "These who have turned the world upside down have come here too. Jason has harbored them, and these are all acting contrary to the decrees of Caesar, saying there is another king — Jesus" (Acts 17:5–7 NKJV).
The Church started out small. It began with twelve disciples called to be apostles. Later, Paul the apostle said that at least 500 people saw the Lord after His resurrection (see 1 Cor. 15:6), yet we know that only 120 were in the upper room waiting for their promise. Regardless of the numbers, we do know certain things: They were a small gathering of believers; they were filled with His Spirit; they were persecuted by political and religious leaders; they suffered much and yet turned the world upside down by preaching the kingship of Jesus; they impacted not only their country, but even the world. When I read the book of Acts, I am both empowered and convicted.
I am empowered to know that I can do what they did, because Jesus Christ is my Savior as He was theirs. I am filled with His Spirit, just as the disciples were. And the same is true of you.
I am convicted in knowing that I'm not living up to the standard of the early Church. At times, my Christianity doesn't look like theirs. By now, you have probably figured out that the apostles had no "secrets" to successful ministry. A lot of modern churches teach seminars and sell books on this, but the only way to be the Church we are called to be is to do what Jesus did. That's what the apostles did. They were passionate about the Lord. They were men and women of prayer. They were soul winners. They were generous. They performed many miracles. They cast out demons. They laid hands on the sick and saw them recover. They raised people from the dead. Phillip was translated once. Peter was supernaturally rescued from a prison by an angel. In fact, angelic activity was normal for the apostles. The supernatural was natural to them. This is what the Church was always intended to look like. We were never called to mediocrity.
You too can do what Jesus did. Are you saved? Then yes, you are called to this great power, too. He appointed you. He chose you for this very reason and this very season. The early Church understood all this, and that's why that Church was so successful. That Church was built on one thing: and it wasn't lights, or programs, or fancy productions — it was the Lord Jesus Christ. If the Church is to survive today, we must return to that. Jesus Christ is the only true foundation of the Church. It's all about Jesus!
I never want to read the book of Acts and think that those were "the good old days." I want to see the Church return to what I read there, and I imagine the Lord wants it for His Church even more than we do.
The Lord wants His Church back.
Reflection:
Maybe reading some of this has upset you at points. Maybe you have felt convicted. I know I was, even as I was writing this. It's time to come clean before the Lord. We have been great at pretending that we have it all together, when all the while, our lives are a mess. Our lives are meant to produce fruit, but what fruit are they producing? Let Holy Spirit search your heart, and then confess and repent of any wrongs that He brings before you.
Messianic rabbi Jonathan Cahn once said something I will never forget: He said that Christians are great at confessing, but not so much at repenting. "Confessing is what we do when we go down on our knees, but repentance is what we do when we get back up," he said. This blew my mind. When we are confessing to God, we are acknowledging our sinfulness, and then we may think we're done. But we're not. Repentance is turning away from sin. It involves a change in mind and a resolve not to do it again. If we find ourselves repenting of the same thing over and over, that's not repenting. Pray as the Spirit leads you. Ask Him to give you a godly sorrow over your sin. Pray for the Church to return to the Lord.
Prayer:
Father, I want to be who I was created to be. You chose me before I was born, to be Yours. I'm tired of living like a substandard Christian, when the truth is that You have given me everything I need in Christ. Forgive me, Father, for letting myself be sold out to methods and formulas instead of being sold out for Jesus. I want what You want for me. If it's not of You, then I don't want it. I want to do what Jesus did, because You have equipped me for such a time as this. I can do what the disciples did because Jesus said we can and will do even greater things.
Forgive me for those times I have failed to believe all this. I don't want what the modern Church has to offer. I want the Church that I read about — in which the dead are raised; I want to see demons cast out and captives freed; I want to see miracles that only the Lord can receive the credit for; I want to see signs and wonders; I want to hear about angels interrupting church services; I want to hear about people being translated, and miracles so great that they transcend our earthly thinking; I want to see the altars full of souls being saved not only in church, but wherever Jesus is being preached. And I want not only the miraculous, Lord, but also to see a Church that is walking in true holiness — a Church that understands that our holiness is directly connected to our knowing You and our nearness to You.
This is normal Christianity. This is the blood-bought church. Lord, take us back to the beginning. Forgive Your Church for straying so far from what we were called to do and to be. We need You now more than ever, Lord. You are the only hope for the Church. Amen.
Did this article encourage you? Did it convict you? Share your thoughts and prayers below!
IFA contributing writer Gloria Robles is a passionate intercessor with a prophetic voice for today. For more from Gloria, go to Spotify or Anchor and listen to her podcast, Something To Share. Photo Credit: Bjorn Brekelmans/Getty Images.