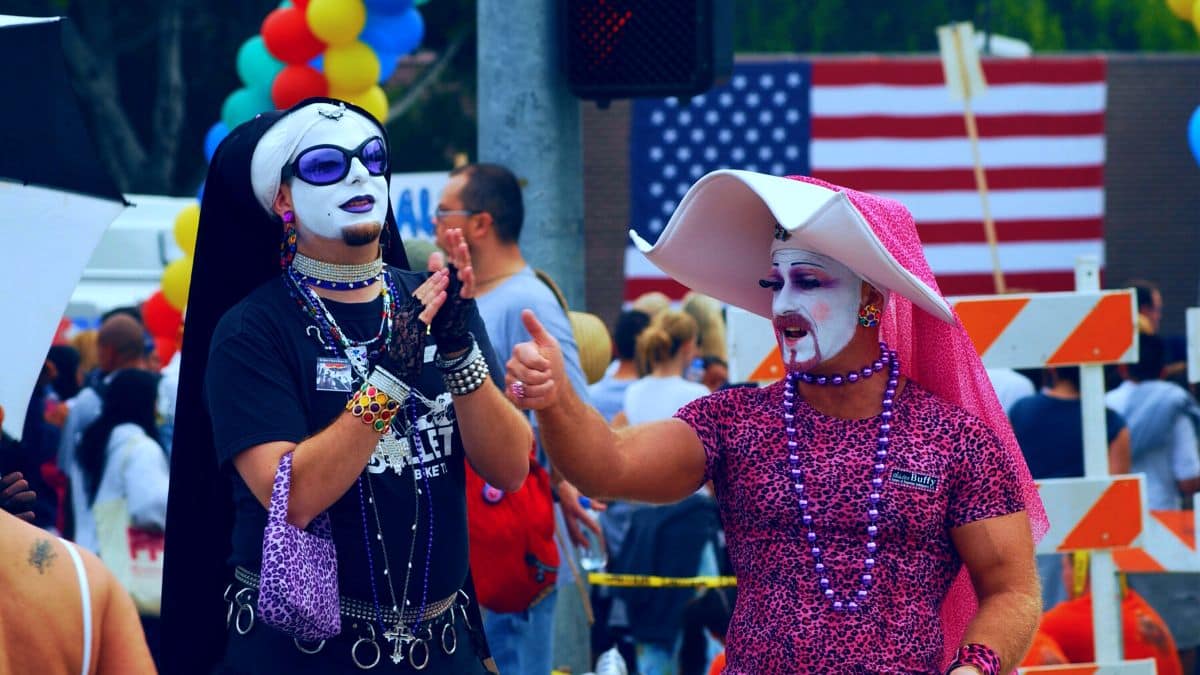 An active member of the "Sisters of Perpetual Indulgence," a group known for openly mocking Catholics, was arrested last month for indecent exposure.
QUICK FACTS:
A member of the group "Sisters of Perpetual Indulgence," an organization with strong ties to the LGBTQ+ community, was arrested in California last month for indecent exposure.
Witnesses say the man, 53-year-old Clinton Monroe Ellis-Gilmore, was arrested by police at a beachside park after they received a report of a male "exposing himself in the driver's seat of a parked vehicle."
"According to numerous witnesses, Ellis-Gilmore had been at that location for approximately one hour, sitting in his truck with the door open, masturbating," according to a sheriff's report. "The conduct does not appear to have been directed at anyone in particular." 
Randy Fleek, a witness who spoke with officials, said the member made no attempt to hide what was going on.
"There's something wrong with that man. He's got a weird [expletive] desire to show off to the public, to anybody that wants to look at him," Fleek said. "He puts himself in a position and in a spot that you can't help but look at the son of a [expletive]."
Fleek described the location as "popular" and a unique spot where a lot of vehicles come through to view the ocean.
"People pull in to see the ocean, they don't pull in to see this. But you can't help but see," he continued.
EYEWITNESS RANDY FLEEK ON SISTERS OF PERPETUAL INDULGENCE MEMBER EXPOSING HIMSELF IN PUBLIC:
"Well this is [expletive] up," Fleek said. "It's obvious. You cannot help but see this guy, he's not hiding it. He wants everyone to see what he's doing."
BACKGROUND:
In May 2023, Anaheim Mayor Ashleigh Aitken extended an invitation to the Sisters of Perpetual Indulgence to attend an Angels Pride Night.
The move came after the Los Angeles Dodgers' rescinded their invitation to the group, leading to a public fallout with both the Los Angeles LGBT Center and LA Pride, who decided to withdraw from the Dodgers Pride Night.
The group was not just set to attend the event but were also due to receive awards.
However, their invitation was revoked following protests from some Catholic groups that accused them of ridiculing their faith.
In June 2023, the California Family Council (CFC), the American Council, and the California Catholic Conference hosted a prayer vigil as a Sisters of Perpetual Indulgence member was to be honored by the California State Senate.
The decision came as California Senator Scott Weiner (D) planned to recognize "Sister Roma."
"It's disheartening to see the California Legislature honor a group characterized by its mockery of Christianity in general and Catholicism in particular," said CFC President Jonathan Keller in a press release at the time.
"By promoting the profane 'Sisters of Perpetual Indulgence,' these elected leaders are endorsing mockery, hatred, and blasphemy. This ceremony is deeply offensive towards millions of Californians across the Golden State," the press release read.
"While the California State Senate serves as a symbol for many values, it should not be associated with disrespect or hatred towards those with differing religious ideologies."