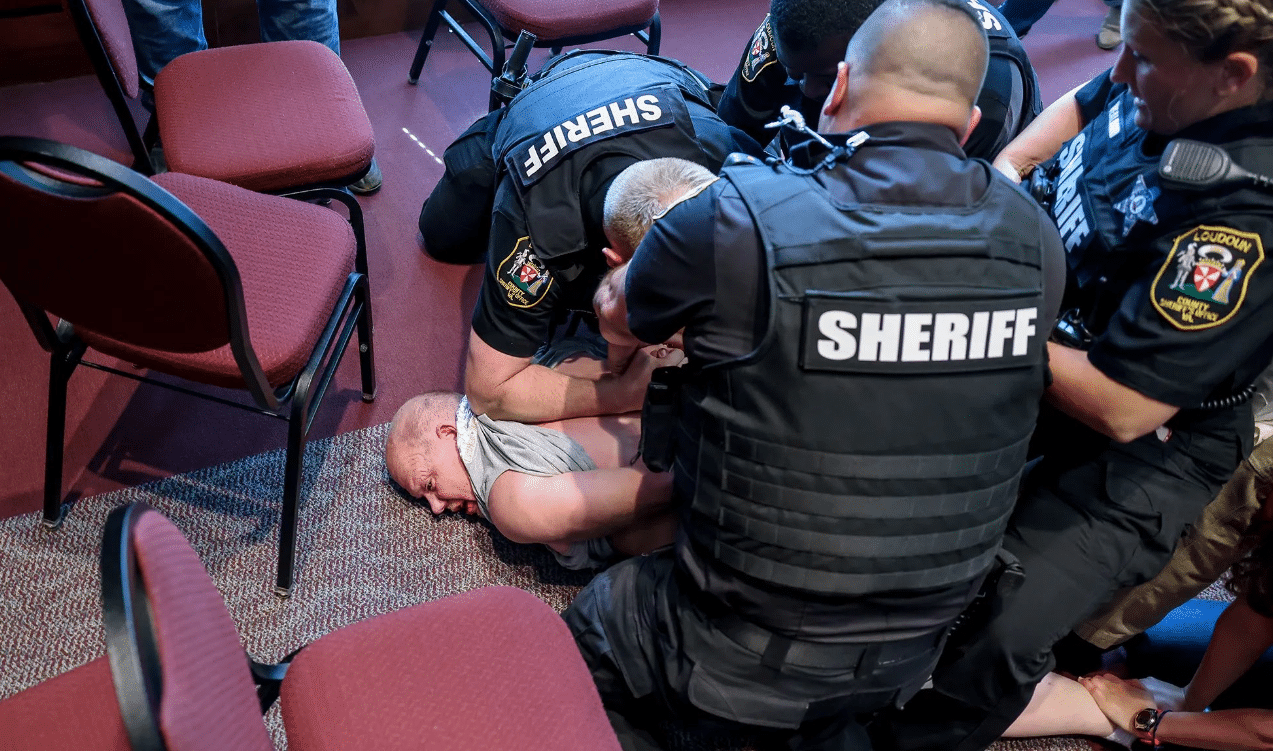 Gov. Glenn Youngkin (R-VA) pardoned a father over the weekend for being wrongfully convicted for defending his daughter's sexual assault by a "gender-fluid" boy at school.
QUICK FACTS:
Virginia Republican Governor Glenn Youngkin granted father Scott Smith a pardon for being wrongfully prosecuted and convicted for defending his daughter in a 2021 school board meeting after she was sexually assaulted.
Smith's ninth-grade daughter was reportedly raped in the girls' restroom of a high school in Virginia's Loudoun County at the time by a "gender-fluid" boy wearing a skirt.
The school board actively tried to cover up the incident, refusing to file a police report, and handling the matter "in house."
Smith was arrested during a school board meeting after the school called the police on him for "making a scene."
"Scott Smith is a dedicated parent who's faced unwarranted charges in his pursuit to protect his daughter. Scott's commitment to his child despite the immense obstacles is emblematic of the parental empowerment movement that started in Virginia," Gov. Youngkin said in a statement.
"In Virginia, parents matter and my resolve to empower parents is unwavering. A parent's fundamental right to be involved in their child's education, upbringing, and care should never be undermined by bureaucracy, school divisions or the state. I am pleased to grant Scott Smith this pardon and help him and his family put this injustice behind them once and for all."
REPUBLICAN GOV. GLENN YOUNGKIN ON STANDING UP FOR PARENTS IN VIRGINIA:
"We righted a wrong, he should have never been prosecuted here. this was a dad standing up for his daughter," Youngkin said.
BACKGROUND:
In January 2022, Youngkin set up a tip line to allegedly report schools teaching Critical Race Theory (CRT).
According to the New York Post, Youngkin created a new "Help Education" email address that is available "for parents to send us any instances where they feel their fundamental rights are being violated, where their children are not being respected and where there are inherently divisive practices in their schools."
This will help enforce his new executive order that bans the use of CRT and other "divisive concepts" in public schools, Youngkin told radio host John Fredericks at the time.
Following an incident where a Fairfax County high school's lesson plan included playing "Privilege Bingo," Gov. Youngkin said this was "exactly why I signed that executive order."
The governor went on to say that teaching CRT in schools was dividing groups into those being blamed for the past and those who are victims.
"We're asking folks to send us reports and observations that will help us be aware of things like Privilege Bingo," Youngkin continued.
In March 2023, Youngkin stated more "gender-neutral bathrooms" should be added to public schools.
The statement was made at a CNN Town Hall after Youngkin was questioned on athletic and restroom policies by a 16-year-old "transgender man."
"What's most important is that we try very hard to accommodate students. That's why I have said many many times, we just need extra bathrooms in schools. We need gender-neutral bathrooms, and so, people can use the bathroom that they in fact are comfortable with," Youngkin said at the time.