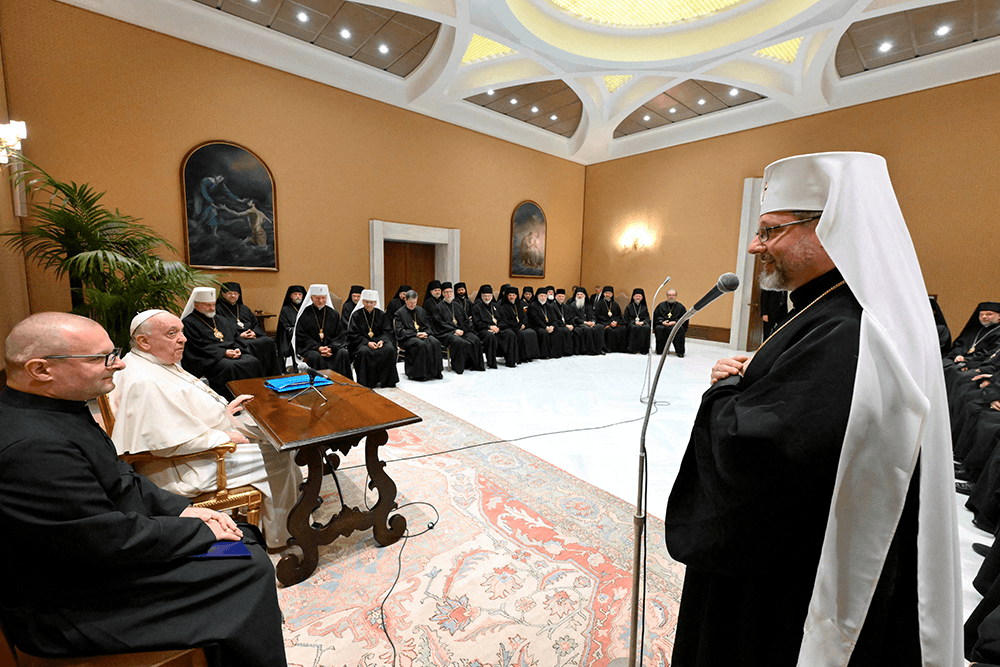 Ukraine's Eastern Rite Catholic bishops bluntly told Pope Francis at a meeting on Wednesday that some of his comments about Russia had caused great pain and were being used by Moscow to justify a "a murderous ideology."
In a statement that was remarkable for its candor, they said their two-hour session with the pope at the Vatican was a "frank conversation."
At the heart of the dispute are unscripted remarks the pope made to young Russian Catholics in a video conference on Aug. 25. He spoke of past tsars Peter I and Catherine II — both of whom expanded Russian territory — and told his listeners they were the heirs of the "great Russian empire."
The comments caused an uproar in Ukraine because Russian President Vladimir Putin has invoked the legacies of the two Russian monarchs in justifying his invasion of Ukraine and the annexation of some of its territory.
They were welcomed by the Kremlin, which praised the pope for what it said was his knowledge of Russian history.
The statement from the Ukrainian bishops said the prelates "expressed the Ukrainian people's pain, suffering, and a certain disappointment" over the papal remarks.
Two days ago, speaking to reporters aboard his plane returning from a trip to Mongolia, Francis acknowledged that his comments on Russia were badly phrased and said his intention was to remind young Russians of a great cultural heritage and not a political, imperial one.
The bishops' statement said they told the pope that certain statements and gestures of "the Holy See and Your Holiness are painful and difficult for the Ukrainian people, who are currently bleeding in the struggle for their dignity and independence."
They told him that such statements were "used by Russian propaganda to justify and support the murderous ideology of the 'Russian World,'" a reference to Putin's attempts to justify actions in Ukraine by propounding a view of history that asserts Ukraine has no real national identity or tradition of statehood.
The statement quoted the pope as telling the bishops: "The fact that you doubted whom the pope is with was particularly painful for the Ukrainian people. I want to assure you of my solidarity with you and constant prayerful closeness. I am with the Ukrainian people."
By contrast, the Vatican's statement on the meeting did not depict any of the tension and bluntness contained in the bishops' description of the meeting.
While the pope has condemned the war as an unjustified act of aggression and has called Ukraine a "martyred nation" at nearly each of his public appearances since the invasion last year, he has disappointed Ukrainians by not forcefully and specifically calling out Putin as the conflict's instigator.