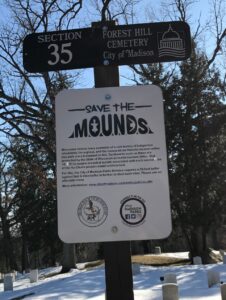 Intercessors everywhere are branching out in various ways by the leading of the Holy Spirit. IFA writer Rich Swingle is cycling through the New York City borough of Manhattan with prayer. Florida state prayer leaders connected with other intercessors and prayed over several bodies of water. In July, several intercessors went on a cruise to pray over the waters. Many are gathering on school grounds to pray fervently. On-site praying is becoming more common, and people are praying and making bold declarations. This is the story of one intercessor moved by an article titled "Healing the Waters and Retaking the Land." She researched her city, was called to action by the Lord, and uncovered something exciting. 
Effigy Mounds
MaryJo Coleman is an IFA Wisconsin state prayer leader. After reading an article where a writer mentioned rituals being done in rivers in her city, she decided to do some digging of her own. MaryJo found that her city and state are full of effigy mounds. MaryJo has lived in Wisconsin for most of her life. She used to do health care work and was very aware of Native American ties to the land. She confessed: "I knew of the mounds, but I didn't really give them much thought. I had no understanding and no connection."  
Maybe you, like me, know little or nothing about effigy mounds. The term refers to the centuries-old hills or mounds of earth that Native Americans have used to bury bodies, artifacts, and tools. Many of these have been preserved for thousands of years, and they are marked with historical markers. It is believed that these locations were historically used for community and ceremonial gatherings. From the air, these mounds often appear conical or linear-shaped or are designed in the form of animals like a bear, bird, snake, or whatever animal or mythical creature they chose to depict. Although some of the remaining existing mounds are not used for worship today, others are still utilized for spirit worship. These mounds are basically altars or portals to the spirit realm. 
Wisconsin state prayer co-leader Audrey Frykenberg worked with MaryJo to locate effigy mounds in their state. Audrey discovered that Wisconsin is believed to have over 15,000 effigy mounds, with the southern half of Wisconsin having the highest concentration of mounds in the world. The capital city of Madison, built around two of the four chain lakes in the area, has the highest concentration of mounds in the state, with over 1,500 in groupings that range from roughly a handful to several mounds laid out in particular orientations, perhaps connected with star alignments. These lakes, and a fifth one about 35 miles farther out, were an established Winnebago (Ho-Chunk) settlement and trade area long ago. Ezekiel 16:31 describes such a societal structure and mounds: … building your vaulted chamber at the head of every street, and making your lofty place in every square. It is believed that as many as 80% of the state's mounds have been destroyed by agricultural development and infrastructure to support the establishment of towns and roads. However, state laws now protect the remaining sites, and several nonprofit groups are highlighting the revival of spiritual and cultural practices at these sites.
Prayer at Effigy Mound Sites
Prayer at strategic mound sites is the goal. MaryJo and Audrey feel sure that mounds that have been destroyed or damaged are unlikely to need addressing unless the Lord clearly directs them. This is based on the understanding that if there were bones in the mounds, or the site is being used as a portal, Scripture says that exposure of those bones (damage done to the mound) defiles the altar and essentially makes it defunct (see 2 Kings 23:16). At the mounds to which the Lord has directed them, they have been led to pray against demonic powers, suicide, and depression, and to ask for God's revival and blessing for the tribe in that area. One such mound was the Man Mound, site which is still used today for Ho-Chunk drum circles. Although the effigy's legs were cut off by road construction over 100 years ago and the feet destroyed by agriculture, the site is still active as a place of worship. So, the land was cleansed, and a prophetic declaration was made that the "mobility" of the demonic power at that portal would be finally shut down and made powerless in order to match what had happened in the natural. The atmosphere did change after those prayers.
One of MaryJo's first encounters happened in March at Ferry Bluff State Natural Area. MaryJo walked the bluff trails nearly a mile up. She was enjoying the beautiful view of the Wisconsin River, and she prayed: "Lord, show me what You want. Tell me what I can do." She said, "For some reason, this old worship song came to my mind. It was 'Let the River Flow,' by Darrell Evans." She went to YouTube and played the song and began to worship God right there on top of the bluff. She called Audrey to share what the Lord had shown her, and they prayed together. As she rested, MaryJo had a vision of arrows flying through the atmosphere at night, even though she was there during the daytime. She believed the Lord showed her what was happening in the spirit realm: Send forth lightning and scatter the enemy; shoot your arrows and rout them (Psalm 144:6 NIV).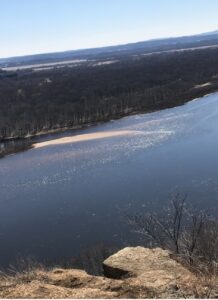 Nearly all of the mounds MaryJo has visited have been located next to or near a lake, river, or stream. Native Americans lived off the land and traveled by canoe, so the mounds would be near water. The Lord has led MaryJo to place mustard seeds in many areas. She prays and afterward throws mustard seeds into the bodies of water. She has also frequently put salt in the water as a prophetic act of healing the waters (see 2 Kings 2:21). She also anoints the grounds with oil, declaring Isaiah 10:27: … the yoke shall be destroyed because of the anointing.
On another occasion, MaryJo and a team of intercessors visited the state Capitol in Wisconsin. They noticed zodiac signs in one of the rooms, so they repented and offered redemptive prayers. Across the street, they were unable to enter the Wisconsin Historical Society building due to renovations, so MaryJo asked the guide if he knew of any effigy mounds. The man replied: "You're standing on one." Both the Capitol and the Historical Society building were built on mounds. The group prayed and discretely put oil on the ground, repenting of any ritualistic activity done against the Lord.
MaryJo recalls visiting the high point at the infamously liberal University of Wisconsin in Madison and seeing mounds on the campus. She prayed over the college. Another instance was a liberal Catholic college called Edgewood, which has a seven-mound grouping. She prayed and put tracts there as well.
On May 5, MaryJo and Audrey and attended Let Us Worship in Madison at the Capitol. She and a group of intercessors and other believers were now worshiping on top of an effigy mound they previously anointed and prayed on. Only God makes these things possible. 
Prayers of Repentance and Redemption
The central focus of each prayer stop is repentance. They ask the Holy Spirit to lead their prayer time. If He reveals the worship of ancestral spirits or Gaia, they repent. If He reveals bloodshed, whether it was abortion or murder on the land, they repent of it. They pray for the tribes and pour oil on the land. They finish by reclaiming the land for Jesus and declaring Psalm 24:1: The earth is the LORD's and the fullness thereof, the world and those who dwell therein.
Audrey's research revealed the tremendous redemptive heritage and destiny of the 12 Native American nations who reside in Wisconsin. As a result, they also now calling those things that are not as though they were (see Romans 4:17b), offering redemptive prayers for the Native Americans. Also revelatory were the IFA resources "Awaken the Sleeping Giant" and "Piercing the Darkness." Jubilee is coming for the Native American nations. MaryJo had prayed and asked the Lord how she could pray for the revival of First Nations peoples. Not long afterward, He answered. He has given MaryJo His heart toward them. She says that in the beginning she was indifferent, but now she can see how her attitude has changed through praying. She prays with God's heart and is moved to see reconciliation and revival. 
Praying With God's Heart
Earlier in the year, Pastor Landon Huie (Eau Claire, Wisconsin's Oasis Church) visited Madison and shared with a local church what the Lord told him about a revival that was coming to Wisconsin. It all ties in with the destiny of the state and fits right in with prophetic words discovered in 1948 about the river of revival flowing 100 miles either way along the St. Croix River Valley, which forms the western border of the state with Minnesota and encompasses several reservations and many towns in both states. Isn't that exciting? An intercessor and her friend wanted to pray for the healing of the land and uncovered an old prophecy that speaks of revival where they live, involving the people they are interceding for. Only God can orchestrate this. He will do this with any who are willing to step out in faith and move in obedience. Will you be one?
Father, we praise You that in the midst of chaos, You are speaking to people. You are giving dreams and visions as You said You would in the Last Days. We praise You for the obedience of those stepping out and praying with authority. Bless these and every prayer initiative taking place around the United States. Grant courage to every intercessor to step out where You are leading them. We pray according to Psalm 24 that You would fling wide open the gates over this nation and let the King of Glory come in: The Lord strong and mighty. As we exalt Jesus over this nation, men will be drawn to Him, as You have said in Your word. Let it be so, in Jesus' name. Amen. 
Share your prayers, thoughts, or insights about these things below.
IFA contributing writer Gloria Robles is a passionate intercessor with a prophetic voice for today. For more from Gloria, go to Spotify or Anchor and listen to her podcast, Something To Share. Photo credit: MaryJo Coleman.