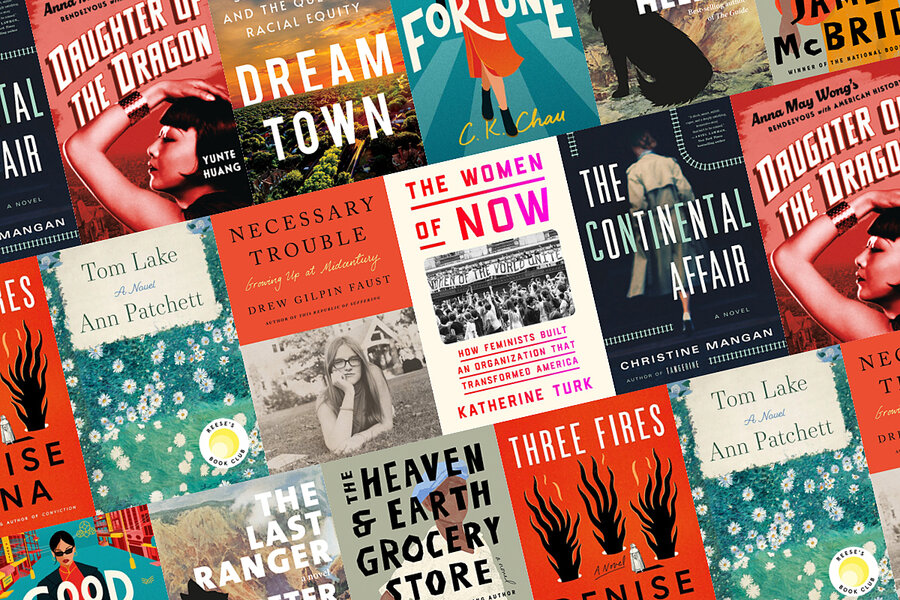 Feel a change in the air? It's not just the end of summer, but also a sign that we're entering a time of transitions. We're moving from less structure to fall schedules, and from beach reads to more "serious" fare.
Many of the characters in this month's fiction are in transition, too. They're seeking change in their communities and stronger relationships with family members. 
Why We Wrote This
A story focused on
The desire for transformation runs deep. Readers of this month's book selections may find inspiration for their own journeys.
For example, author Ann Patchett delves into the family dynamics of a mother and her three adult daughters. During the pandemic, the young women return to the family's farm to help pick cherries. They listen as their mother reminisces about a long-ago summer romance, and her story gives them an opportunity to see her in a new light. 
Among the nonfiction titles, a memoir by historian Drew Gilpin Faust describes her childhood of white privilege and her determination to shake up her segregated 1950s Virginia town. She went on to become an advocate for civil rights and women's rights, and served as the first woman president of Harvard University.  
1 The Heaven & Earth Grocery Store, by James McBride
In Chicken Hill, the Black and Jewish neighborhood of Pottstown, Pennsylvania, where immigrants and longtime residents strive and struggle, Chona Ludlow runs the local grocery with a fearless, open heart. When an attack at the store leads to an orphaned boy's arrest, community members rally. Frank and affectionate, this latest triumph from James McBride stresses the challenges of accessing America's promises.
2 Tom Lake, by Ann Patchett
Why We Wrote This
A story focused on
The desire for transformation runs deep. Readers of this month's book selections may find inspiration for their own journeys.
A mother recounts her days as an actress in Hollywood and summer stock theater to her three grown daughters. Set on a northern Michigan cherry farm during the pandemic, the quiet novel awakens gratitude for life's lessons. 
3 Three Fires, by Denise Mina
Denise Mina delivers a taut imagining of the rise and fall of a religious zealot in late 15th-century Italy. Girolamo Savonarola, a proud young man smarting from rejection and appalled by church corruption, embarks on an increasingly militant moral crusade. It doesn't end well. Weaving together present-day lingo and dry asides, Mina spotlights the traits and tragedies that lead to fanaticism. 
4 The Last Ranger, by Peter Heller
Peter Heller's adventurous novel centers on a Yellowstone National Park ranger with a poet's heart and a troubled past. The ranger's endeavors to solve mysteries, keep the peace, and safeguard a cherished friend are reverence in action. Heller's lyrical prose captures gorgeous natural landscapes, captivating wildlife facts, wolf folklore, and a vibrant community of characters.
5 The Continental Affair, by Christine Mangan
A woman convinced she's irredeemable. An upstanding man dogged by his past. Purloined cash – and the crooks who want it back. Christine Mangan's novel plunks these characters and that loot into Europe in the 1960s; the resulting slow-boil pursuit by train, bus, and foot recalls James Bond. But this is no romp. The troubled protagonists wrestle with regret, forgiveness, and a longing for home. 
6 Good Fortune, by C.K. Chau
This retelling of Jane Austen's "Pride and Prejudice" in New York's Chinatown ticks all the right boxes. When Darcy Wong's company offers to buy out the failing community center that Elizabeth Chen cherishes, sparks fly. 
7 Necessary Trouble, by Drew Gilpin Faust
Drew Gilpin Faust is an acclaimed Civil War historian and the first woman to serve as president of Harvard University. Her new memoir is both a moving personal narrative and an enlightening account of the transformative political and social forces that impacted her as she came of age as a privileged white girl in segregated Virginia.
8 The Women of NOW, by Katherine Turk
This illuminating account tells the story of the National Organization for Women through three diverse but little-known core members. In recounting their achievements and struggles, Katherine Turk highlights both the radical roots of the women's rights group and its lasting impact on American society.
9 Dream Town, by Laura Meckler
Laura Meckler examines the history of racial integration in Shaker Heights, Ohio, and the parallel struggle for racial equity in the city's public schools. She anchors each chapter with the narrative of a person who helped the town, bringing to life this story of perseverance in the face of imperfection.
10 Daughter of the Dragon, by Yunte Huang
Chinese American actor Anna May Wong's 40-year stage and film career ranged from bit parts in the 1920s to supporting roles in big-budget hits. Yunte Huang exposes the racist policies and conflicting attitudes that limited her rise. Wong persevered; her individuality and style still inspire today.