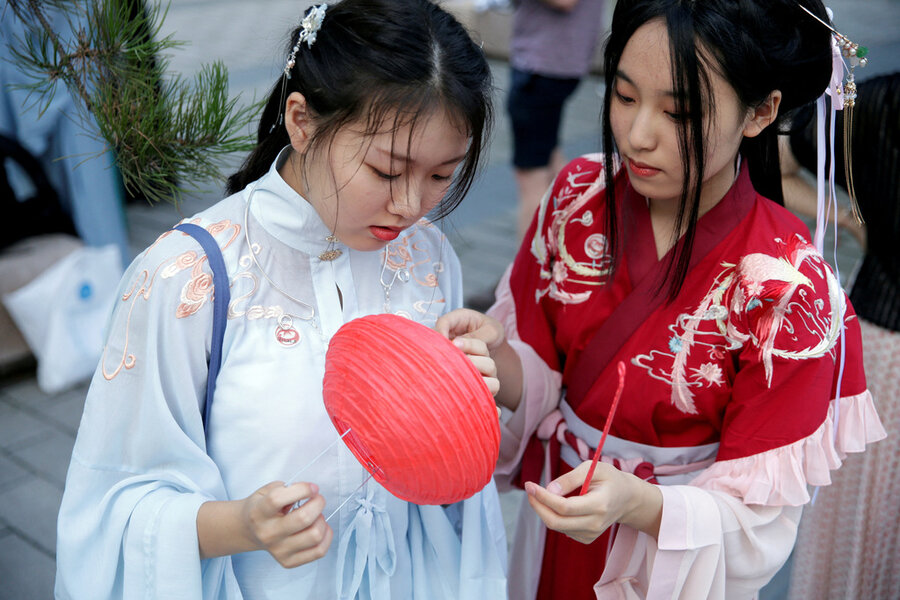 A relatively new indicator for China's economy was released last week. It showed that the number of couples who registered to marry during the traditional Qixi Festival, the Chinese equivalent of Valentine's Day, had gone up. Both the festival, held on Aug. 22 this year, and the statistic have become far more important to the ruling Communist Party. In January, China reported the lowest number of first-time marriages in nearly 40 years. And the country's population declined for the first time in 60 years, a result of a dramatic drop in births.
The long-term challenges of these demographic shifts remain uncertain. Yet Chinese leaders are eager to discern what motivates today's young people to fall in love, get married, have children, and stay married. Their worries were supported by a recent survey from the Chinese Academy of Sciences. It found 42% of college students are OK with staying single.
"In the past, society emphasized family interests, and individual survival was directly connected to one's family, so the point of marriage was mainly to continue the family line," stated a recent article in the state-run Global Times. "Yet in modern society, marriage has a new name – marriage of love." During the Qixi Festival, for example, the city of Xian texted residents with a message of "sweet love, marriage and childbirth."
For many women, new pro-birth incentives from the government, such as honeymoon discounts and caps on dowry payments, are not enticing enough. Women still face workplace discrimination and worry about the high cost of raising children and coping with China's high-pressure educational system. "If they want more babies, they need to let us start families on our own terms instead of pushing us into an old-fashioned one-size-fits-all model that requires women to abandon careers and dreams," one young woman, Ann Pei, told Al Jazeera.
The party's top leaders held a special meeting in May on how to promote family-friendly policies. One finding that may have interested them was an informal survey by the Global Times. It discovered that young people want romantic relationships that put "shared values" above material interests, such as finances, appearance, and family background.
That spirit of equality in relationships has been echoed in Hong Kong's debate over its low fertility rate. One lawmaker, Tik Chi-yuen of the Third Side party, suggests young people would see a better future in getting married and raising children if Hong Kong allowed universal suffrage.
In a 2015 book, a philosopher at Peking University, Huaihong He, foresaw the need for China's leaders to look deeper at what people want. Ideas like universal love and equality "pervade every aspect of our lives and represent our ultimate life goals. And they exist on their own plane. They cannot – and should not – be forced, and modern society increasingly accepts that fact."
The party has launched a pilot program in 15 provinces to change the "outdated, unwholesome betrothal culture and traditions" in China. Yet what it is also trying to find is what young people expect from a loving relationship.