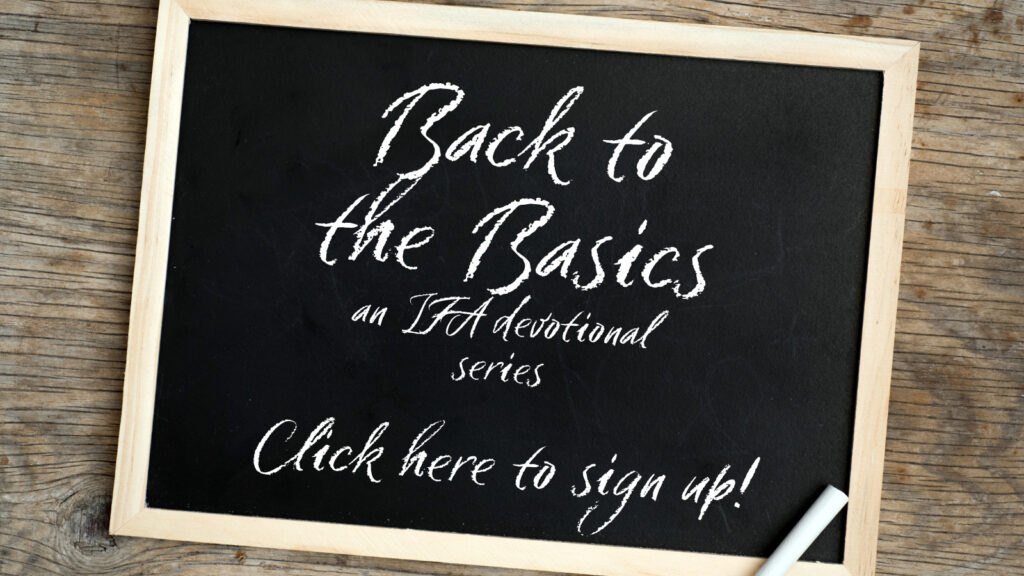 The following is an excerpt from our daily devotional series "Back to the Basics," written by IFA contributing writer Gloria Robles.
When the Day of Pentecost had fully come, they were all with one accord in one place (Acts 2:1 NKJV).
The word accord is not one we hear much anymore. In newer Bible translations, it is rendered as one heart and mind. This is true. To be in one accord has meant that the disciples thought as one unit. There was harmony among them. There was unity. There was complete agreement among the believers in that upper room and beyond its walls.
They were a gathering of believers who all waited together for the Lord's promise of the Spirit. It wasn't just the upper room. As the Church grows, we read about how the believers banded together in prayer, in fellowship, and in study and proclamation of the word. The disciples were united. They gathered together for one reason: to spread the gospel message that Jesus Christ lives, that He forgives sins, and that He brings a new way of life.
The Church functioned as one body because that was Jesus' prayer for His disciples: "I will remain in the world no longer, but they are still in the world, and I am coming to you. Holy Father, protect them by the power of your name, the name you gave me, so that they may be one as we are one (John 17:11 NIV).
Jesus wanted His disciples to be one in Him, and in doing so, become one in the Father as well. The disciples lived in unity. Even when there were corrections that had to come to the Church, they worked together through it.
The apostles called for separation only from any who purposely caused division within the Church through heresies and false doctrine (see Rom. 16:17). Paul also addressed the Corinthian church about a man who was guilty of incest with his stepmother (see 1 Cor. 5:1–6). Paul reprimanded that church for ignoring this issue, and he demanded that the man be removed, as a warning to others. Paul said that a little yeast leavens the whole batch, which is exactly what would have happened if such immorality were to be condoned. It would have harmed the entire congregation.
But we have become almost unrecognizable in comparison to the early Church. The American Church is more divided now than she has ever been. If this had involved the calling out of false doctrine, then the Church would merely be doing what it is supposed to do. But none of this is about false doctrine. The trouble is that we cannot even have a civil conversation with another believer if he or she didn't vote as we did. If they come from a different denomination than we do, well, they might not even be saved, in our book. We have let minor disagreements grow up to bring division. Perhaps the worst is what one might call Christian competition: churches within the same locality that will not work together. Rather than considering another church to be family, we compete against our brothers and sisters. This is most definitely not of God. The root of most Christian divisions is pride.
Jesus said plainly that a house divided against itself cannot stand. Right now, we are on shaky ground. Christians are called by God to be Christ's hands and feet, but are we letting our pride turn us into "the Christian elite"? We should always remember the words of our Lord in rebuke of this sort of prideful divisiveness: "Master," said John, "we saw someone driving out demons in your name and we tried to stop him, because he is not one of us." 
"Do not stop him," Jesus said, "for whoever is not against you is for you" (Luke 9:49–50 NIV).
Jesus didn't pray solely for His chosen apostles who were present with Him at that Passover supper; He prayed also for every believer who would receive Him. The heart of His prayer, however, remained the same in any case: "Father, make them one."
"My prayer is not for them alone. I pray also for those who will believe in me through their message, that all of them may be one, Father, just as you are in me and I am in you. May they also be in us so that the world may believe that you have sent me. I have given them the glory that you gave me, that they may be one as we are one — I in them and you in me — so that they may be brought to complete unity. Then the world will know that you sent me and have loved them even as you loved me" (John 17:20–23 NIV).
Godly unity brings revival. That Jerusalem upper room saw the outpouring of God's Spirit upon the early Church. The Welsh, Hebrides, Cane Ridge, and Azusa Street revivals all had a common thread (well, maybe two): Prayer was, of course, the catalyst, but unity was evident and significant too. The believers gathered together with one heart and mind. They cried out to the Lord with one voice in desperation during dark times, and the Lord answered. But a divided church will never see such an awakening.
Reflection: 
Come before the Lord and into His presence for worship. As you spend time there, ask Him to restore a clean heart within you. Examine yourself: Have you been guilty of any divisive behavior? Have you been a Christian "elite" member, refusing to love any brother or sister who doesn't see things the way you do? Pray for your church to move in unity, and ask the Lord to give you His heart for the Church.
Prayer:
Father, forgive me for whenever I have let my pride keep me from walking in unity. I want what Jesus prayed for His Church: Make us one, Lord. We are Your Body. We are Your hands and feet. Forgive us for allowing ourselves to be so divided by our pride, emotions, opinions, and theology. Bind us together in love, with the bonds of peace. For the honor and glory of Your name, we entreat You to make us one. In Jesus' name. Amen.
Let's reflect on these scriptures:
I appeal to you, brothers, by the name of our Lord Jesus Christ, that all of you agree, and that there be no divisions among you, but that you be united in the same mind and the same judgment (1 Cor. 1:10).
I therefore, a prisoner for the Lord, urge you to walk in a manner worthy of the calling to which you have been called, with all humility and gentleness, with patience, bearing with one another in love, eager to maintain the unity of the Spirit in the bond of peace (Eph. 4:1–3).
Just as our bodies have many parts and each part has a special function, so it is with Christ's body. We are many parts of one body, and we all belong to each other (Rom. 12:4–5 NLT).
For you were called to freedom, brothers. Only do not use your freedom as an opportunity for the flesh, but through love serve one another. For the whole law is fulfilled in one word: "You shall love your neighbor as yourself." But if you bite and devour one another, watch out that you are not consumed by one another (Gal. 5:13–15).
Share this article to encourage others to pray for unity.
IFA contributing writer Gloria Robles is a passionate intercessor with a prophetic voice for today. For more from Gloria, go to Spotify or Anchor and listen to her podcast, Something To Share. Photo Credit: Bjorn Brekelmans/Getty Images.