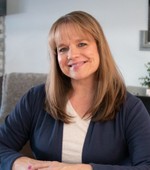 Worry used to be such a stronghold for me that if I wasn't worried on any given day, I would start to worry about what I should be worried about. I can't even begin to add up the days, months, and years I wasted time fretting over things I had absolutely no control over.
Jesus made it clear in Matthew 6:25 that we are not to worry about our lives. Yet, for many of us, anxious thoughts are constant companions that never leave our side. We don't want to feel anxious and afraid, but we struggle to replace this very real emotion with trust that God will work all things out for our good.
I pray that by sharing part of my journey, you'll be deeply encouraged to finally close the worry window that's been open far too long. If God can help me break free from chronic worry, I know He can help you as well.
The Turning Point
I share this turning-point story in more detail in my book Prayer Worrier: Turning Every Worry into Powerful Prayer, but in short, our daughter, Hannah, was born on a peaceful Friday evening after an easy labor and delivery and placed in my arms. I remember kissing her tiny pink forehead, thanking God again and again for our girl. With two boys at home, we were thrilled to have a daughter!
However, moments later, the nurse peered over my shoulder and said rather alarmingly, "I need to take her for a minute." Before we knew it, more nurses were coming in, as well as doctors and other staff. Something was blocking Hannah's airway and she was gasping for air. They finally rushed her to the NICU to be intubated. Of course, we were worried to death. It felt like a very bad dream.
Hours later, we were informed that there was a mass above Hannah's soft palate coming down into her throat. It was a benign tumor that would require immediate surgery. They transported her 75 miles away to Denver Children's Hospital and we followed close behind.
The next day, we met the doctor who would be performing the surgery. She informed us that she had dealt with this kind of tumor before, but it was possible Hannah wouldn't be able to swallow or speak, and there was a risk of death from such an invasive surgery.
After the hours-long procedure, when I finally saw my girl again, I couldn't help but cry. She was so pale and swollen, her little tongue was literally hanging out of her mouth. She didn't even look like the same baby!
It was during this time that my faith in God was tested beyond anything I'd ever experienced. The thing I'd worried about most in life – the health and well-being of my children – had now become a reality.  
The Place of Surrender
For as long as I can remember, I believed that if I worried enough, I could prevent something bad from happening. I thought that if I "covered all my bases" by worrying about all the possibilities ahead of time, the thing I feared most would never take place. Yet, there I was leaning over my baby's hospital bed crying out for God to heal her.
With anxiety and uncertainty at an all-time high, I thought for sure I would crumble into a million pieces and never recover. But instead, something miraculous happened. My mountain of worry began to crumble as I felt the Lord press on my heart that He was a good, good Father. That was when I began to sing, "God is so good, He's so good to me." 
Over and over, I sang that chorus. And each time, I believed it a little more than the time before. I surrendered my worry in the face of the greatest trial I'd ever been through and knew I'd never be the same. Although worry had been a constant part of my life, through that experience, something in me broke. The desperate need to hold on to everyone, to keep them safe, and to prevent everything bad from happening was finally released into the hands of God with one simple phrase: "God is so good."
Releasing Control
In order to break free from chronic worry, we must come to terms with things we cannot control. Whether it's an unexpected health crisis, a financial blow, or an intense relationship challenge, we have to find a way to release the situation to God no matter what the outcome. 
Yes, it can be extremely difficult, but when we finally loosen our white-knuckle grip, our hands are open to receive His divine help and peace. Remember Romans 8:28, which says, "And we know that in all things God works for the good of those who love him, who have been called according to his purpose."
However, what we sometimes miss are the verses right before that passage which say, "The Spirit helps us in our weakness. We do not know what we ought to pray for, but the Spirit himself intercedes for us through wordless groans. And he who searches our hearts knows the mind of the Spirit, because the Spirit intercedes for God's people in accordance with the will of God."
Breakthrough comes when we turn to the Holy Spirit for intercession. We speak the name of Jesus over the situation and trust Him to intercede on our behalf. And we know that whatever the Spirit prays, it is in accordance with the will of God. There is great comfort in this!
Continued Peace
Bit by bit, our daughter began to heal. She reached milestone after milestone, as we saw that she was able to swallow, make sounds, and hear. The nerves in her face were not damaged. And a few weeks later, she went home to meet her older brothers.
Through this experience, I didn't take her healing lightly. I remembered the moment God was asking me to trust Him even if He took her to heaven. The simple chorus, "God is so good," still rang loud and clear in my heart, and I knew that even if He hadn't chosen to heal her, He was still a good, good Father. It's this foundational truth that has kept me free from chronic worry ever since. 
Life is full of trials and things to be concerned about, but when we are quick to take our thoughts captive, rely on the Holy Spirit for intercession, and trust our good, good Father, worry doesn't stand a chance.
A Prayer to Overcome Chronic Worry
Heavenly Father, I come before You today, seeking Your divine presence and guidance. I know that You are my ever-present help in times of trouble, and I turn to You to overcome chronic worry. I ask forgiveness for the times I have doubted Your love and provision for me. I acknowledge that worry has become a stumbling block, causing me to lose sight of Your faithfulness. Lord, I need Your strength to break free from this stronghold, and I humbly seek Your intervention. By the power and intercession of Your Spirit, I know that You will work all things out according to Your good, pleasing, and perfect will. You are in control and have a perfect plan for my life. May Your gentle and comforting presence replace my anxious thoughts and lead me to meditate on Your promises. In the holy and mighty name of Jesus, I pray, amen.
Photo Credit: ©Unsplash/Hean Prinsloo
Jennifer Waddle is the author of several books, including Prayer WORRIER: Turning Every Worry into Powerful Prayer, and is a regular contributor for LifeWay, Crosswalk, Abide, and Christians Care International. Jennifer's online ministry is EncouragementMama.com where you can find her books and sign up for her weekly post, Discouragement Doesn't Win. She resides with her family near the foothills of the Rocky Mountains—her favorite place on earth.