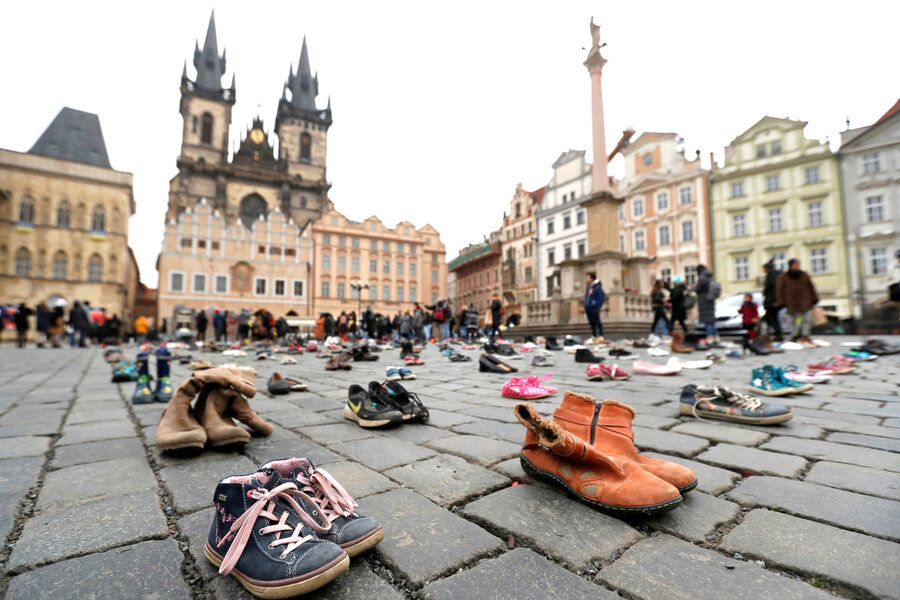 One of the greatest acts of hospitality in recent history has been Europe's acceptance of 4 million Ukrainian refugees since Russia's invasion 18 months ago. While "host fatigue" has emerged in some countries, especially as the war drags on, Russia's hope that the mass migration would sow divisions in Europe and weaken its support for Ukraine has so far failed.
In fact, one benchmark of success for European backing of Ukraine has been how well the refugees have settled in. The Czech Republic, for example, reported last week that more than half of refugees now pay for their housing, a sign of how many have found jobs. More than 90% of the Ukrainian children attend school. The government is also setting up a center to help refugees deal with the trauma of sexual violence in Ukraine.
Czechia stands out for its hospitality because it ranks highest among European nations in the proportion of Ukrainian refugees to its population, or about 350,000 in a country of 10 million. "The Czech hospitality and welcome of Ukrainian war refugees is a perfect example of European solidarity and kindness," says Lilyana Pavlova, vice president of the European Investment Bank, which helped finance the country's settlement program.
While polls show Czechs have lately grumbled that the state is doing more for Ukrainians than for its own citizens, other data indicated how much the generosity has been at the grassroots. One-third of children have directly participated in the help of refugees. "We couldn't have done it without help from the Czech people," Minister of the Interior Vít Rakušan told Deutsche Welle. Before the war, the Czech Republic was ranked as the world's second most welcoming country, based on a 2018 global survey of travelers by Booking.com.
Hospitality, especially when it is selfless rather than for show, is often overlooked in how it can change world events. One expert on the topic, Mona Siddiqui at the University of Edinburgh, says opening one's home to desperate strangers reveals the "very cell" of an individual. "We must give and be generous because this is how God is, and God's giving knows no limits," she wrote in a 2015 book, "Hospitality and Islam: Welcoming in God's Name."
Hospitality toward war refugees helps restore their dignity. "The goal of hospitality as an act and as an attitude to life is far more radical; it demands a transformation of the self toward goodness and grace," wrote Ms. Siddiqui.
Europe's concrete expressions of love toward Ukraine's refugees may help end the war. By educating and employing them, Europe is also preparing the refugees to rebuild their country after the war. The front lines of this war are not only in Ukraine. They are in the hearts of people like those in Czechia who open their homes and welcome refugees into their schools.