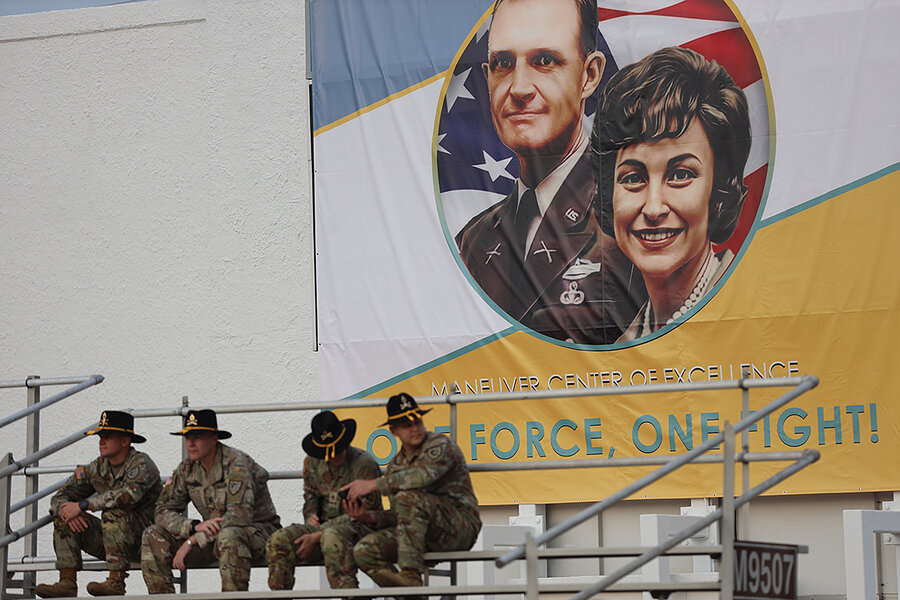 The first exhibit inside the National Infantry Museum, in Columbus, Georgia, is a long aisle of life-size battlefield scenes from Yorktown, Omaha Beach, Desert Storm. The exhibit is a march through the Army Infantry's history. So too are the soldiers it depicts. 
The scene from Antietam shows Henry Benning, a Civil War Confederate general and native here in Columbus, Georgia, aiming a rifle past a short bridge. 
Farther forward, inside the open cab of a helicopter, a projector plays black-and-white footage from the Vietnam War. In the film, Harold "Hal" Moore, who retired a lieutenant general and whose memoir became the movie "We Were Soldiers," waves off a chopper. 
Why We Wrote This
A story focused on
Fort Moore in Georgia holds lessons on how to rename military bases once named for Confederates. Asking locals what they thought helped lead to a smooth transition.
It's a fitting cast. Beside the museum is one of the country's largest Army bases, which trains America's infantry. Up until this May, its name was Fort Benning. Now it's Fort Moore, having been renamed for Hal and his wife, Julia – one of nine posts once named for Confederate soldiers being re-designated this year. 
That change was required in the defense bill passed by Congress in 2020, the kind of Washington mandate that could have easily rent a Deep South town and its beloved Army base over the politics of memory. Instead, Fort Benning became Fort Moore with no protest and few complaints. 
"I don't think anybody who looks at it logically and fairly will ever say it was imposed on us," says Pastor Jimmy Elder of Columbus' First Baptist Church, who participated in the renaming process.
Since May, the fort's brass has repeated how the new name better matches Army values. Perhaps just as important but less trumpeted is how the fort was renamed – guided by Washington but carried out by locals. Months after the renaming ceremony took place, the fort and the city have come to take pride in that process almost as much as the new name itself.
A city's connection to its base
This is not the first time Columbus led the naming of its military base – nor even the first time Mr. Elder's church was involved.
In the early 1900s, its former head pastor helped found the local Rotary Club, which in 1918 campaigned to locate a new Army training camp nearby – and then to name it after Henry Benning. 
It was an unusual amount of activism, even around the heyday of support for the Lost Cause myth. Five other surviving camps from World War I were named for a Confederate. But none involved such a high level of local input. 
That in part reflected Columbus' Confederate resume. It hosted one of the last land battles of the Civil War on the rapids of the Chattahoochee, the same river that made the city Richmond's second-largest wartime port. Henry Benning, a Confederate general and former state supreme court justice, was Confederate royalty. He's buried in the city cemetery. 
Such Confederate ties have since loosened as Columbus has grown. It's now the second-largest city in Georgia, hosting multiple Fortune 500 companies, including Aflac and Pratt & Whitney. Modish apartment buildings are under construction downtown. The Chattahoochee's rapids are now used for white water rafting. In 2020, the county voted 61% for Joe Biden.
What hasn't loosened is the city's connection to its military base. 
The fort now supports more than 120,000 active duty personnel, along with families, reserves, retirees, and civilian employees. It's the largest single-site employer in the state of Georgia, responsible for some $4.5 billion in annual income for the surrounding area, says retired Maj. Gen. Patrick Donahoe, the fort's former commanding general. 
"The post is central to the economic life of the area," says Mr. Donahoe, who now works at Columbus State University.
Today, military and civilian leaders describe each other as partners. Off-duty personnel visit the restaurants downtown on weeknight evenings. Many settle in the area, and recite their connection to the post like the title on a business card.
The upshot is a town less connected to Henry Benning but more connected to Fort Benning, which meant renaming it would still face a skeptical audience, though more out of tradition than support for the Confederacy. 
"You're always going to have some folks who just don't want to turn loose of the past," says Skip Henderson, Columbus' mayor. 
Engaging with the community 
But the decision to rename the fort had already been made, and it had been made by Congress.  The challenge was to find a way to engage the community in that process, rather than having them resent it.
That challenge eventually became the job of John Hargrove, the local civilian aide to the secretary of the Army.
Mr. Hargrove is slight of build with a firm handshake and an easy laugh. In Columbus and on the fort, he knows few strangers. 
The post's military leaders asked him to lead community engagement at the most local level. A national commission was working with each Confederate-named base, and a group of 30-40 leaders from the Columbus area were meeting periodically with each other and that Naming Commission. Mr. Hargrove's task was to hold one-on-one conversations in the community – a chance for local input without the potential for a large town hall to get off message.
So he started a list of who to meet with, grouping them into categories – veterans, members of the Black community (Columbus' population is around 45% Black), faith leaders, and the like. Then he started scheduling meetings, some as formal as a meal, some as short as a chat after a high school ballgame. 
"I probably drank coffee for close to 18 months," says Mr. Hargrove. 
In all, he estimates that he met with around 100 people. He didn't take notes, or keep a record of their conversations, to let people speak freely. His job was mostly to listen, and then represent broadly what he heard.
And he noticed that in about three-fourths of his meetings, people were familiar with the Moores, then just a candidate for the post's new name. He sensed a trend. 
"It was a community 'aha moment,'" says Mr. Hargrove.
"Why not Mom and Dad?"
Around the time that Mr. Hargrove was being asked to find out what the community thought about Fort Benning's new name, David Moore already had an idea.
"Our family said, well, heck, why not Mom and Dad?" 
That question would eventually spell more than a year of work for him and his siblings. They led a push to rename the base that would rival a lobbying firm were it not family run. 
A retired Army colonel, the younger Mr. Moore now lives less than an hour away from Columbus in Auburn, Alabama. He first arrived at Fort Benning at the age of three, when his father was stationed there in 1965. 
Later that year, Hal Moore deployed to Vietnam and led his troops through an onslaught during the battle of Ia Drang, the first major battle of the Vietnam War. His leadership earned him the Distinguished Service Cross, the Army's second-highest honor. 
Meanwhile, while living off base, David's mother Julia began complaining to the Pentagon about its system to inform families of casualties: a telegram delivered by a taxi driver. She started personally joining taxi drivers to soften the news. Her complaints to the Pentagon helped lead to the protocol in place today – news delivered by an officer and a chaplain. 
No other military installation is named after a husband and wife pair, something Mr. Moore and his siblings saw as a way to set their parents apart from the other contenders: mostly famous generals like George Marshall and Colin Powell.
After making calls and writing a short summary, Mr. Moore began serious work with his brother Steve – the "family archivist" who has spent much of his life documenting his parents' careers. They developed a website and wrote a full, 300-page proposal, which they shared with the Naming Commission and around town.
"People say 'oh there's big money behind Fort Moore.' No, there's Steve Moore behind Fort Moore," says David. 
Then, for four months, there was silence. The Naming Commission was tasked with issuing a recommendation in its report. But the family didn't know when that report would publish.
Mr. Moore was working in Maryland late last year when he got a call from Mr. Hargrove, the Army community liaison, asking if he'd seen the news. 
"We did it," Mr. Hargrove congratulated him.
"I was stunned, stunned to tears, that we were able to to pull this off," says Mr. Moore. 
From one name to another
The morning of May 11, around 7,000 people packed into Doughboy Stadium, the fort's horseshoe-shaped football field, for the renaming ceremony. The crowd was a cross section of the area – soldiers, local leaders, veterans, and some 50 members of the Moore family. 
At 9:30 a.m., halfway through the ceremony, base personnel changed the final signs out from one name to the other. 
"When you came out of the ceremony, there was nothing that didn't say Fort Moore," says Col. Colin Mahle, the fort's garrison commander. 
That change was the culmination of months of intense work on base – to plan the ceremony, then to change out almost everything that said Fort Benning. Among other items, that included all the signs on base, patches for the uniforms, the 35,000 books in the library, logos on the golf course equipment. 
"You wouldn't believe how well this post had been branded for 105 years," says Mr. Mahle.
The goal was simple but extremely difficult: nothing would be named Fort Moore before the ceremony, and nothing would be named Fort Benning after it. Planners were successful, even exacting. Early morning golfers on May 11 couldn't buy Fort Moore merchandise at the pro shop until after 9:30 a.m. The fort's boat at a recreational facility in Florida was changed from the "Stars and Stripes of Fort Benning" to just the "Stars and Stripes."
"We're not just honoring the Moores by the post being named Fort Moore," says Maj. Gen. Curtis Buzzard, the commanding general of the base. "There's a standard that comes with that." The fort expressed it in its new slogan: Be Moore. 
For Gen. Buzzard, the connection is in part personal. He brought a copy of Hal Moore's memoir with him to West Point as a cadet. Later, while stationed at Fort Benning, he had the war hero sign it.
The night before the ceremony, Mr. Buzzard hosted surviving members of the 7th Cavalry, Hal Moore's regiment in Ia Drang, for a reception. They found his copy of the book and signed their names wherever they saw their pictures. 
"They loved Gen. Moore, and all the reasons why we renamed the post, just came to life in listening to them," he says.
Fort Benning isn't gone from Columbus. The city is reviewing how much it will cost to change the roads and other items that still have the old name – including Fort Benning Road, which leads to the post. Some members of the community say it will always be Fort Benning to them. Even David Moore sometimes finds himself calling it Fort Benning. 
That's okay, says Mr. Donahoe, the former commanding general. Changing the name – both how they changed it and what they changed it to – was meant to be a start, not the end. 
"It'll be a generation or two," he says. "Then everybody will only know it as Fort Moore."