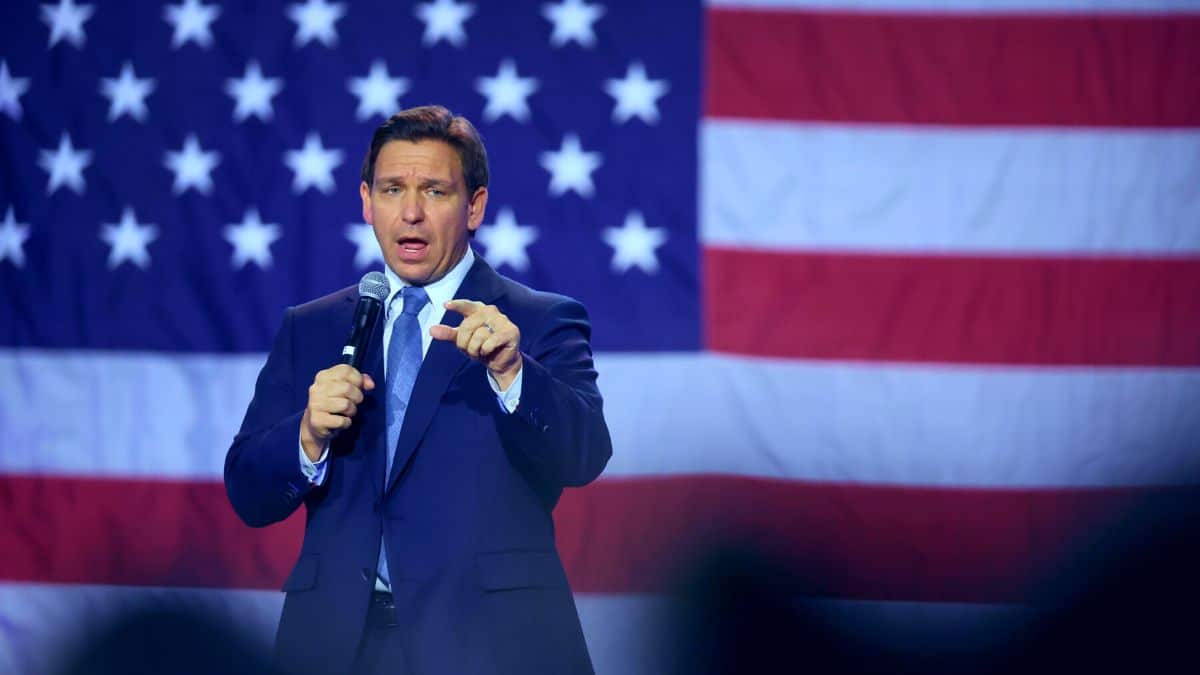 Florida Gov. Ron DeSantis is now arguing "the swamp got worse" under former president Donald Trump.
QUICK FACTS:
In an interview with Fox News host Laura Ingraham this week, Republican Florida Gov. Ron DeSantis claimed Trump failed to "drain the swamp," among other things, during his time in office.
"Well, he had three years to fire Christopher Wray and he didn't fire him," DeSantis told Ingraham. "And remember, I went to the rallies in 2016, Laura. You remember 'em — lock her up, lock her up, about holding Hillary accountable."
The Florida governor vowed that if he were president, he would "clear" out the Department of Justice.
"For example, with me as president, on day one, Christopher Wray gets sent packing," the Republican candidate claimed. "You're gonna see the DOJ cleared out. We are gonna ensure a single standard of justice in this country again. And I can say that with credibility, because I've done that in the state of Florida."
DeSantis noted what he has done during his time serving Florida, citing the recent suspension of State Attorney Monique Worrell from Florida's Ninth Judicial Circuit for alleged dereliction.
"We've drained the swamp in here. We've gotten rid of negligent election supervisors in South Florida. We've removed two different progressive prosecutors funded by Soros who were not enforcing the law," he continued.
FLORIDA GOV. RON DESANTIS ON TRUMP "FAILING" TO DRAIN THE SWAMP DURING HIS TIME AS PRESIDENT:
"I give him credit, even though we're competing, for the great things he did do," DeSantis said. "But one of the things he did not do was drain the swamp. I mean the swamp got worse in his four years and you had people like Wray, you had people in power who were not getting the job done. You gotta take very swift action and you gotta make it happen."
BACKGROUND:
Earlier last week, a poll from Emerson College found that Trump had a 48-point lead over DeSantis for the presidential primary.
Sixty-one percent of respondents reported favorability for Trump, while DeSantis garnered just 13%.
Trump's hold over the Republican electorate appears impervious to demographics or geography, as his popularity remains resolute in virtually every category and across the country.
In the inaugural New York Times/Siena College poll for the 2024 presidential race, the former president was revealed to be in a commanding position, far outpacing his Republican rivals.
The Times/Siena poll showcases Trump's unshaken grip over the Republican Party, and his broad support among diverse demographic groups, encompassing both genders, various age groups, different education levels, and locales ranging from urban to rural.
DeSantis's key campaign propositions, including his assertions of being more electable and a more effective governor than Trump, have not gained the expected traction among the party's primary electorate.
Trump is the preferred choice even among those Republicans who are driven by issues such as combating "radical woke ideology," the very issues DeSantis has championed in his campaign.