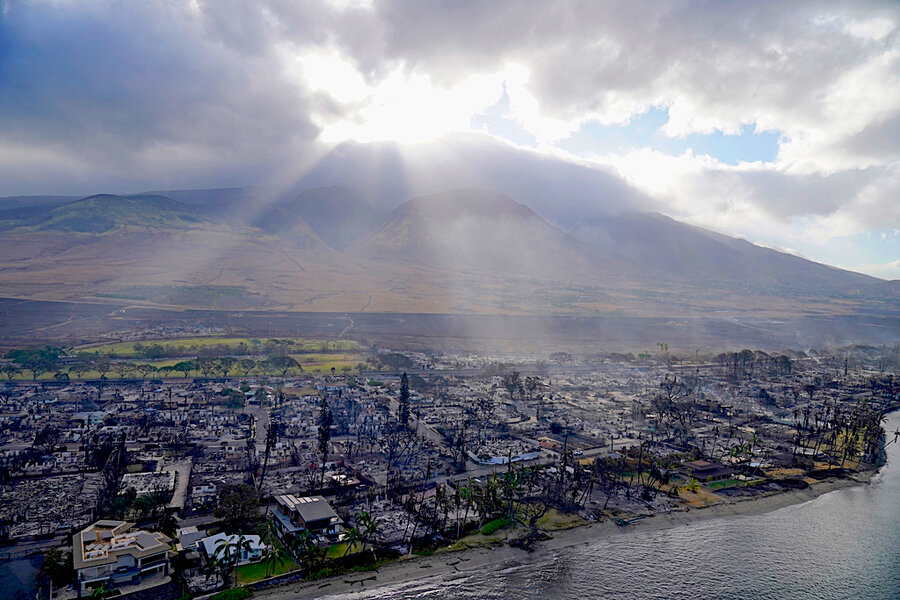 Extreme weather events and other disasters keep posing new questions about how communities can be better prepared for such emergencies. One line of defense is now evident in Lahaina, the Hawaiian town on the island of Maui, which was leveled last week by fire.
The inferno cut off roads, cellphone networks, and the internet, complicating official responses to an event few anticipated. Yet even before the smoke had cleared, private boats traveled from other islands and elsewhere on Maui laden with food, water, and other supplies. Anyone with a house still standing opened their doors and kitchens. Religious congregations that lost their buildings gathered to worship wherever they could. 
This outpouring of generosity is rooted in aloha and ohana, two traditional Hawaiian concepts that link individuals in bonds of love, compassion, and family. "We are here for one another, bound by the spirit of aloha that defines our community," wrote Blake Ramelb, a Lahaina native and filmmaker. "Let us join hands across the miles, showing that compassion knows no bounds."
Scholars who research how people prepare for and respond to disasters often look for "anticipatory altruism" in a community, or the spiritual attributes behind individual resilience and community trust. Emergency managers point to social cohesion – such as family and religious ties – as necessary to endure and recover from disasters, whether fires, terrorist attacks, or epidemics.
"We have witnessed anecdotal evidence of altruism before natural and human-made disasters, such as letting your neighbors know you have a tornado shelter and that they can use it even if you are not home," wrote academics at the University of Oklahoma in a 2021 article in Public Administration Quarterly. Their research was based on a survey in six states that experience tornadoes and other forms of severe weather.
One disaster-preparedness expert, Steven Jensen of the Red Cross Scientific Advisory Council, says community or network support is key. "Whether it's church, school, neighborhood, the stronger we make those connections beforehand the more they're going to be there for us after disaster strikes," he told Government Technology.
Such bonds are reservoirs of strength in communities emerging from natural disasters. In this year's earthquakes in Turkey and Syria, for example, local relief groups formed by women provided some of the earliest help. After a 2011 tsunami in northeast Japan, residents who were isolated from government support found comfort in the virtue of koh, a sense of shared spiritual purpose expressed in mutual help.
An oral history of New Orleans captured the importance of community bonds following Hurricane Katrina in 2005. It included the story of a couple who waited out the storm in their grocery store and then immediately set out distributing water and food as the flood receded. "We're working towards a bigger goal," said the woman, whose name was Kim, told The Advocate. "I just feel that God's gonna always provide for me if I keep just working hard trying to do his will."