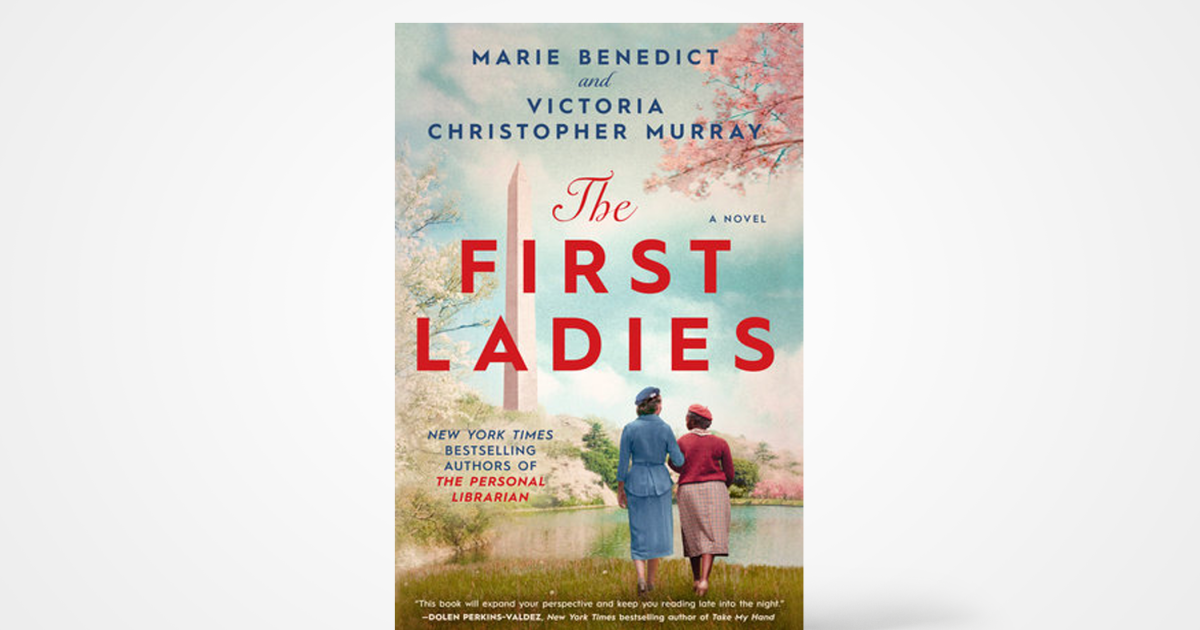 Mary, a Black woman, was the "first lady of the struggle," fighting to achieve equality for Black people and other minorities. Eleanor was the first lady of the United States—for almost three terms of office. Their unlikely and real-life friendship changed the world, and that's not just back-cover copy hyperbole.
There have been piles of books written about Eleanor Roosevelt, one of the most formidable first ladies in U.S. history, but very little, comparatively, has been written about Mary McLeod Bethune, a thwarted missionary who became one of the builders of the modern civil rights movement.
The First Ladies, by the potent writing duo of Marie Benedict (who is white) and Victoria Christopher Murray (who is Black), gives equal voice to both women as they turn Roosevelt and Bethune's friendship into a soul-stirring historical novel. As a fellow alumni with Mcleod Bethune of Moody Bible Institute, I was excited about this novel, from the skilled pens of the team that gave us The Personal Librarian. It did not disappoint.
The two "first ladies" meet in 1927 at an event for women activists. Mary, the only Black woman in attendance, is shunned by most of the other attendees, despite their supposedly forward-thinking ways. The exception is Eleanor Roosevelt, the shy, socially awkward wife of a future president and niece of a past one (Teddy Roosevelt). Eleanor is enamored of Mary, whose courage and dignity in the face of unimaginable obstacles energizes her. Though Mary is a staunch Republican—the party of Lincoln who emancipated her enslaved parents—and Eleanor is a Democrat, the two forge a strong bond based on working toward justice for all disenfranchised Americans, especially Black people.
Though each make mistakes as they try and relate to one another (this is the first interracial friendship for each of them), there is forgiveness and grace as they become more than colaborers for justice. Mary and Eleanor become the dearest and closest of friends, supporting each other through disappointing marriages and other hardships.
Both women inspire as they overcome tremendous challenges and entrenched racism to build together what would become the foundation of modern civil rights. Franklin Delano Roosevelt, Eleanor's husband, is also a key figure in the narrative. Both women work with him and around him to achieve their goals. I've always associated FDR with America entering World War II and also the tragedy of the Japanese internment camps (which Eleanor opposed), but this three-term president, stricken with polio and mainly wheelchair bound, was also instrumental in changing things for the good of millions of Black Americans. It just goes to show we all contain multitudes, as Walt Whitman said in his famous poem. We are all complex and inconsistent.
The novel, which switches off between Mary and Eleanor's viewpoints, touches on FDR's affair (which broke Eleanor's heart) and her own later, alleged relationship with a female White House journalist, but in a light, non-graphic way. Mary's deep faith is evident as she prays and quotes Scripture in her darkest hours. One picky thing bothered me: Mary was turned away as a missionary to Africa by a Presbyterian mission board who said they had no need of "Negro missionaries," but the book makes it sound as if Moody, where she attended for two years and by her own account loved, turned her away. 
I came away from the book having learned so much about the hard-won groundwork that went into the formation of the civil rights movement and of the unheralded contributions of two passionate women who broke barriers and made life more equitable for others. Mary and Eleanor's friendship—unshakable, tender, and enduring—is the heartbeat of their story, and of this enthralling work of historical fiction. Highly recommended for book clubs. (Penguin Random House)