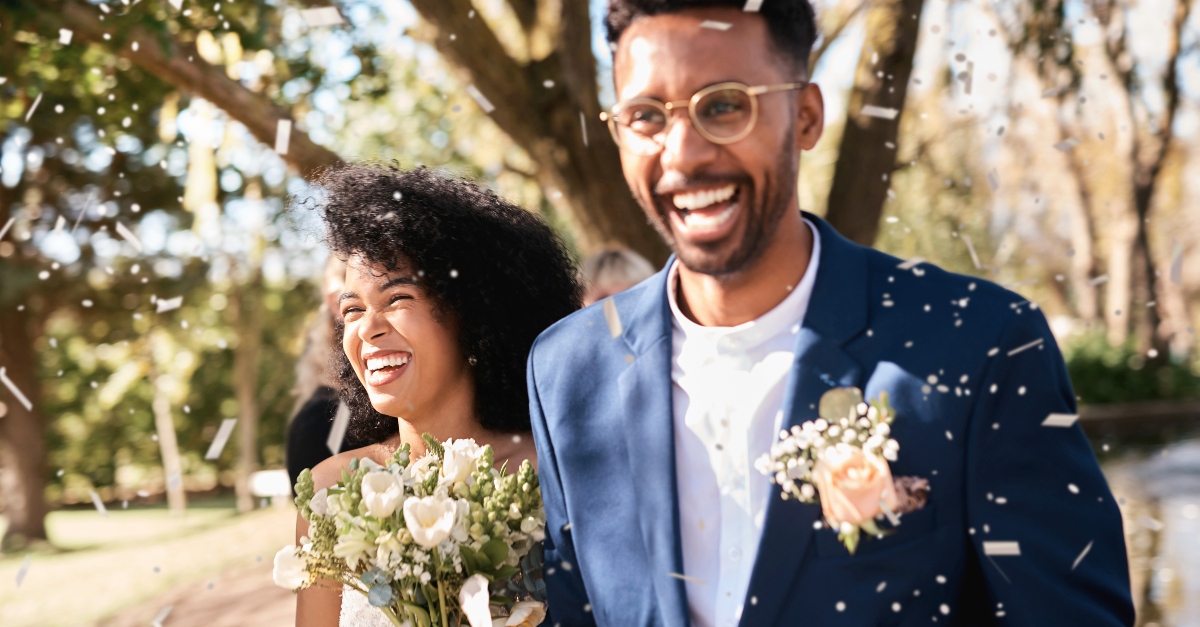 Kim and Dave had been dating for quite a while. They met in high school and after graduation started spending a lot of time together. While most of their friends left for college, Dave and Kim decided to stay at home.
With their friends away, the couple grew to rely upon one another. Were they in love? Kim thought so. Dave cared for Kim but often wondered, Is this love? Like, I mean the kind of love that lasts a lifetime?
As time went by and their lives became intertwined, Kim and Dave ended up having sex before marriage. Both had come from Christian homes. Each knew that God's plan is for couples to wait until they are married to have sex. Yet, with the amount of time they spent alone, it was only a matter of time before they crossed over that line.
Am I Rationalizing or Discerning?
After they had sex, Kim thought to herself, It's ok. We are in love and we'll get married anyway––so it'll be alright.
On the other hand, Dave, who had promised himself and God that He would save sex for marriage, was torn up by their failure to stay pure. Dave tried to appease his conscience; It's not so bad. Everyone else is doing it. But the still, small voice in his heart would not allow him to believe such nonsense.
To make matters worse, after they had sex, Dave and Kim promised one another it would not happen again until they were married. However, now that they had opened that door, their flesh and emotions craved the sin that now so easily beset them.
Confusion Without God's Direction
Time and again, the two found themselves in bed together. Eventually, their consciences no longer felt the shame or regret they had once experienced upon their first encounter.
As college graduation approached for the couple, Kim was convinced they'd soon wed. Dave wasn't so sure. Although he felt guilty breaking up with Kim––since she had given him her virginity––he almost felt obligated to marry her.
Dave wanted to ask someone for advice: "How can I know if this relationship is headed down the aisle?" Because the couple had kept secret their sexual sin, their friends at church and their parents didn't know, so neither had anyone from whom they could seek godly counsel. While Dave knew his parents' hearts would be broken if they discovered his secret, he also knew they were the ones he could trust to give him the wisdom he needed. But out of shame, he kept silent.
After graduation, Kim was hurt when Dave didn't "pop the question." One day Kim burst into tears after Dave gave another excuse for not being ready for marriage.
She cried, "Why don't you want to marry me? Don't you love me anymore?"
The truth was, David didn't know if he loved her––or if he had ever loved her. He was confused and ashamed that he was unable to commit to marrying Kim.
Falling In Love, Or Falling Into Rebellion?
Does this scenario sound familiar? In over 30 years of ministry, my husband and I have observed many couples in this situation. While starry-eyed couples spend time alone together, they often fall into sexual sin. As they continue in their rebellion against God's plan, they often:
-Push away their Christian friends
-Blame others for being judgmental
-Avoid seeking godly counsel for their situation
-Fall away from the Lord
-Make bad decisions that will negatively affect their future
In this state of rebellion against the Lord, they quench the Spirit's leading in their lives, becoming vulnerable to poor decision-making. When considering a spouse, some of the most important questions you'll want to discern are:
Who is the one who will best help you grow in your walk with Christ?
Who will be a good parenting partner if you have children?
Who will love you for better or worse?
Why would anyone want to make this decision apart from God's leading? This decision will impact your future for the rest of your life. Why on earth would you want to make it while walking in rebellion to Christ?
"Rebellion?" You might say, "I'm not rebellious, I'm in love. And my emotions have gotten the better of me, but I'm not in rebellion against God."
Satan would love for you to believe this lie. Our culture is sexually driven. Satan deceives people into sexual promiscuity only to lead them down a path of painful consequence. God's ways are always best. But Satan––who comes to steal, kill and destroy––will always offer a counterfeit to the abundant life Christ offers to whoever walks in obedience to Him (see: John 10:10).
But I Love Him!
"But I love him," you might say. I get that––I really do. However, feelings are influenced by physical encounters. And if both of you are truly Christians, Scripture promises that the Holy Spirit will convict you of the wrong of your actions. When this happens couples will often make one of these choices:
Continue in their rebellion.
Obey God and break off the relationship.
Stay together with a commitment to refrain from sexual intimacy until marriage (seek godly accountability mentors and avoid spending time alone where you might be tempted).
Get married to try and appease a guilty conscience.
Getting married to appease guilt is not the best way to begin a marriage relationship. However, if you have both repented of your sin, spend 30 days apart praying for God's guidance. Seek out godly mentors who can help you discern if marriage is the best course of action. And never get married without going through biblical premarital counseling. Read: Sex Before Marriage-When You Can't Shake the Guilt.
While breaking off the relationship may seem like an extreme decision, consider the weight of your sinful actions. Hebrews 12:1 advises, "Lay aside every sin that so easily ensnares [you to] run…the race set before [you]."
Love Jesus More
When my husband, Steve, and I were dating, one of the times that we broke up (there were a few) he said, "Rhonda, I love you, but I love Jesus more."
I remember thinking, What does that even mean––he loves Jesus more?
In that season of my life, I remember wrestling with the idea of dating a different young man who called himself a Christian (but who had little fruit in his life) or dating Steve, whose heart was clearly in love with Christ.
As I pondered Steve's comment that he loved Jesus more than me, I came to realize that is exactly what I wanted. I thought, If I marry a man whose love for Jesus outweighs his love for me, then I can be confident Christ's selfless love will spill out of him and into our marriage.
When you come to understand that this life is not about you finding happiness in a relationship with another person, but rather true joy, purpose, and contentment from living in love with Christ––you'll be on the right path to discernment. As you keep your eyes on Jesus, the author and finisher of your faith, He will guide your path and give you His wisdom as to who He would have run the race alongside you.
Run The Good Race
In my book, Real Life Romance, I tell the story of my son, Tony, who was in the ROTC program at A&M University. He was the head of his unit which meant it was his responsibility to motivate them to do their required basic training. Each time they'd run, with their heavy packs and guns overhead, the only woman in his unit would fall behind. While the others would cross the finish line and await her arrival, they were told to do push-ups until she arrived. They were also told their time wouldn't count until she crossed over the finish line.
This discouraged the other soldiers. Tony knew he needed to come up with a plan. So, Tony decided to fall behind and run alongside the woman, with his hand in the small of her back.  As they ran, the woman would keep up with the unit. Whenever Tony took away his hand the woman would fall behind. With their eyes on the prize of the finish line, the two would finish the course along with their unit.
I often tell this story when I speak in College Chapel services to remind listeners that each of us who are Christ's followers have a race to run. A race that God ordained for us before the foundations of this world (see Ephesians 2:8-10).
Hebrews 12:1-2 advises us to lay aside every weight and sin which so easily ensnares us to run with endurance the race set before us, with our eyes fixed on Jesus the author and finisher of our faith.
All too often when singles are looking for "Mr. or Mrs. Right" they take their eyes off the prize of Christ and fall behind as they look at the other runners wondering which one would make good mate.
Philippians 3:14 reminds us, "I press toward the goal for the prize of the upward call of God in Christ Jesus." While it is tempting to lose focus, the wisest people are those who choose to trust Christ with their romance by growing their love for Jesus through prayer, Bible study, and fellowship with other Christians who have also made it their life goal to pursue Christ no matter what the cost.
Allow God to Renew Your Mind
Romans 12:2 says, "Be not conformed to this world but be transformed by the renewing of your mind, that you may prove what is the good and acceptable and perfect will of God."
This generation has to battle against being conformed to the influence of the world's philosophy of dating and marriage. A philosophy that bombards them daily through media and even their teachers in school.
When teens or singles are sincerely interested in trusting God with their romance they'll often inquire, "How can I know God's will for who I should marry?"
If you're single, you would do well to learn from Romans 12:2 that the way to discern God's will is not to focus on how a person measures up to your "marriage partner wish list," but rather to renew your mind with God's word, because in so doing the Spirit will guide you into what is His good acceptable and perfect will for your life.
As in the picture of Tony running with his hand in the small of a woman's back, the Spirit will guide you if you commit to keeping your eyes on Christ through:
Prayer

Bible study

Regular church attendance to hear the preaching of God's Word
Fellowship with other Believers who are committed to following Christ
As you delight yourself in the Lord He promises to give you understanding and make His desires your desires. Because His Word will light your path and transform your mind (see: John 16:13, Psalm 37:4, Psalm 119:105, Psalm 119:59).
Pray Psalms 25:4, "Show me your ways, O Lord; Teach me Your paths." When you determine to grow your love for Christ and trust Him to write your love story, you can trust that He'll guide your heart toward a godly spouse––in His timing. Then your marriage will glorify Christ and bring you more joy than anything you could ever make happen on your own. Because God's ways are best, you'll have no regrets.
Rhonda Stoppe is the author of 6 books and appears FamilyTalk, Focus on the Family, Family Life Today, and hosts The No Regrets Hour. Rhonda ministers alongside her husband, Steve, at First Baptist Church of Patterson, CA. They live their own Real Life Romancewriting books and speaking at their No Regrets Marriage Conferences. Learn more about Rhonda's books and teaching at NoRegretsWoman.com
Bonus:  Watch this fun video of Steve & Rhonda sharing their own love story.
Photo Credit: ©iStock/Getty Images Plus/PeopleImages