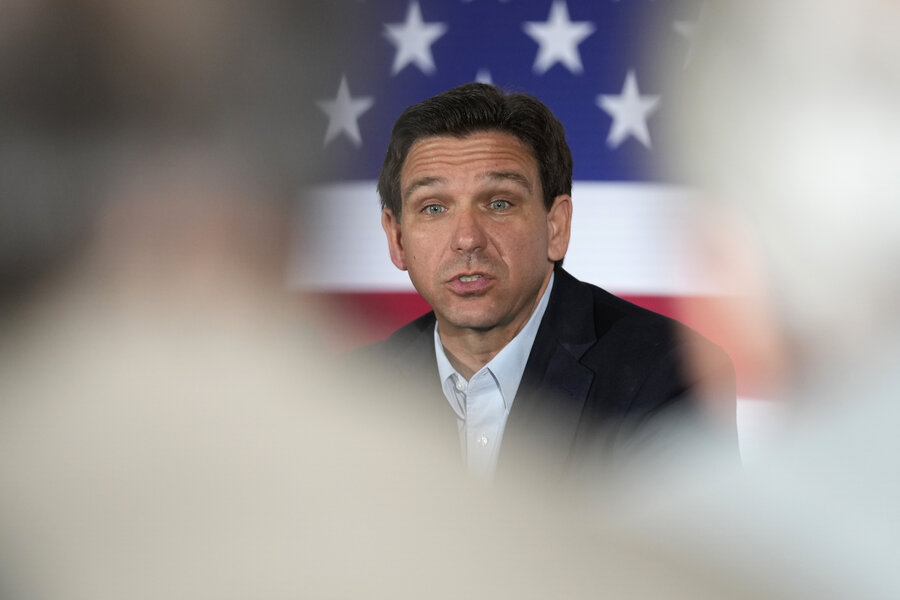 Florida Gov. Ron DeSantis, long seen as Donald Trump's leading rival for the Republican nomination, plans to launch his 2024 presidential campaign on Wednesday in an online conversation with Twitter CEO Elon Musk, according to two people with knowledge of the decision.
Governor DeSantis, an outspoken cultural conservative, will outline his plans in an evening audio event streamed on Twitter Spaces, according to the two people. They spoke to The Associated Press on condition of anonymity because they weren't authorized to discuss the announcement publicly.
The two-term governor would be joining a crowded Republican contest to decide whether the party will move on from Mr. Trump in 2024. Mr. DeSantis has embraced Mr. Trump's combative style and many of his policies but casts himself as a younger and more electable version of the former president.
In choosing Twitter, Mr. DeSantis is taking a page out of the playbook that helped turn businessman-TV celebrity Mr. Trump into a political star.
The timing of Mr. DeSantis' long-expected announcement has been shrouded, with variants being leaked over the past few days. Some close to him suspected that he was providing conflicting information about the timing and location to root out leakers. Others believe he changed his initial preparations after news reports came out about them.
Mr. Musk, speaking at The Wall Street Journal's CEO Council Summit event in London on Tuesday, seemed to confirm the Wednesday event, saying Mr. DeSantis would be making "quite an announcement" on Twitter. "The first time something like this is happening on social media," he said, with live questions and answers.
The news of Mr. DeSantis' impending announcement came as Mr. Trump was making a video appearance in a New York courtroom as part of his criminal case. A judge tentatively scheduled Mr. Trump's trial to begin on March 25, which falls during the heart of the presidential primary season. Mr. Trump pleaded not guilty last month to 34 felony counts of falsifying business records at his family company, the Trump Organization.
Mr. DeSantis was expected to meet with donors Wednesday at the Four Seasons Hotel in Miami before the Twitter Spaces event, which was scheduled for 6 p.m. EDT.
While it is common for campaigns to publicize their announcements in videos shared on social media, it is far more unusual – and perhaps unprecedented – to hold a campaign announcement in a live social media forum.
"Big if true …," Mr. DeSantis' wife, Casey, posted Tuesday on Twitter, linking to a Fox News story on the announcement and adding a smiley face.
Earlier Tuesday, the Florida governor gave no hints of his 2024 plans during a short Cabinet meeting in Tallahassee where he discussed state business with agency heads. The media was barred from covering a subsequent bill signing ceremony.
Mr. DeSantis has emerged as a national star in Republican politics as an unapologetic leader on controversial issues.
The governor sent dozens of immigrants from Texas – by way of Florida – to a small island off the Massachusetts coast to draw attention to the influx of Latin American immigrants trying to cross the Southern border. He signed and then expanded a Parental Rights in Education bill – known by critics as the "Don't Say Gay" law – which bans instruction or classroom discussion of LGBTQ issues in Florida public schools for all grades.
More recently, he signed a law banning abortions at six weeks, which is before most women realize they're pregnant. And he removed an elected prosecutor who vowed not to charge people under Florida's new abortion restrictions or doctors who provide gender-transition treatment.
Trump's allies lashed out Tuesday at Mr. DeSantis' plan. 
"This is one of the most out-of-touch campaign launches in modern history. The only thing less relatable than a niche campaign launch on Twitter, is DeSantis' after party at the uber elite Four Seasons resort in Miami," said Karoline Leavitt, a spokesperson for Trump's super PAC.
Mr. Trump himself frequently dismisses his rival as Ron "DeSanctimonious."
In choosing to announce with Mr. Musk, Mr. DeSantis is linking his presidential announcement to one of the world's richest men, who has emerged as a conservative cult hero of sorts.
Since buying Twitter last October, Mr. Musk has reinstated the accounts of prominent Republicans, including Mr. Trump and Georgia Rep. Marjorie Taylor Greene, who had been removed. Popular conservative broadcasters have flocked to Twitter, with ousted Fox News host Tucker Carlson and the podcast hosts of The Daily Wire announcing they will start streaming on the platform.
Mr. Musk himself has promoted far-right conspiracy theories on Twitter, including misleading claims questioning a Texas mall shooter's background and a debunked rumor that House Speaker Nancy Pelosi's husband had a relationship with an assailant who attacked him.
Earlier this month, Mr. Musk's tweets likening billionaire philanthropist George Soros to a Jewish supervillain were met with criticism from the Anti-Defamation League, which said they would embolden antisemitic extremists. Mr. Musk said he would "be more thoughtful in the future."
Twitter was once Mr. Trump's most important megaphone – one he used to dominate his rivals in the 2016 primary and to command the news cycle for years. Mr. Trump was barred from the platform after a mob of his supporters invaded the U.S. Capitol on Jan. 6, 2021, with Twitter citing "the risk of further incitement of violence." Although his access was reinstated shortly after Mr. Musk took over, he has yet to tweet.
About 1 in 5 U.S. adults say they use Twitter, the Pew Research Center found last year.
Democrats are somewhat more likely than Republicans to say they have Twitter accounts, according to a Fox News poll from December. Republicans are far more likely than Democrats to say Mr. Musk buying Twitter was a good thing and to have a favorable view of him.
This story was reported by The Associated Press. AP writers Jill Colvin and Ali Swenson in New York, Barbara Ortutay in San Francisco, and Emily Swanson in Washington contributed to this report.