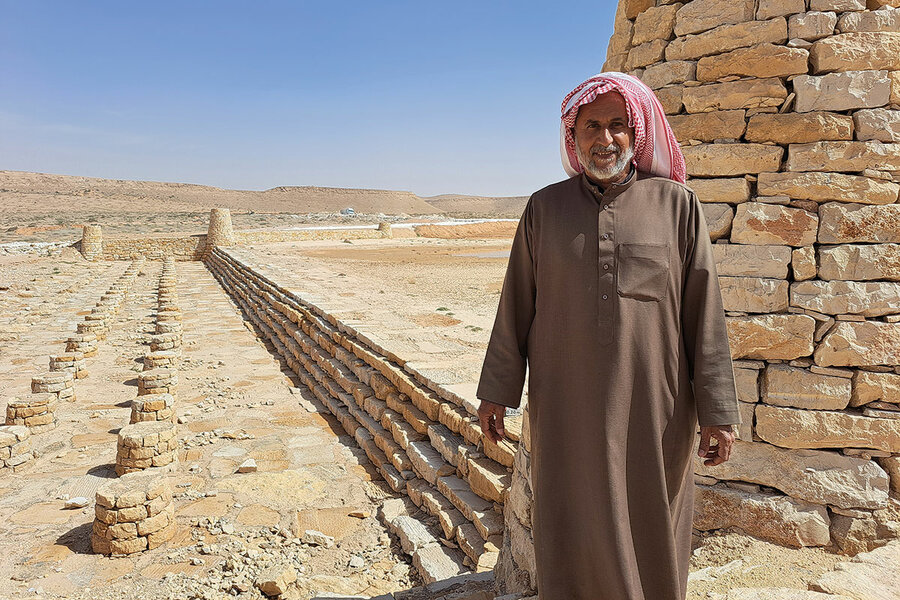 A bulldozer and a crane lift barren earth from the ground at breakneck speed as six men in white thobe gowns tied around their waists carefully stack 100-pound slabs of rock in a long, neat row.  
A bustling construction project is not uncommon in Saudi Arabia, a country in the grip of rapid economic and social change. 
But here in Thadiq, in the baking Najd desert north of Riyadh, the only structure in sight is a 4-foot stone wall. The men work in a flat, exposed, dusty expanse pockmarked with hundreds of neatly dug holes, 4 feet long and 1 foot wide, stretching to the horizon like a battlefield cemetery waiting for the fallen. 
Why We Wrote This
A story focused on
The effort to abate climate change has a new player: Saudi Arabia. Yet some doubt the world's second-largest oil producer will strike the right balance between current needs and future necessities.
This grand project is not the start of another gleaming skyscraper. It is something even more audacious: a future forest. 
"Greening needs effort and patience," Abdullah al-Issa, or Abu Brahim, says as he directs the preparations for planting 30,000 saplings. "When you are doing good work, there is a lot of work to do."
Can a desert turn green – and stay green? Can the world's second-largest oil producer lead the fight against climate change? Saudi Arabia is saying yes to both – a bold bet whose payoff depends on places like Thadiq and individuals like Abu Brahim. 
A Saudi Johnny Appleseed, this middle-aged agricultural engineer with twinkling eyes and a constant smile started planting different saplings and seeds he had accumulated from across the kingdom in these then-barren fields a decade ago in a bid to reverse the desertification encroaching on his hometown. 
After his initial success, the Saudi government declared the 220-square-mile area the Thadiq National Park in 2018. Now, with government encouragement and funds, he has planted 170,000 trees and is preparing for the next 100,000. 
On this warm February morning, Abu Brahim has a visitor: Abdullah al-Subeihi, a conservationist and arborist from the country's National Center for Vegetation Cover (NCVC), the government agency tasked with scaling up greening projects like this one.
"When it comes to forestation, action, not words, matter," Mr. Subeihi says, admiring the budding red fruits of a 4-foot-tall jujube. "These stunning results are a great sign." 
With four decades' experience in conservation, Mr. Subeihi is a human library of the trees, shrubs, and flowers native to Saudi Arabia. Squeezing branches, pinching fruits, and gently caressing healthy green leaves, Abu Brahim and Mr. Subeihi geek out over each tree and shrub like gearheads admiring a classic car.  
Finally, they arrive at the secret to Abu Brahim's success: a large rainwater catchment dam, one of 100 in the park. Completed in the summer of 2022, it consists of a series of low-lying stone walls that decrease in height like giant steps down into the valley floor. The design is intended to redirect and slow increasingly frequent winter floods to keep them from tearing up shrubs and saplings and to allow groundwater and aquifers to regenerate. 
Two-week-old rainwater collects in a clear lake with young acacia trees sprouting from the center. Pigeons and shrikes hop at the water's edge, and butterflies float from shrub to shrub. Multiple desert fox and hare sightings have been reported in the park, and Riyadh picnickers have started to gather here on weekends. 
"When I started, there were only five trees in this whole area. In my children's time, this will be a forest that they can take their children to," Abu Brahim says, leaning his arm on a dam wall. "This is an amazing feeling," he says, gazing at the acacia trees on the horizon. "This is the feeling of life."
Planting billions of trees, going solar, capturing carbon from the sky, and a green hydrogen revolution – Saudi Arabia's declared green transition sounds as fanciful as it is surprising from a fossil-fuel giant.
But few countries in the world have the deep-pocket resources and centralized decision-making like Saudi Arabia to make it happen.
After neglecting climate change action for decades, Saudi Arabia says it is embracing climate solutions and sustainability at every level. But by no means is the kingdom abandoning oil. On the contrary, it depends on oil demand to fund its ongoing economic diversification, prepare for a post-oil future, and meet its net-zero goals. 
Saudi Arabia maintains that it can green the Middle East and continue to produce oil and gas in a responsible, low-carbon fashion as the world slowly shifts away from fossil fuels.
Critics call it "greenwashing," while some climate experts accuse Saudi Arabia of deliberately blurring the narratives around climate change solutions to blunt the campaign to phase out fossil fuels. 
Yet with billions of dollars being pumped into afforestation, green hydrogen, and carbon capture and reduction strategies – supported by research, development, and top-down climate edicts from the crown prince himself – Saudi Arabia's green transition is in full swing in every sector. It's a green transition funded by oil revenues. 
The Saudi Green Initiative (SGI), the brainchild of ruling Crown Prince Mohammed bin Salman, was unveiled by Saudi Arabia last November in a specially built domed pavilion on the sidelines of the COP27 climate conference in Sharm el-Sheikh, Egypt. 
Like most of the crown prince's moonshot plans, the Saudi Green Initiative's goals are big, bold, and bordering on the impossible: plant 10 billion trees, push the kingdom's energy mix to 50% renewables by 2030, cut 278 million tons of carbon emissions by the decade's end, preserve 30% of Saudi land as protected nature reserves, and reach net zero by 2060. 
But that's not all. Recognizing the cross-boundary impact of climate change, Saudi Arabia also announced a parallel, regionwide Middle East Green Initiative (MGI). 
Without action on greenhouse gases, the Middle East North Africa region is on pace for warming at twice the global rate, with temperatures projected to rise by 4 degrees Celsius by 2050 – along with desertification, dust storms, and the evaporation of the Persian Gulf's fresh-water resources. 
The MGI aims to plant a staggering 50 billion trees across the Middle East, reduce 670 million tons of carbon dioxide regionwide, help neighboring states reach net-zero goals, provide clean cooking fuel for 730 million people, and make Saudi Arabia a regional hub for green hydrogen and carbon-capture technologies. 
On paper or spoken by government officials in forums, it may sound like green-friendly spin, declarations that are good for the kingdom's image that may never be realized. 
But the Saudi crown prince's penchant for moonshots isn't just a matter of words. Seven years ago, he announced Vision 2030 – building up a non-oil economy and a futuristic 105-mile-long city from scratch. While that deadline may not be met, work on the project has boosted the kingdom's growing non-oil GDP. Even more attention is being paid to the Saudi Green Initiative, with officials, researchers, innovators, environmentalists, energy experts, and entrepreneurs scrambling to make the green transition as much of a reality as possible – as fast as possible. 
When it comes to forestation, many of the SGI's grand ambitions fall on the shoulders of the 2-year-old National Center for Vegetation Cover. 
Last November, this agency of conservationists and arborists was tasked with planting more trees than there are people on Earth. 
"This is a great challenge but a welcomed challenge," says Ahmad al-Anazi, director of the NCVC's afforestation department. "Everyone from the leadership to the private sector to individual citizens is getting involved in making our country green. … And we need everyone's involvement."
Saudi leadership has also stipulated that greening efforts must employ native species only, reasoning that they can better withstand the weather extremes of Saudi Arabia's diverse regions – extremes that are expected to intensify with climate change.  
The NCVC works with parks, nature reserves, companies, and private citizens to rear saplings of local trees and shrubs in dozens of nurseries before mass plantings. Young trees receive up to three years of assisted irrigation with treated wastewater or rainwater. After that, they're on their own.
Some of Saudi Arabia's regions are more obvious choices for greening, such as the mangrove forests along the kingdom's coasts, expected to make up to 10% of the 10-billion-tree target, or the juniper tree-lined mountainous regions of the south, which receive monthslong rains. 
In arid central and northern Saudi Arabia, foresting officials are counting on the construction of rainwater catchment dams to increase groundwater for the dry summer months, when temperatures regularly top 112 degrees Fahrenheit (44 C).  
"Desertification and the loss of green cover have long been issues in the kingdom, but before we had no support – it wasn't a concern," says Mr. Subeihi, the arborist. "Now we have an incredible budget, we have authority, we have support from the very top on down. We are able to make our dreams a reality."
To protect the green cover from overgrazing and human misuse, Saudi Arabia has passed laws criminalizing logging and excessive grazing, established a special environment court that fines violators, and is set to reserve 30% of the country's lands and oceans as protected nature reserves – a stipulation from the crown prince himself. 
Saudi arborists know they face skepticism, in part due to the failures of grand afforestation projects elsewhere. 
One comparable project, the multibillion-dollar Great Green Wall – a planned 4,000-mile, continent-spanning belt of trees across Africa to combat the encroaching Sahara Desert – was launched in 2007 to much acclaim, but it was never completed due to insufficient funding. Around 80% of planted trees died from lack of water and scorching heat. 
One of the lessons Saudi growers are applying from that failure is a constant monitoring of young trees. Afforestation efforts in China, India, and Pakistan have been instructive as well. 
On a futuristic-looking campus the size of a small town, scientists, engineers, academics, and oil experts are busy working to perfect carbon capture and utilization technologies, synthetic fuels, and renewable energy generation and storage. 
Here at the King Abdullah Petroleum Studies and Research Center (KAPSARC), the same institute that has led Saudi Arabia's gas and oil technology for three decades is now leading the research behind its green transition. 
"Saudi Arabia is going to be a major player when it comes to the energy transition and the way forward," says Fahad Alajlan, KAPSARC president.
When it comes to developing renewable energy or scaling up carbon-capture technologies and utilizing green hydrogen, "Saudi Arabia wants to be a larger player not only at the domestic level but as a regional hub for some of these industries," he says, underlining a massive shift in the kingdom's thinking. 
One of the goals is a dramatic move away from Saudi Arabia's reliance on fossil fuel-burning energy production, with plans to bring 58.7 gigawatts of solar and wind projects online in the next seven years. 
The kingdom has 1 GW of solar online now, and several solar "gigaprojects" a year or two away from completion, including solar plants near Riyadh and Mecca. 
Another area of Saudi investment is green hydrogen, which the United Nation's Intergovernmental Panel on Climate Change (IPCC) has highlighted as a complementary low-carbon energy source that can supplement renewable energy sources and be used for industrial heating and to power vehicles, among other uses.  
The Neom Green Hydrogen Project envisions a green hydrogen hub near the futuristic Neom city, a planned 100-mile-long city and tourism project in northwest Saudi Arabia, that would power the city, transport, and industry, and potentially provide energy exports. 
Plants powered entirely by renewables would utilize solar and wind energy to produce green hydrogen by electrolysis, with four such plants already announced. 
The first plant, expected to be online by 2026, is to produce 600 tons of clean hydrogen per day and 1.2 million tons of green ammonia annually, which Saudi energy companies claim will mitigate the impact of 5 million tons of carbon emissions from gas- or oil-based power per year. 
Japan and South Korea have already expressed interest in importing future Saudi green hydrogen to power their own transitions away from fossil fuels. 
Perhaps the largest pillar of Saudi's green efforts is carbon capture and storage. These technologies include direct air capture of carbon from the sky, sequestering carbon deep in the earth, and reducing CO2
emissions in industry, transportation, and hydrocarbon production.  
The IPCC has highlighted decarbonizing industry and boosting carbon capture and storage as key pathways to reducing emissions and meeting the goal of limiting the Earth's warming to 1.5 degrees Celsius. However, these strategies remain controversial due to fears among some climate experts that it may be used by oil- and gas-producing countries like Saudi Arabia to continue fossil fuel production, delaying energy transitions. 
Yet Saudi decision-makers argue that the international community's sole focus on a decadeslong shift from fossil fuels is neglecting the other part of the carbon equation – reducing CO2
in current emissions and capturing carbon. After all, they say, the goal of the Paris Agreement is to reduce carbon – not eliminate hydrocarbons themselves, which still remain a major global energy source.  
"We really need to deal with hydrocarbons, whether we like it or not, and we need to find ways to utilize [them] cleanly within this decade," says Khalid Abuleif, chief climate agreements negotiator at Saudi Arabia's Ministry of Energy. 
"We need not only to address renewables, but on the other side we need to ensure carbon dioxide removal to manage inefficiencies that come with renewables. Without managing this side, you will not be able to keep [the] 1.5 goal in reach," he says.
To that end, Saudi Arabia and Saudi oil giant Aramco announced late last year a carbon capture sequestration hub in Jubail, in eastern Saudi Arabia. By capturing and injecting carbon deep into the ground, the facility is to store 9 million tons of CO2
annually by 2027 – a number Aramco expects to ramp up to 44 million by 2035, the combined capacity of the 35 largest carbon capture facilities across the world today. 
The kingdom is also planning a carbon reduction utilization hub in its western provinces that will link to industry. 
"Saudi Arabia wants to be a big part of the supply chain of these technologies," notes Mr. Alajlan of KAPSARC.  
The kingdom is pitching these carbon and emissions reduction processes as a comprehensive system it calls the circular carbon economy. The CCE is named after the "circular economy" concept built on the three R's: reduce, reuse, and recycle goods. Under the Saudi concept, the goods in question are hydrocarbons, and they add a fourth R: remove, as in remove CO2
.
Saudis say the overall goal of the CCE is to reduce carbon by utilizing renewables, energy-efficient processes, and green hydrogen; reuse hydrocarbons and recycle them into new materials such as fertilizer or synthetic, low-carbon fuel; and then remove CO2
emitted in the process through direct air capture or sequestration and nature-based solutions such as planting trees. 
Through a circular carbon economy, Saudis claim economic growth can continue in what they describe as a closed carbon loop, with net-zero carbon emissions. The G-20 nations endorsed the concept in 2020. 
Saudi Arabia's billions of dollars of investment in the field are a "big commitment that can have an overall impact on the availability of carbon capture and storage" technologies for other countries, notes Angela Anderson, director of Industrial Innovation and Carbon Removal at the World Resources Institute's climate program. Experts cautiously welcome the kingdom's push for renewables. 
But climate and sustainability experts have big questions.
Namely: Will carbon-reduction technologies accelerate or delay the clean energy transition?
"If Saudi Arabia and other oil-producing nations use carbon capture and storage to reduce their emissions in the short term while they transition away from fossil fuels like the rest of the world, I think that can be a very positive development," says Ms. Anderson. "But if they do it in a way that continues to block progress towards the move away from fossil fuels, that would be devastating."
In short, despite their benefits, carbon reduction and capture technologies alone are no substitute for phasing out fossil fuels, climate experts warn. Their use should be alongside low-carbon energy sources, not fossil fuels, they say. 
"What is clear is that we cannot continue with the level of fossil fuels Saudi Arabia is producing and the world is consuming at the moment," says Mia Moisio, Middle East and North Africa expert at the NewClimate Institute, a Germany-based nonprofit. "There will be no other way out except reducing oil and gas production and consumption." 
But Saudi Arabia is undeterred; it is planning a regional carbon capture economy knowledge center to share their know-how and technologies with other countries. 
IF THE NET BENEFITS of Saudi Arabia's green transition are yet to be clear, the impact on the business culture of a kingdom built on oil is immediately apparent. 
On the sidelines of a session at an International Association of Energy Economists conference held at KAPSARC's campus in February, a senior Aramco executive had one simple piece of advice for an aspiring young Saudi petrochemical engineer:    "Sustainability and climate," he told him. "If sustainability and climate are not part of your work and research, you have no future."
As Aramco pours billions into carbon dioxide removal technology, plants mangroves, and establishes wildlife reserves, hundreds of non-oil Saudi companies are embracing sustainability and climate as a core part of their mission statements.
Princess Noura bint Turki al-Saud is one of the kingdom's leading sustainability development consultants. Her Riyadh-based company Aeon Strategy assists clients ranging from Saudi government agencies to small startups in adopting environmentally sustainable practices such as energy efficiency and the use of renewables and low-carbon materials. 
"What we are doing in Saudi Arabia is striking the balance of green and economic diversification," she tells the Monitor. 
"People are stuck with this thought that 'oil is bad. You are an oil producer; therefore, there is no way you can contribute to preserving the environment, let alone address climate change.' But, in fact, it is being embraced," she says. 
The investment funds, pro-business laws, incubators, and ecosystem Saudi Arabia has put in place the past five years to nurture and boost startups and tech firms are being used by young Saudis to launch green businesses promoting solar windows, net-zero fertilizer, net-zero greenhouses, and more.  
"The announcement of the Saudi Green Initiative made young Saudis excited that there is more to be done about sustainability than planting a tree or throwing away a plastic bag," says Princess Noura. 
One of those young Saudis is Noura Alissa. At the age of 26, she is the youngest member of Saudi Arabia's climate negotiating team and serves as senior international policy analyst for climate change at the Saudi Ministry of Energy. 
She has one response to Saudi Green Initiative skeptics.  
"Seeing is believing," Ms. Alissa says. "Don't judge until you listen to what we are doing with an open mind. Come to us with questions, engage, and then form your opinion on whether or not it is believable.
"The kingdom makes announcements with complete transparency and is open to being scrutinized against those announcements – because, at the end of the day, this progress is what we can show for net zero."
One place that started receiving visitors in February is the recently formed King Salman Nature Reserve in northern Saudi Arabia, a reserve the size of Greece, or 6% of the kingdom's landmass. 
Visitors are invited to plant 20 trees in lieu of paying yearly camping and entry fees, and solar panel stations dot the reserve. It also borders Saudi Arabia's largest photovoltaic solar power plant in Sakaka. 
About 250 miles southeast of the reserve, Mr. Subeihi of the NCVC is finishing up his daily rounds at the Al Ghat National Park, yet another private initiative by a retired agricultural engineer, Suleiman al-Saoub, that is being scaled up by the Saudi government.
Without assisted irrigation, in an area of 13 square miles fenced off from grazing camels and sheep, Mr. Saoub has managed to plant 200,000 trees in 15 years, transforming the dusty area into green cover as thick as 150 trees per acre. 
Five-year-old red acacia trees, 7 feet tall, extend from thick stretches of lush green grass and boxthorn shrubs at the edge of bleak, yellow, rocky desert. Here two entirely different habitats collide, a meeting point of parallel universes – the old Saudi Arabia and, if Saudi leaders get their way, the new. 
Leaving the park, Mr. Subeihi suddenly tells the driver to pull over. He gets out and practically sprints up a barren hill. 
There, in an imprint in the dirt, spindly acacia branches – several inches long with new, green leaves – push out from the soil. This is not a man-dug trench, and this sapling was not planted. It is a naturally occurring tree. A seed carried by winds landed in this spot and grew in soil damp from winter rains, thriving without human intervention. 
"This is what we dream and work for – a self-generating and regenerating ecosystem," Mr. Subeihi says as he crouches down, pinching the thin but firm branches. 
He asks the reporter to take a photo of him and his find, proof that "with patience, the desert can become green again."