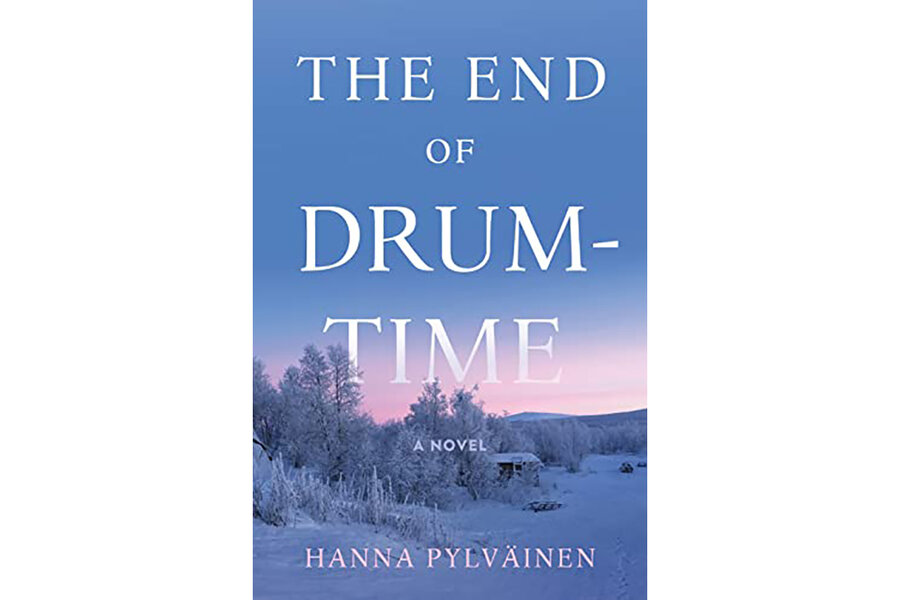 In a remote village near the Arctic Circle, charismatic Lutheran minister Lars Levi Laestadius tries valiantly to turn his congregation away from alcohol and towards salvation. His flock includes Finns and Swedes, but also a few Sámi, nomadic reindeer herders, the Indigenous people of the Scandinavian tundra.
With "The End of Drum-Time," Hanna Pylväinen provides a fictionalized account of a mid-19th century religious movement as she weaves a tale of clashing cultures and religious colonialism. The award-winning author unwinds an exquisite story that combines historical fiction, romance, and social commentary.
The story begins when Lars Levi is unexpectedly interrupted by Biettar Rasti, a shaman and a leader among the Sámi people. As Biettar stands quietly in the aisle of the church, everyone stunned by his presence, an earthquake rattles the small building. No one is quite sure what is happening, whether they are experiencing yet another example of nature's harsh treatment or perhaps a dramatic religious awakening. As the congregation stares silently, all Lars Levi can think is, "What a coup, if Biettar should be saved, here and now!"  
Yes, it does appear the Sámi elder has experienced a religious conversion. But it is one that brings consequences that Lars Levi had not anticipated. Cultural influence, after all, seldom flows in only one direction. 
In the weeks that follow, Lars Levi welcomes Biettar into the fold where he becomes a disciple of sorts, spending his time learning this new religion, leaving the care of his ever-dwindling herd of reindeer to his son, Ivvár. But while the minister gains a new parishioner, one whom he views as a prize, his daughter, Willa, becomes infatuated with Ivvár. As the young Sámi struggles to maintain the herd on his own, a task never intended for one person, the two grow closer. With the spring migration approaching, a custom that has been practiced by the tribe for generations, Willa prepares to join them, defying her father's control. 
Readers will recognize familiar literary themes of conflicting cultural standards and familial power struggles. But Pylväinen uses these themes as a foundation upon which she embroiders an exquisite variation that illumines a lesser-known culture as well as an earlier religious movement. Much of the outline of the book – the minister and his efforts to convert the Sámi and eradicate their way of life – is factual. But with her lush prose and balanced perspectives, Pylväinen tells the story with a fairness that does not cast one culture as "advanced" and the other as "primitive." Rather, she provides a richness of detail and captivating storytelling that makes the era accessible to contemporary readers.
Take for example the alcohol that has ravaged much of the community. It was introduced by settlers who had traveled to the northern regions searching for new customers for their product. As they ventured farther north, they also introduced what they considered to be the basic necessities of life – roads, the church, a general store – all of which they try to impose upon the untamed tundra. 
The settlers also introduce the concept of buying on credit to entrap the Sámi. When obligations mount, which the Sámi have no hope of repaying, the settlers impose political and legal consequences upon a nomadic people who never had a need for such systems. Their lives were determined by natural conditions, perhaps summarized in a Sámi proverb with which Pylväinen opens the novel: "Let the reindeer decide."
Yet while the Sámi are viewed by the settlers, and by the minister especially, as primitive, the author reveals how their way of life is perfectly suited to the extreme circumstances of their environment. Their independence and self-sufficiency have emerged as adaptations to the natural conditions, illustrating how their simplicity is an elegant and effective response that brings them into harmony with the world around them.
This contemporary account of a dark chapter in Scandinavian history benefits from the author's imaginative storytelling and her brilliance as a writer. Pylväinen infuses each situation with details that make it come alive and make each character's situation relatable to the reader. These might be as simple as Ivvár's conscientious collecting of straw that he will use to line his boots. However meager, the straw will serve as insulation that helps protect him from the arctic cold. 
Such wisdom, we learn, is part of the Sámi way of life, an example of how indigenous cultures have adapted and thrived in some of the most hostile regions on earth.