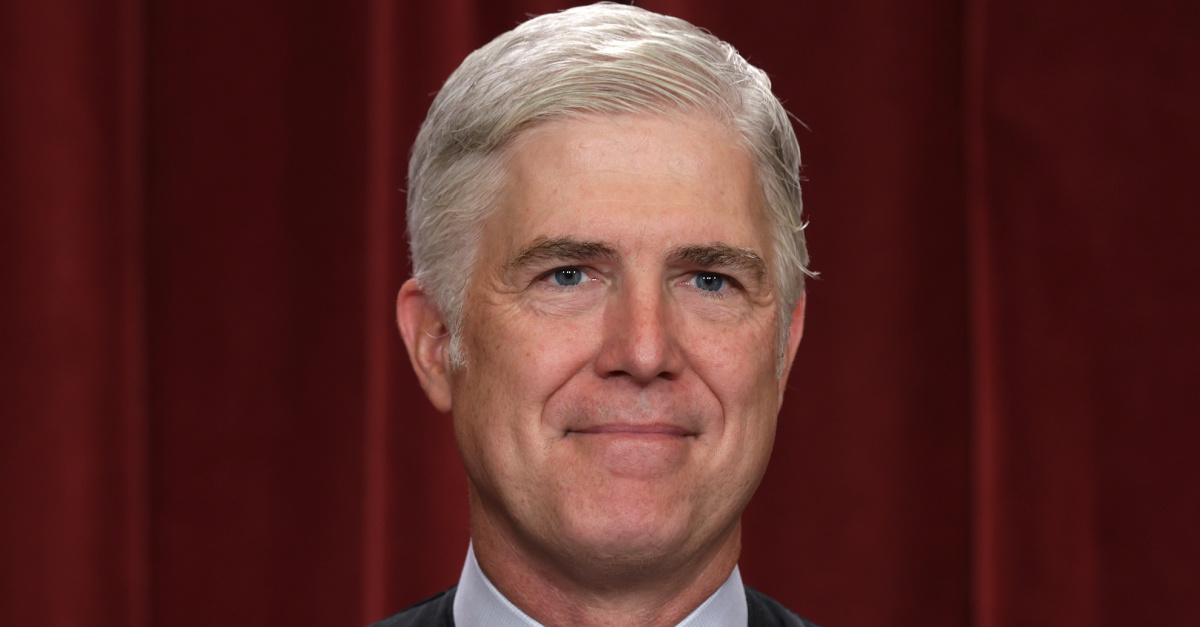 U.S. Supreme Court Justice Neil Gorsuch used a case on COVID-19 and immigration last week to blast the state and federal government response to the pandemic, calling it an intrusion on civil liberties and reminding his colleagues that churches were closed while casinos were allowed to stay open.
The case, Arizona v. Mayorkas, involved the so-called Title 42 order from the Trump Administration that allowed immigration to be restricted in order to prevent the spread of COVID-19. Gorsuch joined his colleagues Thursday in dismissing a dispute about Title 42.
But Gorsuch also wrote an eight-page statement criticizing pandemic restrictions on the local, state and federal level. He began by referencing restrictions on churches.
"Since March 2020, we may have experienced the greatest intrusions on civil liberties in the peacetime history of this country," Gorsuch wrote. "Executive officials across the country issued emergency decrees on a breathtaking scale. Governors and local leaders imposed lockdown orders forcing people to remain in their homes. They shuttered businesses and schools, public and private. They closed churches even as they allowed casinos and other favored businesses to carry on. They threatened violators not just with civil penalties but with criminal sanctions too.
"They surveilled church parking lots, recorded license plates, and issued notices warning that attendance at even outdoor services satisfying all state social-distancing and hygiene requirements could amount to criminal conduct," Gorsuch added. "They divided cities and neighborhoods into color-coded zones, forced individuals to fight for their freedoms in court on emergency timetables, and then changed their color-coded schemes when defeat in court seemed imminent."
The U.S. Supreme Court, in November 2020, issued the first of several orders barring governments from placing restrictions on churches. "Even in a pandemic, the Constitution cannot be put away and forgotten," that unsigned order stated. Gorsuch sided with the majority.
"Doubtless, many lessons can be learned from this chapter in our history, and hopefully, serious efforts will be made to study it. One lesson might be this: Fear and the desire for safety are powerful forces," Gorsuch wrote. "They can lead to a clamor for action – almost any action – as long as someone does something to address a perceived threat. A leader or an expert who claims he can fix everything, if only we do exactly as he says, can prove an irresistible force.
Gorsuch concluded, referencing not only the pandemic restrictions but the immigration case, "Make no mistake – decisive executive action is sometimes necessary and appropriate. But if emergency decrees promise to solve some problems, they threaten to generate others. And rule by indefinite emergency edict risks leaving all of us with a shell of a democracy and civil liberties just as hollow."
Related:
Supreme Court Sides with Churches: 'Even in a Pandemic, the Constitution Cannot Be Put Away'
Photo courtesy: ©Getty Images/Alex Wong/Staff 
---
Michael Foust has covered the intersection of faith and news for 20 years. His stories have appeared in Baptist Press, Christianity Today, The Christian Post, the Leaf-Chronicle, the Toronto Star and the Knoxville News-Sentinel.