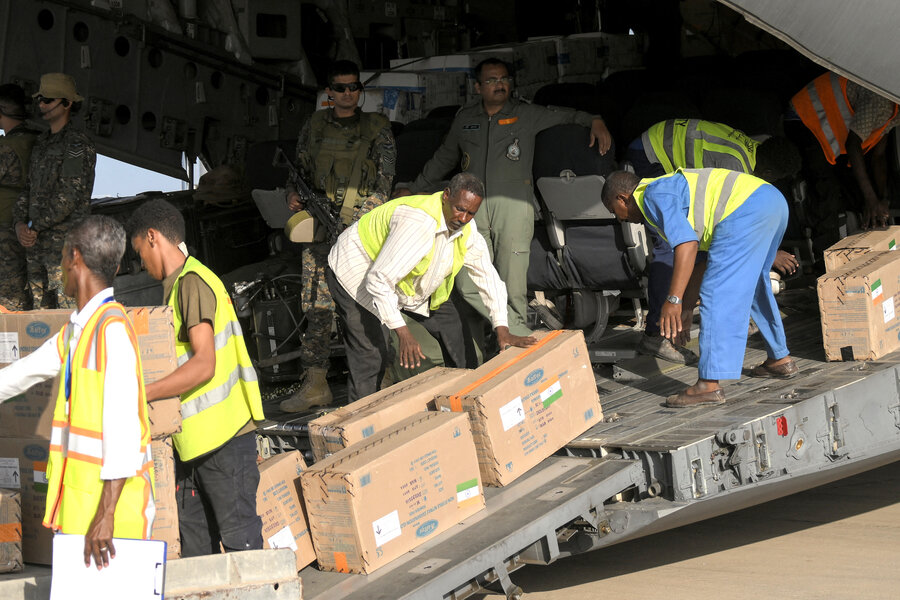 Despite five weeks of civil war between factions of a military junta, the people of Sudan have shown remarkable enterprise and resolve. Many are caring for one another. Youth groups have launched apps to help people find resources. Doctors and women's groups are working together to record incidents of sexual violence committed by soldiers.
Such civic activism helps explain why the two warring generals – erstwhile partners in a 2021 coup – have felt compelled to reassert their democratic intentions despite turning on each other. In early May, they signed an agreement vowing to uphold international legal norms for protecting civilians. And today their respective forces were set to begin observing a weeklong cease-fire to enable the flow of humanitarian supplies to besieged citizens.
The truce, brokered over the weekend by the United States and Saudi Arabia, is meant to be a first step toward restoring Sudan's interrupted transition back to civilian rule. It concedes an important point. By "ensuring full, safe, and unhindered movement for all humanitarian organizations, civil society groups and community organizations," it acknowledges that political legitimacy rests not with the force of arms but in self-government.
"We have been moved by the courage and resilience of the people of Sudan, their desire for change, and their attachment to principles of justice and freedom," said Volker Türk, the United Nations' human rights chief, during the cease-fire talks. For peace to be sustainable, stable, and just, he said, it must be built on "bedrock commitments of accountability, non-discrimination and participation." 
Sudan has struggled since 2019 when pro-democracy groups toppled a military dictatorship that had lasted 30 years. A civilian-led transitional government was established with the military's tacit support. But two years later, just as that government was set to publish a report on corruption in companies tied to the armed forces, the generals seized back power.
An alliance between thee generals prevailed for a time against an array of professional and civil society groups seeking a restoration of democracy. But last month the political and economic competition between the two main armed factions erupted in urban warfare. More than a million people have fled into Sudan's already fragile neighbors.
The civil society groups that formed the backbone of Sudan's pro-democracy movement have now become, as regional expert Alex de Waal described them recently, the only functioning civic government in the country, "repurposed … as emergency networks for community information, protection, and supplying humanitarian essentials." 
Sudan's conflict has raised concerns of destabilizing a region beset by drought, hunger, and myriad other conflicts. But it is also reinforcing a civil strength. By tying "the slogan 'no to war' with practical assistance," Muzan Alneel, co-founder of a Sudanese technology institute, wrote earlier this month, "a truly realistic and sustainable approach is being created by the people of Sudan in the face of war."