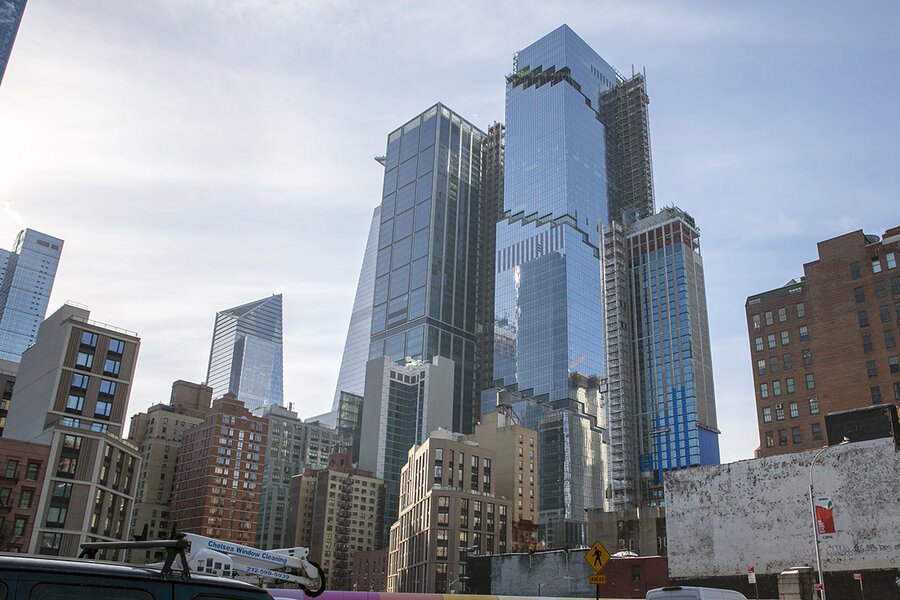 New York is the first state to begin banning natural gas in most new buildings – a move praised as pathbreaking by climate advocates but criticized by opponents as overbearing. 
It's part of a larger state plan to reach net-zero energy emissions by 2050. Supporters hope other states will join.
Yet, while most Empire State residents agree that lowering greenhouse gas emissions is the right move, gas-range aficionados don't want to give up their open flame. Critics say this plan will cost struggling consumers too much, could overtax the state's energy grid, and doesn't account for the severity of New York's numbingly cold winters. 
Why We Wrote This
Does responsibility lie in moving quickly to scale down emissions of natural gas, or in being cautious about the effects of energy mandates on consumers and the electric grid?
Natural gas is used widely to generate electricity here and around the country. It burns cleaner than fossil fuels like coal and oil, but can pollute just as much as coal, depending on how much methane leaks from production to delivery. The new law calls for energy-efficient heat pumps instead.
In 2021, slightly more than half of New York's electricity came from clean sources like nuclear and renewables such wind, solar, hydro, and geothermal pumps, according to the U.S. Energy Information Administration. The state's goal is 70% emissions-free electricity production by 2030 and 100% by 2040. In addition to helping solve climate change, advocates say boosting green energy will create jobs, improve indoor and outdoor air quality, and lower utility costs.
The policy's rollout here will be closely watched. Already a number of cities from San Francisco to New York City have banned gas in new construction. While some Republican-controlled states have laws preventing local gas bans, Washington state has a ban imposed by its unelected Building Code Council. 
How will the law work?
By 2026, most new buildings under seven stories will have to use electric heat pumps for controlling air temperatures and for hot water. Larger buildings will have to comply by 2029. Some businesses that require extreme high heat to operate are exempt. The law does not apply to existing buildings.
Buildings produce more greenhouse gases than any other category in New York – 32% of emissions versus 29% for transportation – according to the state's Department of Environmental Conservation. 
Will it lower emissions?
Initially, no. But it keeps new buildings from raising them. Bigger savings will come once existing buildings are retrofitted and the sale of gas appliances is banned, all part of the state's net-zero-by-2050 plan. Those details have not been ironed out and could be derailed if, say, future governors have different priorities.
What will it mean for consumers? 
Supporters say electric heat pumps are effective and save consumers money over time. Critics warn of unintended consequences and call for a more measured approach. 
"The ban on natural gas hookups in new buildings will drive up housing costs and utility bills for consumers. Without greater detail and analysis [about the grid], this one size fits all plan is unrealistic, unaffordable and unreliable," says Republican state Sen. Patrick Gallivan, by email.
It used to be that heat pumps were no match for eye-watering cold, but they have improved greatly over the past decade and are quite efficient, says Robert Howarth, an Earth systems scientist at Cornell University in Ithaca, New York, and one of 22 members on the state's Climate Action Council tasked with developing the state's net-zero plan. 
Still, plenty of builders remain dubious.
Heat pumps tend to be more efficient and cheaper to run than natural gas furnaces. In new homes, this means that electrifying things can make a lot of sense. But with older homes, it's a bit trickier, in large part because of the upfront costs to renovate, says Melissa Lott, director of research at Columbia University's Center on Global Energy Policy.
Can the grid handle more demand? 
Supply will become a problem if the electric grid and alternative energy sources aren't improved and expanded, according to the New York Independent System Operator, which manages the flow of electricity across the grid. The state's energy cushion could narrow beginning in 2025 as some generators are deactivated and demand grows, says Kevin Lanahan, the company's vice president of external affairs and corporate communications.
The New York State Energy Research and Development Authority says the state has enough projects in the pipeline to reach 2030 and 2040 goals.  
That's not sufficiently concrete for some.
"Sure, down the road, technology will catch up and move forward with electric, but we want proof [that it's happening on pace]. And they can't answer that," says Michael Fazio, executive vice president of the New York State Builders Association, which works with residential builders.
While grid capacity is concerning, some big developers started shifting from gas homes to all-electric ones a few years ago in anticipation that the state and utilities will work out supply, says Michael Ohlhausen, managing director of architecture at The Hudson Companies, a developer of multifamily apartment buildings in New York City and Westchester County, just north of the city. 
Low-rise residential builders, like Mr. Fazio's members, are on board with the move toward zero emissions, but worry that buyers won't want all-electric homes if reasonable gas-fueled ones exist – making it hard for his members to survive. 
Are there obstacles to implementation? 
In addition to the need to make sure the grid and alternative energy supplies are robust, there could be legal challenges.
This spring, the 9th U.S. Circuit Court of Appeals in California overturned a Berkeley, California, law that had the same goal as New York state's but was implemented differently. Amy Turner, senior fellow at Columbia's Sabin Center for Climate Change Law, says she does not expect New York's 2nd Circuit Court to do the same, but the natural gas industry has deep pockets to bring suit. 
How does the public feel about it?
Far more New Yorkers believe climate change is a serious problem than don't believe, according to a February poll by Siena College and the natural gas-aligned New Yorkers for Affordable Energy – 77% compared with just 22%. But climate change is far less important than day-to-day issues – like cost of living, housing affordability, and crime. 
"People are thoughtfully ambivalent," says Donald Levy, director of the Siena College Research Institute, which conducted the survey. "Most are willing to pay something to help with climate mitigation – but not much. They like the state's aggressive goals, but there's a sense that 'if other states aren't doing this, why should I?'"