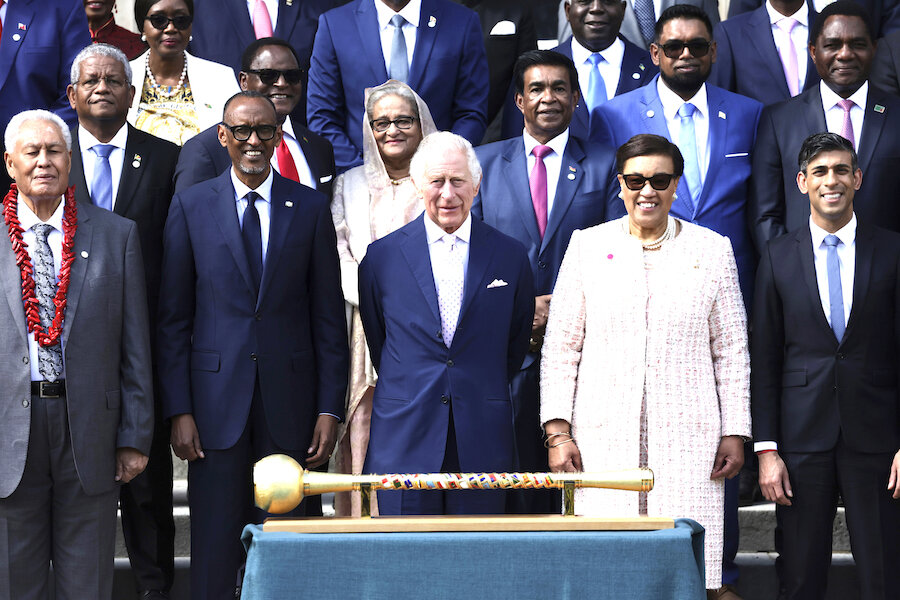 British coronations unfold in symbols and choreography dating back a thousand years. But the crowning of Charles III tomorrow holds something new – a multihued recitation of Christianity's most sacred prayer led not just by the head of the Anglican Church, but by Jewish, Muslim, Buddhist, Sikh, and Hindu clerics as well.
This unique moment of worship – congregants will be invited to speak the Lord's Prayer in any language – reflects the new king's view of his realm as "a community of communities." Yet a deeper symbolism is hard to ignore. A monarchy that once spread its language and power around the globe is having to adapt to a world shaping its own narratives of dignity and equality.
One place where that change is evident is just across the English Channel, where an Algerian film opened this week in a dozen theaters in Paris. Called "The Last Queen," it tells the story of a woman who saves Algiers from foreign invasion in the 16th century. Historians debate whether the story, which has floated through Algerian lore for hundreds of years, is true. But for audiences, the film's depiction of Algerian society is what counts.
"In the movies, our country is still viewed mainly in the context of colonization and the years of terrorism," Adila Bendimerad, an Algerian actor who stars in the film and co-directed it, told Le Monde. "Algerians living in France, French people of Algerian origin, French people, people from elsewhere: Everyone has been moved by this story and this Algeria that they were not aware of."
The film points to the uses of history at a time when many societies are rethinking their legacies under colonial rule. For many African societies, that means moving beyond a mentality of victimhood and exploitation. In her new book on African childhood, for example, Sarah Duff, a South African anthropologist, challenges stereotypes about how Africans view themselves.
"Thinking historically is important for showing us that the present was never inevitable: that there were and are alternative ways of addressing challenges, alternative choices, and alternative ways of understanding our societies," she said in an interview at Colby University.
A new exhibit by the Pakistani artist Misha Japanwala in New York has a similar goal. A collection of castings of hands and the female form, it challenges the sense of shame and invisibility that women in Islamic societies endure. "When so much of our existence has been subject to a campaign of disappearance, this collection is a present day, physical reminder that our lives and our stories are part of the fabric of our people, and will continue to be so even hundreds of years from now," she told The New York Times.
A world of many voices, Charles has acknowledged, "has led me to understand that the Sovereign has an additional duty – less formally recognized but to be no less diligently discharged. It is the duty to protect … the space for faith itself and its practice through the religions, cultures, traditions, and beliefs to which our hearts and minds direct us as individuals." A monarchy that once spread its language across the globe is refitting itself for a world shaped by the voices of others.