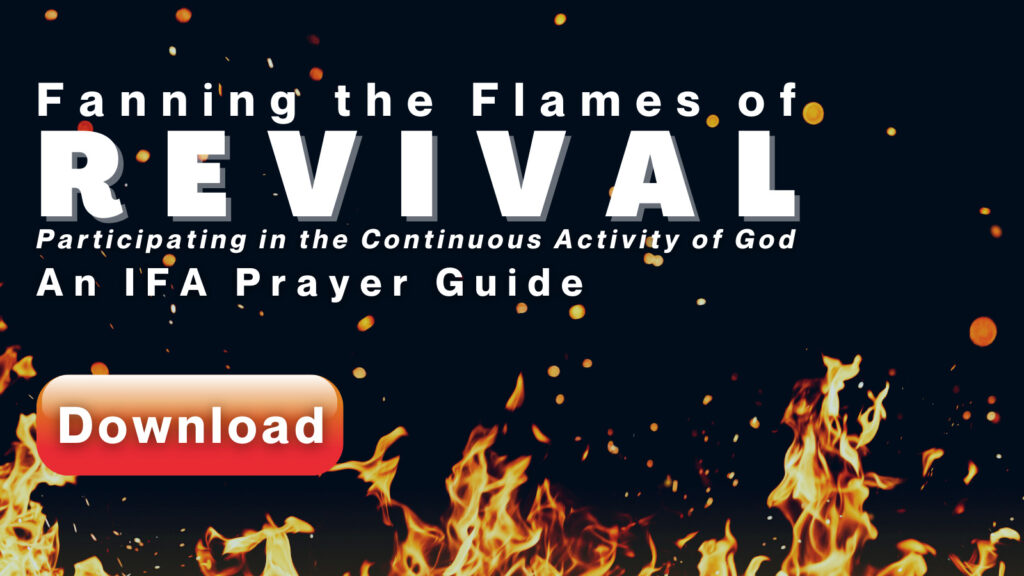 Jesus Revolution grossed more than four of the films up for Best Picture at the Oscars combined, and Jon Erwin is the first filmmaker in cinematic history to achieve four A+ CinemaScores! During their prayer team's call on March 3 Greg Laurie read a letter about worship, prayer, and evangelism that broke out in a theater when the film stopped showing after half an hour. He and the host of the prayer call, Kyle Thompson, told many stories of revival breaking out after the film ends. In one case someone was baptized in a fountain outside the theater! Thompson talked about how glad the team is that the film opened after the Asbury Outpouring (the film's soft opening was within hours of the final public service at Asbury University), so no one can say that the film sparked the Outpouring! On March 10 Michael W. Smith was the guest on their prayer call, and he prayed these lyrics from Zach Reese's "The More I Seek You" over the prayer team and those seeing Jesus Revolution:
The more I seek you 
The more I find you 
The more I find you 
The more I love you
I want to sit at your feet 
Drink from the cup in your hand 
Lay back against you and breathe, feel your heart beat 
This love is so deep, its more than I can stand 
I melt in your peace, its overwhelming
In the article below, Laurie tells the rest of the story about his mom and stepdad, how they were overwhelmed by the Lord's love so deep…
From CBN News. If you've seen the movie "Jesus Revolution," you may have left the theater feeling that some very big storylines were unresolved. Well, now Pastor Greg Laurie is revealing a stunning and miraculous testimony about how he eventually found his adoptive dad and what happened next. …
Greg Finds His Father
The movie has so many powerful moments, but it left lingering questions about Greg Laurie's family, especially about his adoptive father who was ripped out of his life during his childhood. Well, many years later, he was able to track down Oscar Laurie …
In a new video, Greg Laurie explains the stunning tale of what happened next. He was traveling to New York and had just discovered that Oscar Laurie lived in New Jersey, so he made contact and then they made plans to meet up.
Oscar invited Greg and his wife Cathe to come visit with him and his new family. As they ate dinner together, Greg shared about the gospel. His father, a lawyer and an intellectual, listened intently but said little at that moment. He simply said, "Greg, will you go walking with me tomorrow morning?"
It turns out Oscar had experienced a heart attack two weeks earlier and had almost died. Part of his new health regimen was to go walking early in the morning, so the two men went for an early walk at 6 a.m.
That's when Oscar suddenly said, "Greg, I listened very carefully to what you said last night about Jesus." Greg recounts, "And he said, 'I want to accept Jesus Christ into my life right now.'" …
When Greg said they should pray together, Oscar immediately dropped to his knees, right in the middle of the park. …
A Miraculous Healing
Oscar asked Greg to pray that God would heal his physical heart too.
"I said, 'I don't know if God will heal your heart, but we can pray,'" Greg recalls.
After he prayed, Oscar, full of faith, said, "Greg my doctor's not far from here, his office is right over there. Let's go see him, I want to tell him my heart is healed." …
The doctor was doubtful about a physical healing, but he ran tests on his father and the heart condition was indeed miraculously gone! …
Greg Laurie's Mother
In a separate video, Laurie also shares that his mother Charlene, his only family for much of his life, eventually did commit her life to Christ as well. It came when she didn't have much time left on this earth. …
Post any stories of revival breaking out in theaters where you saw Jesus Revolution, along with prayers for it to reach more with the Gospel and to spark more revival!
(Excerpt from CBN News. Photo Credit: Jesus Revolution)