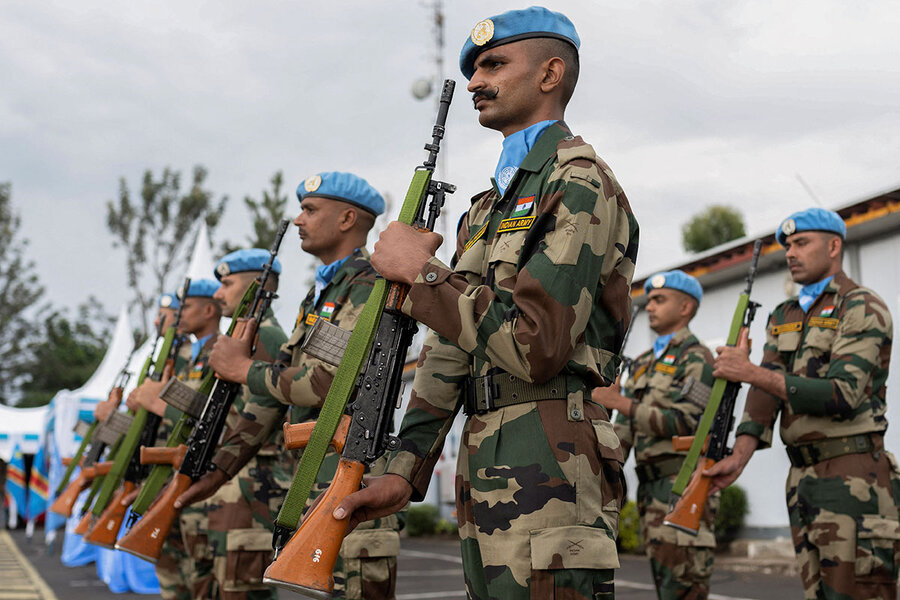 For Noé Kasali, who lives in war-torn eastern Congo, peace would mean being able to go home each evening and feel safe, as he used to do as a boy.
That is a dream now beyond the reach of more than 5 million people in his part of the world – the number of citizens who have been forced by repeated outbreaks of fighting over the past two decades to flee their homes.
Why We Wrote This
Few outsiders know that fighting has forced over 5 million people from their homes in eastern Congo. That lack of attention has allowed their plight to go unresolved for 20 years. A new cease-fire offers only a little hope.
Like most Congolese, Mr. Kasali, now a trauma counselor, puts little faith in the cease-fire that was agreed to last week between the government and the M23 rebel group. After all, it broke down within hours. "People are tired of living every day with broken promises," he says.
The causes of the violence, which a 23-year United Nations peacekeeping operation has been unable to tame, are complex. They involve ethnic grievances and enormous reserves of valuable minerals, among other factors.
But on the ground in eastern Congo, most people feel far removed from the negotiations brokered by foreign governments, held in distant capitals, to try to restore peace.
Says Mr. Kasali, "They will tell you, the priority of the world is not our lives."
Growing up in Oicha, a town in eastern Congo, in the 1990s, Noé Kasali's playground was his city's streets. He and his friends stayed out late nearly every night, playing elaborate games in the roads of their neighborhoods as darkness settled over the city. When they went home, their mothers loaded up their plates with plantains, fried beans, and cassava leaves.
Today, when he thinks of what lasting peace would look like in the eastern Congo, this is what he imagines: his children playing under a full moon, or himself coming home with arms full of vegetables from a family plot outside the city.
But when Mr. Kasali heard news last week of a new cease-fire between the Democratic Republic of Congo (DRC) army and a major rebel group, he, like many Congolese, did not get his hopes up.
Why We Wrote This
Few outsiders know that fighting has forced over 5 million people from their homes in eastern Congo. That lack of attention has allowed their plight to go unresolved for 20 years. A new cease-fire offers only a little hope.
"People are tired of living every day with broken promises," says Mr. Kasali, who now runs a trauma counseling center in the eastern city of Beni. And for him, safety has never been about men in a distant conference room in Angola shaking hands and promising to put down their guns. It isn't soldiers swarming the streets to keep the peace, or 18-wheelers dragging container-loads of rice and cooking oil into displaced persons' camps.
"It's about being able to go home," he says. "People here might be surviving physically, but psychologically, that's what they're longing for, to be safe at home."
According to United Nations figures, 5.8 million people have fled their homes in eastern Congo, forced out by fighting that has stricken the region for over two decades.
Last Tuesday's cease-fire marked the latest in a series of diplomatic attempts to end the fighting that has been raging for nearly a year in this part of the Congo. But it was broken the same day it went into effect, signaling just how flimsy those efforts have been, particularly for those living in the war's shadow.
"These security interventions don't necessarily make people feel safer," says Margaret Monyani, a senior researcher at the Institute for Security Studies in South Africa. "The underlying issues aren't necessarily being dealt with."  
And in eastern Congo, those underlying issues are extremely complex.
Suffering in silence
Since the late 1990s, the region has been buffeted by fighting between the government and dozens of rebel groups, which has killed and uprooted millions. That violence has been fueled, in part, by ethnic grievances that straddle the region's borders.
The most recent fighting, for instance, is largely between the Congolese army and a rebel group called Mouvement du 23 Mars, or M23, which allegedly receives significant assistance from the government of neighboring Rwanda, according to the U.N. (Rwanda denies providing the group with any support.)  
Rwanda's involvement in Congo dates back to the mid-1990s. Rwanda invaded the DRC, then called Zaire, to hunt down perpetrators of its genocide who had taken refuge there. The conflict spiraled, leading to the overthrow of Zaire's longtime dictator, Mobutu Sese Seko, and plunging the country's eastern borderlands into violence that continues to this day.
Much of the conflict has been both driven and bankrolled by the country's enormous deposits of metals such as gold, tin, and tungsten. In 2021, the Norwegian Refugee Council, an international humanitarian agency, found that no other displacement crisis in the world received so little media attention. The Congolese, their report argued, "suffer in a deafening silence." 
M23 is one of about 120 rebel groups to emerge from this instability, which a U.N. peacekeeping force in the region – the longest lasting and most expensive initiative of its kind in the world – has proved unable to tame. Initially formed in 2012, M23 briefly conquered the city of Goma, the regional hub, in November that year. It was effectively defeated by 2013, but in March last year, the group re-formed and began launching new attacks.
Since then, about 600,000 people have fled their homes to escape the fighting. Nearly half of them are now living in makeshift settlements on the outskirts of Goma, relying on precarious humanitarian aid for survival as their crops rot, unpicked in their fields at home.
But even for those who haven't had to flee, the war has seeped into daily life in ways large and small. In the markets of Goma, for instance, staples of Congolese cuisine – like beans, palm oil, and cassava – are selling for bloated prices because they are in limited supply. Roads in and out of the city are either closed or patrolled by armed rebels, making it nearly impossible for those farmers who are still working to get their goods to market.
Another meeting, another peace deal
Since mid-2022, officials from the DRC, Rwanda, and other countries in the region have met several times to discuss ways to end the fighting. But negotiations have repeatedly broken down, in part because most of the negotiations have not included M23 itself. (M23 leaders said they found out about a cease-fire negotiated in Angola last November on social media.)
Meanwhile, soldiers from a regional East African force deployed to "enforce peace" have been met with widespread skepticism.
"At a very basic level, people want normalcy, not people walking around their cities with expensive guns," Ms. Monyani, the researcher, says.
Last week, at another meeting in Angola, M23 agreed it would lay down its arms by Tuesday, March 7 at noon. M23 spokesman Lawrence Kanukya told Deutche Welle that the cease-fire would "open the way for direct dialogue with the Kinshasa government."
But the Tuesday noon deadline for the cease-fire came and went, and fighting continued. On Saturday, the Angolan government said it would send a military unit to the eastern DRC to try to shore up the cease-fire it had brokered.
But doubts persist about the efficacy of such moves.
"I haven't seen any evidence to think the parties are coming closer to discussing" the problems at the root of the crisis, such as ethnic discrimination against Congolese Tutsis, the group at the core of M23, says Delphin Ntanyoma, a visiting researcher at the Erasmus University in Rotterdam, who studies conflict in the eastern Congo. "The current M23 is an offspring of other rebel insurgencies that claimed to defend the discriminated ethnic Tutsi," he says.
At his counseling center meanwhile, Mr. Kasali says he often hears people speak wearily of these international attempts to broker peace.
"They will tell you, the priority of the world is not our lives," he says.