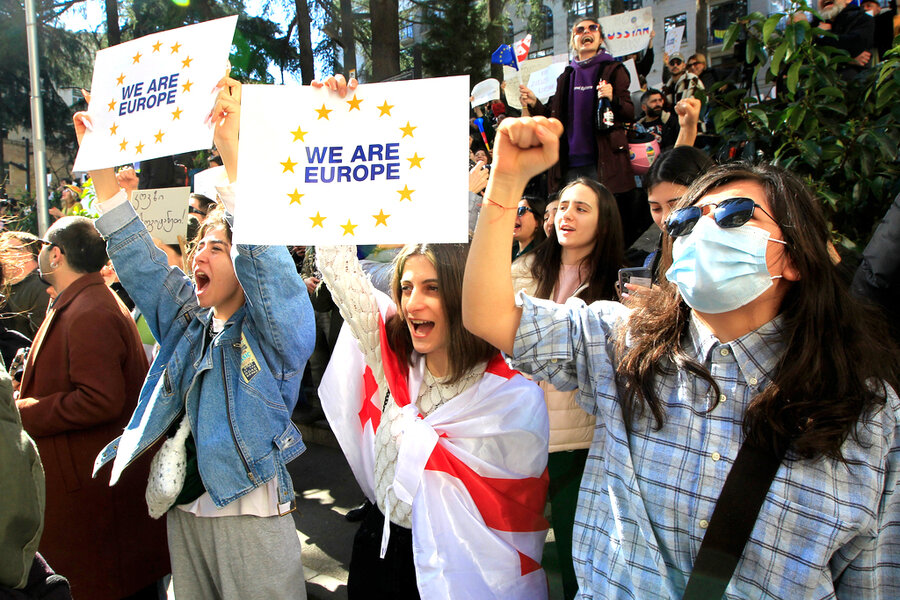 As a young democracy eager to join the European Union, Georgia was told last year by the EU to first show more harmony and less polarization in its politics. Well it certainly did that last week.
By the tens of thousands, people in the small Caucasus state turned out in great diversity, from young teens to seasoned scholars, to protest a Russian-inspired bill pushed by the ruling party to muzzle journalists and civic activists – just before an election the party fears it might lose.
"They can't erase our yearning for freedom from our brains, they can't rip it off our hearts," one protester told Politico. "I'm not afraid to be arrested. No bullets, no tear gas can stop me." The sudden burst of national unity – some 80% of Georgians want to join Western institutions – forced the Georgian Dream party to quickly shelve the measure.
Mark it up as another victory for countries near Russia – from Moldova to Mongolia – that have rejected Moscow's autocratic methods or at least distanced themselves from Russia's aggression in Ukraine. Attempts by President Vladimir Putin to re-create the Russian or Soviet empire are clearly up against global gains in democratic ideals, especially among youth.
"Moscow's claims to regional hegemony were always sustained not by genuine authority, let alone respect, but a willingness to pay in blood and treasure for the appearances of empire," writes Botakoz Kassymbekova, an assistant professor at the University of Basel in Switzerland, in Foreign Policy. "In 2023 it is no longer clear that Russia can afford this price."
The bill that almost passed in Georgia is similar to a Russian law passed in 2012 that brands any news media or civil-society groups as "foreign agents" if they receive more than 20% of their funding from abroad. Georgia's ruling party, which is controlled by an oligarch with business ties to Russia, perhaps hoped the measure would have blocked ballot watchers during next year's election.
The mass protests have clearly improved the chances of Georgia becoming a formal candidate to join the EU, the country's president, Salome Zourabishvili, told Bloomberg. "When the society is united they can defeat even the majority that is in the Parliament, and that's what is important," she said.
Now less polarized, Georgia has found more of its civic identity. As a 15-year-old protester told AFP, "Europe is freedom, Russia is a kind of prison."