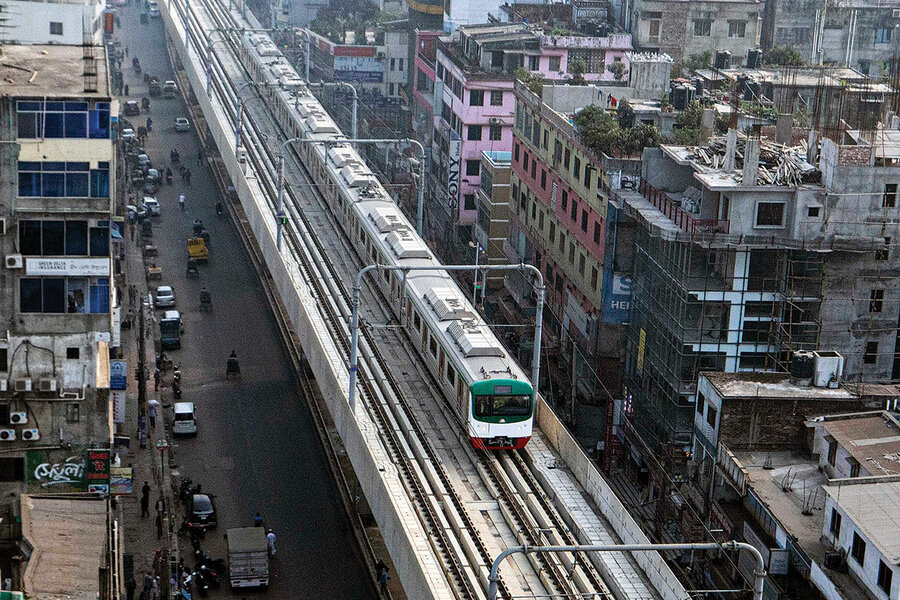 1. Costa Rica
Costa Rica has outlawed fishing of hammerhead sharks. Despite being protected since 2014 under the CITES convention, the sharks have been caught and sold in the country for years.
Local biologist Randall Arauz began raising awareness of shark finning in 2003. And since 2011, education campaigns in China have sharply lowered consumption of shark fins as a food of status and celebration, but demand has increased in other parts of Asia. For the great hammerhead shark alone, global populations have declined more than 80% over the past 70 years.
Why We Wrote This
In our roundup, progress in environmental protection is made by legal means in Costa Rica and Australia. And in Bangladesh, planning for the future includes opening the capital's first rapid transit stations.
The presidential decree comes 10 years after Costa Rica itself had requested CITES protection of a hammerhead species. In 2018, the country established a hammerhead sanctuary in Golfo Dulce, a key gulf used by the sharks to reproduce. And in 2020, the Supreme Court struck down a former president's legalization of the shark trade.   
Given its mixed record on shark conservation, wildlife advocates have questioned Costa Rica's commitment  – but are hopeful that February's decree has teeth.
Sources: Mongabay, The Goldman Environmental Prize, DeeperBlue.com, The Washington Post
2. Canada
A new helmet makes outdoor sports safer for Sikh children. Ontario resident Tina Singh, who is Sikh and an occupational therapist, designed the helmet after her children started riding bicycles, and she realized that standard helmets didn't fit over the patkas worn by Sikh boys to cover their hair. Her design meets safety certifications for use with bicycles, skateboards, scooters, and in-line skates, and is shaped to accommodate a patka. Ms. Singh wants to expand her designs to work for hockey players and remove barriers for athletes with other needs.
Moezine Hasham, founder of the nonprofit Hockey 4 Youth, based in Toronto, said "the creation of this type of helmet is now going to create an inclusive space. It's going to foster belonging."
Sources: CBC, North Shore News
3. Bangladesh
Bangladesh has opened the country's first rapid transit stations. The rail system is expected to shorten commutes in metro Dhaka, home to more than 22 million people, while also cutting carbon dioxide emissions and sound and air pollution.
The entire 13-mile line is due to be completed later this year, and five more rail lines are planned. While not heavily reliant on motorized vehicles for a city its size, unplanned roads and high population density in the fast-growing megacity contribute to congestion. In Dhaka, the average driving speed is less than 5 miles per hour, and studies suggest that drivers in Bangladesh burn 40% more fuel than necessary from time spent in traffic.
Researchers at the Bangladesh University of Engineering and Technology also note that better system integration is needed. Bus companies compete with each other for riders on more than 300 routes, lowering service quality. By 2035, buses are still expected to provide 40% of commutes. Once the first rail line is fully operational, it's expected to cut annual CO2 emissions by 500,000 metric tons by 2050.
Sources: Context, The Daily Star
4. Australia
Australia has blocked a new coal mine, based on environmental concerns. The open-pit mine was set to be located about 6 miles from the Great Barrier Reef. "The adverse environmental impacts are simply too great," said Environment Minister Tanya Plibersek in her announcement of the decision. "The risk of pollution and irreversible damage to the reef is very real."
The move marks the first time the federal government has used environmental laws to block a coal mine, and it could set a precedent for 18 other coal and gas proposals under review. The project would have produced 10 million metric tons a year of both thermal and coking coal for 20 years. Dangers to local habitats included groundwater and freshwater streams that provide breeding grounds for certain fish and carry water to the largest reef system on the planet. The Great Barrier Reef faces continuing threats, including acidification and rising ocean temperatures.
Sources: BBC, Yale Environment 360
World
Women are making strides in political leadership across the globe. More than a quarter of lawmakers – 26% – at the national level are women, up from 11% in 1995, according to the Inter-Parliamentary Union. Much of the progress is attributed to gender quotas, which typically mandate parties nominate a certain percentage of women, or reserve a certain number of legislative seats.
In Japan, women hold 10% of seats, and representation is similarly lopsided at less than 10% in about two dozen countries, including Nigeria, Sri Lanka, and Qatar. Yemen has no women in the legislature.  
But gains have been made elsewhere. In Rwanda, women make up 61% of the national legislature. Women hold slight majorities over men in Cuba, Nicaragua, and New Zealand, while Mexico and the United Arab Emirates have a 50-50 split. Women in Iceland, Costa Rica, Sweden, and South Africa make up just less than half. The United Nations predicts gender parity in national legislative bodies won't be reached until 2063.
Sources: Context, Inter-Parliamentary Union