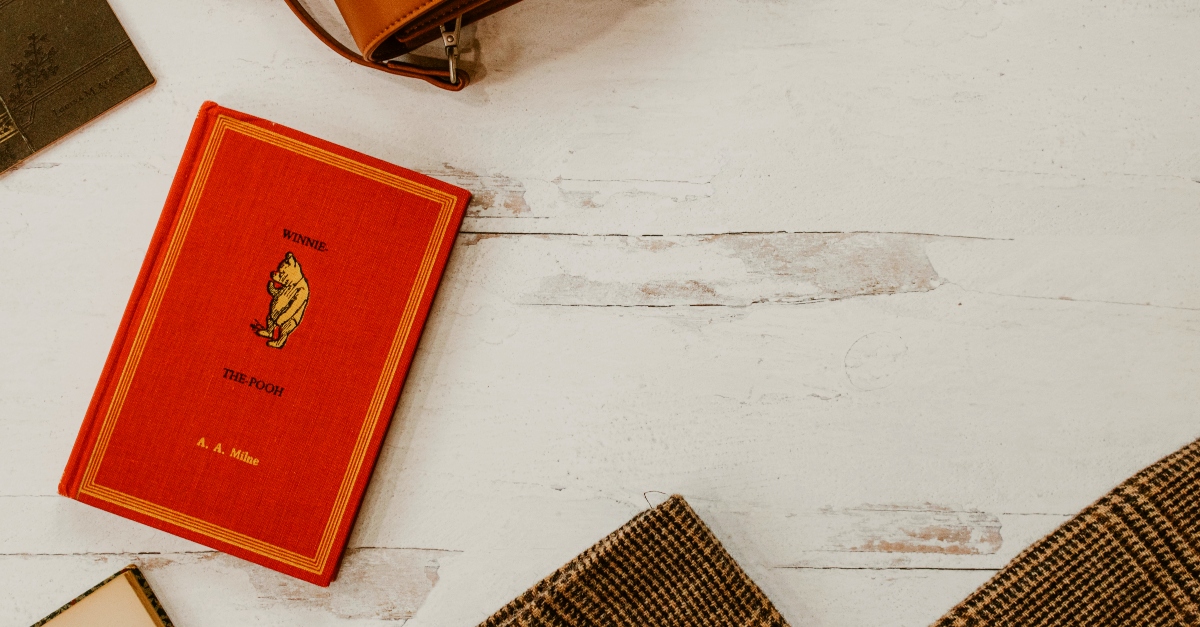 Winnie the Pooh is a beloved series across the world. The series was written by the author, A. A. Milne. He was first introduced to the idea of writing about a bear by his son, Christopher. Milne's son wanted to see a bear at the London Zoo, which was named Winnipeg, which they called Winnie.
With this name in mind, Milne set off to write a series that lives inside every child's and adult's heart. Here are five lessons from the Winnie the Pooh series.
1. You Are Smarter, Braver, and Stronger Than You Think
The first lesson from the Winnie the Pooh series is that you are smarter, braver, and stronger than you think. This is a classic quote from the book series, which is spoken by Christopher Robin when he is speaking with Pooh.
This quote is also significant to my sister's life because my mom used to tell her this quote, especially as a baby. My sister was a preemie, as her birthweight was two pounds, two ounces. As one can imagine, this was a scary situation for my mother to be in.
She was quick to remind herself and my sister in years to come that she is smarter, braver, and stronger than she thought. Despite the grave end that my sister could have come to as a baby, she showed that as a two-pound, two-ounce baby that she was remarkably strong.
Just as my late mom used to say this to my sister and Christopher Robin said this to Pooh, I also say the same to you. You are smarter, braver, and stronger than you think. Often, we have an incorrect view of ourselves due to what others have said to us.
People might say we are not smart, a coward, or weak, but that's not true. Every human being is capable of great things through Christ and through dependence on Him. While we won't be able to divinely heal others of illnesses, we are capable of helping others to the best of our abilities.
If you are having doubts about your intelligence, bravery, or strength, remember this quote from the Winnie the Pooh series. It can help remind you of how strong you truly are and the great things you are capable of.
Despite what others have said or even what you have thought about yourself, you are an amazing creation of the Lord, and He loves you beyond measure.
2. Friendships Are Vitally Important
A second lesson from the Winnie the Pooh series is that friendships are vitally important. In the modern day and age, it seems as though everyone has hundreds of "friends" or "followers."
While this might be comforting to some people, we need to ask ourselves this question — are these friends actually there for you in the hard times? 
Most of us have noticed at some point or another that some people will lose contact with us at the moment we need support. 
Maybe you are going through a period of grief or loss, yet your friend never replies to your message or checks in on you. This can be very detrimental and cause a terrible amount of pain.
Throughout the Winnie the Pooh series, Pooh is a true friend to everyone in the Hundred Acre Woods. While traditionally, Pooh is closer to Piglet and Christopher Robin, and he is still friends with Eeyore, Rabbit, Kanga, Roo, Owl, and Tigger. 
Even though the friends in the Hundred Acre Woods might disagree at times, they always work through their problems, and they are with each other through thick and thin. Never do they abandon their friends, and never do they leave issues unresolved.
Within our own friendships, we need to strive to be the kind of friend Winnie is to his friends. We need to be supportive, helpful and encouraging with our friends.
It is not good to ghost somebody or ignore them for no reason. Even if you have had a falling out, it is important to forgive. Friendships at times may come and go, yet there is something beautiful about finding a friend who never leaves.
3. We Need to Care about Others
A third lesson from the Winnie the Pooh series is that we need to care about others. Sadly, the present generation is a very much "me" focused generation. Instead of looking out for the well-being of others, priority has been placed on ourselves.
This is wrong and does not glorify the Lord. God wants us to care about others and love them just as He loves them. While this can be a hard teaching at times, especially when someone has hurt us, it is vitally important that we care about others.
Caring about others looks like putting the other person's needs above our own as well as it means that we are there for them even when it's hard.
Winnie always cares about his friends, and he never leaves any of them behind. He does this because he loves his friends. In the same way, we, too, need to care about others and want the best for them. It can be difficult at times, yet it is important that we care about others.
4. The Importance of Teamwork
A fourth lesson from the Winnie the Pooh series is the importance of teamwork. Often, we think it is best to do things by ourselves. The old saying, "If you want something done right, do it yourself," rings through most of our minds daily.
We are taught from a young age that we must do things on our own. While it is good and beneficial to do things on our own, we also need to be willing to work as a team and know how to engage in proper teamwork.
Throughout the Winnie the Pooh series, the characters of the Hundred Acre Woods are shown to have to participate in numerous occasions of teamwork. It might not go smoothly each time; however, they do successfully work as a team to get the project done.
In our own lives, we need to recognize the importance of teamwork and choose to be good team players in our work with others. Even though it's important to be independent at times, we also need to know how to be good team players.
5. We Are Never Too Old for Imagination
A fifth lesson from the Winnie the Pooh series is that we are never too old for imagination. It is without a doubt that as we get older, we are discouraged from using our imagination. After a while of not using our imagination, our imagination dies, and it can be hard to recover it again.
There is something magical about retaining an imagination and choosing to see the world in a different color than how we normally would see it. Instead of trying to diminish your imagination, it is important to preserve your imagination.
The entire series of Winnie the Pooh is based on the imagination of A. A. Milne. Although Winnie the Pooh is often associated with children, adults also enjoy the memories they have with this silly old bear.
Through the Winnie the Pooh series, the imagination we had as children starts to spark again, and we are able to become more creative in our lives. The more imagination we have and the more we feed it, the more creative we will become.
The idea that we grow out of our imagination is not true because our imagination helps us to grow into more creative, thoughtful, and whimsical human beings. It is through imagination that we have creative endeavors, such as books, songs, and poems.
There are many lessons we can learn from the Winnie the Pooh series. While many people believe they outgrow this series, for many of us, the Hundred Acre Woods is a place we can call home. It is a safe place that is filled with imagination, adventures, and friendships.
Without the series Winnie the Pooh, many of us may have never become interested in reading. In addition to getting us interested in reading, Winnie the Pooh has also given us friendships that will last a lifetime and beyond.
For further reading:
50 Christian Authors You Should Know
Can Christians Learn Biblical Truths from Works of Literature?
Should Believers Only Read Christian Novels?
Photo Credit: ©Unsplash/melpoole
---
Vivian Bricker loves Jesus, studying the Word of God, and helping others in their walk with Christ. She has earned a Bachelor of Arts and Master's degree in Christian Ministry with a deep academic emphasis in theology. Her favorite things to do are spending time with her family and friends, reading, and spending time outside. When she is not writing, she is embarking on other adventures.