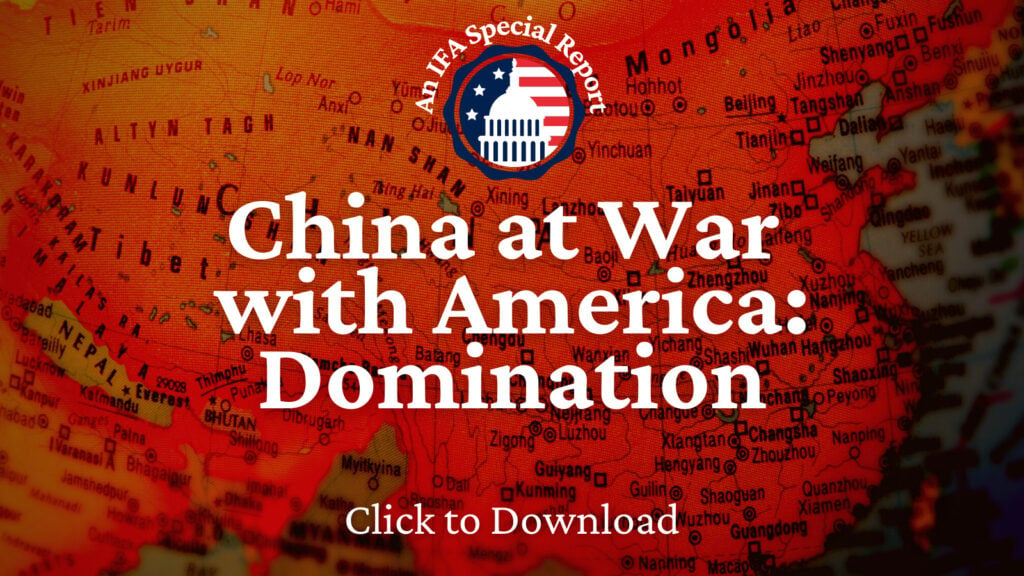 Are you surprised to learn that the Chinese Communist Party has ties to American K–12 schools, including those with Junior ROTC programs? Read on …
On March 7, 2023, Parents Defending Education requested an investigation into the Alexandria, Virginia–based TJ Partnership Fund (TJPF), fundraising arm for the arguably most prestigious high school in America: the Thomas Jefferson High School for Science and Technology (TJHSST). Over the past seven years, TJPF has raised over $1 million for the TJHSST. Why would that be a problem? Well, it's because some of the money raised has been coming from groups with strong links to China's military.
In a recent press release, Parents Defending Education exposes some questionable donors. Allegedly, TJPF received at least $350,000 from the Ameson Education and Cultural Exchange Foundation. And that is a problem because Sean Zang, Ameson's founder and executive vice president, has ties to Beijing's United Front Work Department. And according to the U.S.-China Economic and Security Review Commission, this organization seeks to neutralize any sources of opposition to the policies and the authority of the Chinese Communist Party (CCP). In 2018, the fund also took at least $500,000 from Chinese department-store giant Shirble HK. Like Zang, Shirble Chairman Yang Xiangvo is also involved with the United Front Work Department.
The TJHSST has received hundreds of thousands of dollars from China's Tsinghua University, while also helping that university to establish a STEM (science, technology, engineering, and mathematics) school in China. Tsinghua and TJHSST have mutually sponsored several exchange visits. Tsinghua has close ties with People's Liberation Army–affiliated laboratories, in addition to being the premier Chinese institution of higher learning.
Despite Parents Defending Education's sounding an alarm at these Chinese connections, a spokesperson for the Fairfax School District dismisses these concerns over TJPF's receipt of money with CCP ties, calling the funding — perhaps surprisingly, to many — "not unusual."
A bit of background: In 2013, Chinese President Xi Jinping announced the Chinese Communist Party's ambitious global infrastructure plan, the Belt-Road Initiative. As a rising world power, China would invest in projects in over 150 countries that would showcase China's position as a rising world power while expanding its influence. These projects would culminate in 2049 to coincide with China's 100-year anniversary of the founding of the People's Republic of China.
While most of those developments consist of brick-and-mortar projects, many do not. Notably, The CCP's massive influence in U.S. education has come under scrutiny from Rep. Michael Waltz, R-Fla., who sounds alarms of his own over the CCP's purchases of strategically located U.S. military academies with on-site Junior Reserve Officers' Training Corps programs. Waltz also voices concerns over the use of communist curricula in those schools.
This infringement in American schools should rouse every citizen. Looking at the history of the CCP's invasion of U.S. education, we gather insight into how to pray for God's protection over our students.
In 2004, the CCP began establishing Confucius Institute "cultural" centers on U.S. college and university campuses. By 2014, 118 such centers existed. The Trump administration called for State Department and FBI scrutiny of those institutes for promoting Chinese communist propaganda and for stealing intellectual property, and this caused their numbers to diminish. Even after the Biden administration rescinded the Trump rule, the centers kept dwindling. They did not disappear, however. Many simply changed their name to the Center for Language and Education Cooperation, redirecting their focus to establishing centers in our K–12 schools. Today, the CCP boasts such "cultural centers" in over 500 U.S. K–12 schools. Other Confucius Institute facilities began working with the United Front Work Department, enabling them to function as an arm of the CCP on our higher-education campuses. Recently, several congressional Republicans expressed concern over the CCP's influence on primary and secondary school education through these newly formed "cultural" centers.
"The Chinese Government is betting that if it takes away the name 'Confucius Institute' and tweaks the structure of the program, no one will be the wiser," said Rachel Peterson, a research fellow at the National Association of Scholars.
Along with these public school endeavors, the CCP has also focused on U.S. private schools. On Jan. 31, 2023, Waltz sent a letter to Defense Secretary Lloyd Austin to raise concerns about the CCP's purchase of private schools across America.
Waltz requested audits on two military academies whose locations present national security risks. The Florida Preparatory Academy, a coeducational college-prep school for grades 5–12, houses an Air Force Reserve Officers' Training Corps program. The school is near Melbourne, Florida's space technology hub. China-based Newopen Education Group purchased the military school in 2017. Newopen describes itself on LinkedIn as "the most influential and valuable education group in China." Newopen manages two universities, five middle schools, two primary schools, and 31 kindergartens.
The New York Military Academy, which President Trump attended as a young man, runs an Army JROTC program and is located six miles from West Point. The Research Center on Natural Conservation, which is backed by China-based Fang Holdings Ltd., purchased the academy in 2015.
The military academies are the tip of the iceberg. In December 2017, Primavera Capital, a China-based private equity firm, purchased an entire K–12 school system — the California-based Stratford School — for about $500 million. Stratford boasts 30 locations, five of them in Southern California, and 25 in the Greater Bay Area.
Waltz's alarm over the CCP's illegitimate, unjustifiable efforts to influence the next generation of our citizens, is something that even President George Washington expressed in 1799. In his farewell address, President Washington spoke of the dangers of educating American youth in foreign schools that do not hold to the values of our republic and freedoms: "It has always been a source of serious regret with me, to see the youth of these United States sent to foreign countries for the purpose of education … contracting too frequently, not only habits of dissipation and extravagance, but principles unfriendly to Republican Government, and to the true and genuine liberty of mankind: which thereafter are rarely overcome."
Turning our concerns into prayers, we can trust our God to protect us and redeem education in America.
Share below your prayers for God's protection of our nation and our young. And share this information with a praying friend!
Nancy Huff is an educator with a mission to equip believers to pray strategically for the cultural mountain of education. She is the author of Taking the Mountain of Education: A Strategic Prayer Guide to Transform American Schools; Safety Zone: Scriptural Prayers to Revolutionize Your School; and Decrees for Your School. She leads groups for prayer at key educational locations across the U.S. Find out more by visiting https://takingthemountainofeducation.com. Photo Credit: Canva.