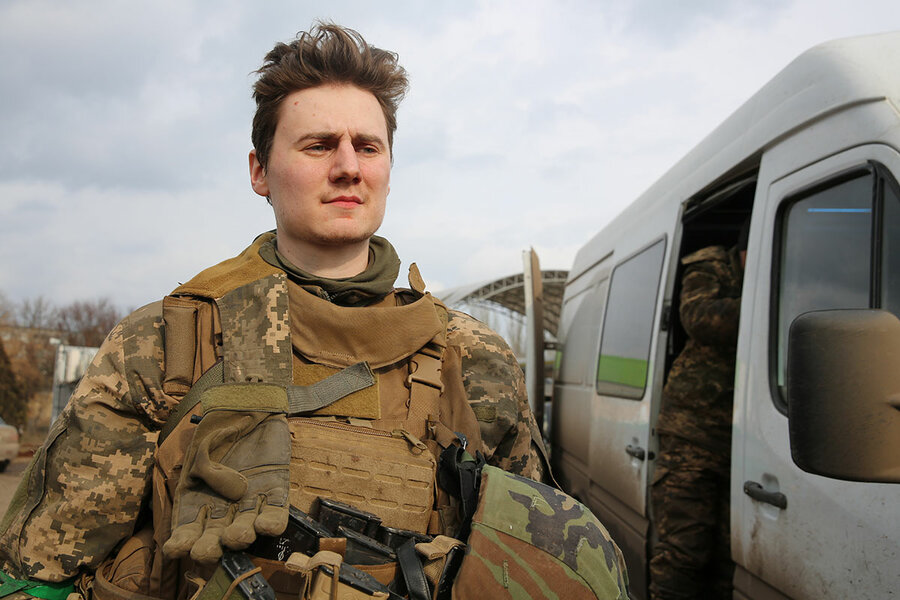 In crude military parlance, the eastern Ukrainian town of Bakhmut is a "meat grinder."
Nobody knows how many Russian soldiers have died in Moscow's long, drawn-out assault on Bakhmut, nor how many Ukrainians have died defending it. But the scale of the carnage can be judged by the words of one young Ukrainian soldier as he took a few hours of leave near the Bakhmut front this week.
Why We Wrote This
Whether Russia or Ukraine wins the battle for Bakhmut, heavy casualties mean it will be a Pyrrhic victory. Russians are fighting for a symbol; Ukrainians are fighting for their home.
"Russians got as close to us as 30 meters," he said. "I've never seen so many people walking straight into the bullets, willing to die like that. Nothing prepared me to see such sights."
Bakhmut has no great strategic importance, but Russian President Vladimir Putin is anxious for a military victory and has chosen to do whatever it takes to capture the town. By the same token, Ukrainian leader Volodymyr Zelenskyy feels he cannot surrender the place.
"All we can do by fighting with all our might is exact the highest price possible for each meter" that the Russians take, says Yan Antoniuk, a Ukrainian squad commander near Bakhmut.
Asked whether the town is worth such a high cost, he is blunt. "That is like asking whether you want to be a slave or not," he says.
Leaning against a low wall in the shadow of a building large enough to provide cover from Russian shellfire, Mykhailo sips his tea with calm determination as he and fellow members of his unit await evacuation. For weeks, they have been defending Bakhmut against an intense Russian onslaught in a battle that has come to symbolize the savagery of the war in Ukraine.
Covered in mud and visibly exhausted, none of the men flinch or take cover when a mortar lands uncomfortably close. The fierce battle has subjected nearby towns such as Chasiv Yar, a few miles from the Bakhmut front line, to a constant barrage of tank shells, mortar rounds, and thundering Grad rockets.
"We are holding onto the city, but at what price?" wonders Mykhailo, a member of the Ukrainian army's 77th brigade who shared only his first name. "The losses are huge. If we keep this city, who will walk in it? Just dogs?"
Why We Wrote This
Whether Russia or Ukraine wins the battle for Bakhmut, heavy casualties mean it will be a Pyrrhic victory. Russians are fighting for a symbol; Ukrainians are fighting for their home.
"The fighting has been hard all along," says Sergiy, a soldier with honey-colored eyes brimming with tears. The men are in shock. One of their comrades was killed hours earlier in Bakhmut, the latest casualty in a battle that has been as long as it has been brutal, leaving the town almost completely destroyed after 10 months of fighting.
The soldiers know they have been risking their lives to hold positions of questionable strategic value. They find courage by channeling their anger against Russia over fallen comrades and atrocities committed in Ukraine, as well as the primal instinct to defend their homes and families.
Ukrainian President Volodymyr Zelenskyy, like the Russian army, has assigned great symbolic meaning to Bakhmut, making it a potential morale game changer for both camps.
Moscow covets full control of the industrial, coal-rich region known as Donbas in eastern Ukraine. That part of the country has been plunged into conflict since 2014, when Russian-backed separatists annexed large swathes of Ukrainian territory. Russian forces have taken over almost all of Luhansk since the full-scale invasion in 2022 and have gained new ground in Donetsk.
Russian forces, reportedly largely made up of fighters belonging to the mercenary Wagner Group, are closing in on Bakhmut, and the town has appeared on the verge of falling under complete Russian control for several days. The Ukrainian government fears such an outcome would open the road to larger cities such as Kramatorsk and Sloviansk.
That concern is reflected in newly reinforced checkpoints on intercity roads west of Bakhmut, and in the work of mechanical diggers on nearby hilltops, creating new defensive positions. 
The Washington-based Institute for the Study of War, in a report Wednesday, estimated that Russian forces controlled about half of Bakhmut, but doubted whether the town's eventual fall would lead to a rapid advance by Russian forces.
"Nothing prepared me"
Several miles further from Bakhmut, the war has turned a small gas station into a bustling hub for Ukrainian and foreign fighters rotating in and out of combat along the extensive front line. Its forecourt is packed with military vehicles refueling; its small shop crowded with soldiers stocking up on energy drinks and fast food.
A band of young soldiers rush to swallow their hot dogs before jumping back into their vehicle to return to Bakhmut. Clenched jaws replace ready smiles as they slip back into body armor and helmets.
"In the last 24 hours our position was attacked at least 10 times," says Lt. Yuri Andriyaschenko, who once worked as a massage therapist. "Russians got as close to us as 30 meters. I've never seen so many people walking straight into the bullets, willing to die like that. About 20 at a time. Nothing prepared me to see such sights."
He admits to being frightened but is careful not to let that show. The stakes are too high – Russian occupation would be worse than death, he says. But still, the act of killing troubles him. "It is morally hard to point a gun at a person, to kill a person," he says. "I am doing that every day and that's hard to do – even when I know that they want to kill me."
Offering solace to men facing such agonizing choices is the Rev. Oleh Maksymets, who ushers all who stop at the filling station toward a table set with soup, cubes of pork fat (a Ukrainian favorite), and sweet pastries.
"Many people bring food, but it is also important to bring food for the soul," says the chaplain, who used to hold services in prisons and now does so wherever he can on the front line: in trenches, in basements, and even at gas stations.
For him, the war in Ukraine is a great battle between good and evil. The images of children shot at point-blank range in Bucha, a small town outside Kyiv still haunt him. "It is very important to have a strong spirit to continue fighting," he says.
Pain and sacrifice
The pain and sacrifice of the front line made itself felt in the capital, Kyiv, on Friday as mourners buried a nationally famous military commander – one of the youngest to be awarded the Hero of Ukraine medal – who was killed near Bakhmut on Tuesday.
His bravery was captured in a final front-line image of him using a bucket of water to battle the flames of an ammunition-filled tank set ablaze by a Russian shell.
Thousands showed up to pay their respects to Lt. Dmytro Kotsiubailo, code-named Da Vinci. Among them was young mother Alisa Riazantseva, trying to keep track of her toddler Ivan in the crowd and shedding tears for the sacrifice of this fallen soldier.
"We feel enormous grief and pain because there are thousands like Da Vinci," she said. "We are working on having another child because so many men and women are dying in this war."
Neither Ukrainian nor Russian officials publish casualty figures, but in Bakhmut they are appalling. In the three days before Lieutenant Andriyaschenko set off for his new Bakhmut posting, he says, half of the 700 men in his battalion were either killed or wounded. It is hard for foot soldiers like him to decipher the strategic thinking of their superiors.
"We are holding onto Bakhmut but we are paying a high price," he says. He summons the drive to fight on, he says, by thinking of the devastation that towns which have come under Russian control suffered. "Russian occupation is the scariest thing," he says. "We cannot let that happen."
Yan Antoniuk is a squad commander stationed on one of the main roads leading to Bakhmut. He is "almost sure" that Russian forces will eventually encircle the town. "We are outnumbered and outgunned," he acknowledges. "The Russians are fighting and unfortunately advancing one meter a day. All we can do by fighting with all our might is exact the highest price possible for each meter. The casualties on both sides are massive."
Asked whether Bakhmut is worth such a high cost, he is blunt. "That is like asking whether you want to be a slave or not," he says. "It all comes down to a village, a town, a forest, or a bridge. Today and every day they are invading our home. We have to protect it."