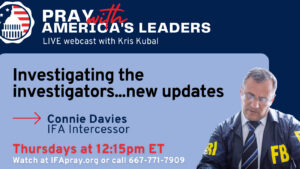 Analysis. What are we to do when the government's actions harm citizens? IFA's Chief Program Officer Kris Kubal explored this on the March 2 Pray with America's Leaders. Joining her were three IFA state prayer leaders: Dr. Susan Kess, a co-leader of the Nebraska group; and Bill and Betsy West, the co-leaders for Pennsylvania.
The medical crises discussed — the February 2023 derailment of a Norfolk Southern train in East Palestine, which unleashed multiple toxins; and the COVID-19 pandemic — highlighted governmental incompetency and malfeasance. Another derailment in early March is seemingly being handled with more caution.
Medical dangers are serious. Kess, who is a doctor, is experienced in emergency preparedness and disaster management related to chemical, biological, nuclear radiological, and explosive events. Among many assignments, Kess worked for the Centers for Disease Control, the Division of Health Assessment and Consultation, and the Department of Homeland Security.
About the toxins from the train derailment, she said:
You actually can almost denude your whole respiratory [tract]. … If you take a chemical and you [inhale it] … your immune system gets depressed. … You may have exacerbation of your asthma or your emphysema or whatever other diseases you have. And then when you have stress put on your lungs, you have stress put on your heart. And so it could exacerbate quite a number of things.
Bill and Betsy West attended a public hearing about the train derailment on Feb. 23. That hearing was hosted by Pennsylvania Sen. Doug Mastriano (R-33), chairman of the Veterans Affairs and Emergency Preparedness Committee. Said Betsy:
Pennsylvania was greatly affected by what was going on here. And no one was ever made aware of where this pollutant was in the air, and/or what direction that it was going. … When Senator Mastriano came in several days early … he was only on-site about 30 to 40 minutes, when his own skin began to burn, and his throat began to burn. And he got the headache that they all said that they were plagued with.
The toxic train disaster also has unleashed widespread environmental damage.
Betsy added:
We saw evidence of the fish kill and the raccoons that had come down to the water to drink were lying dead. One woman … said, "I missed the sound of birds." There's no birds. This is spring — we should be hearing the birds begin to come alive. There are no birds. … It's like a Chernobyl.
Said Bill:
The prevailing winds come from the west, so it was blowing the toxins into Pennsylvania, but the watershed flows in the opposite direction.  You have winds coming west to east and water going east to west. It, it contaminated the whole thing.
Each disaster exposed potential dereliction of duty. According to Kess, key items were missing in the derailment crisis: A manifest listing all cargo, including any toxins; special placards noting hazardous materials; and testing for the interaction between chemicals during the explosion. Lacking this information left first-responders directionless as to the materials spilled and the safest way to dispose of them.
Lack of expertise compounded the derailment crisis. Responses are handled by local first-responders — in this case, volunteers — and government officials. Local officials would be responsible for calling upon state or federal agencies for help after the initial incident is contained.
Official and media reports riddled with miscommunication added confusion to the crisis.
Kess' suspicions were aroused when Ohio Gov. Mike DeWine said that elevated volatile-organic compounds found in the first homes tested were not related to the train derailment. Kess disagreed, saying the contaminant was common to similar disasters with which she was involved.
According to Betsy, initial evacuation instructions were incomplete, causing many people to inadvertently flee in the direction of the air pollution, rather than away. But local and state officials seriously understated the danger.
Said Betsy:
Some of the women … said that right away they began to scrub down their walls … only to find out it made them sicker, because everything they were scrubbing was toxic. They did leave, they were evacuated, but then encouraged to come back.
Messages continue to be mixed. Betsy said:
However, [local and state officials] said, "Don't let your children play basketball. Don't let them do outside sports." …  Even … just this morning, I heard on the news that now the state EPA is telling them it's okay to drink the water: "It's safe, you can drink it, but don't let your children play in the creeks or any of the waterways." So it's a mixed message.
Of people affected by the toxins of the derailment, Bill said:
They knew before the accident, they were fine. After the accident, they weren't fine. … The average person intuitively knew that something was wrong. And it is so insulting when you could see something right in front of you that is destroyed and someone says, "No, it's just fine."
Similarly, the COVID-19 crisis is further complicated by suspicions about political and economic motives behind government actions.
Kubal listed a number of ideas — labeled "conspiracy theories" by government officials — that have since proved to be true.
Among them: the lab leak origins of the virus. The FBI, foremost in censoring this theory, admitted this week that the virus did leak from the lab. Dr. Anthony Fauci, tied to the Wuhan, China, lab from which the virus leaked, conspired with the FBI, other agencies, and technology companies such as YouTube, Facebook, and Twitter to discredit, censor, and de-platform those with alternate opinions about COVID-19, its origins and the vaccines.
Masking — long advocated by officials and media — has been debunked, as well. According to Kess, even the best mask can't block a tiny virus, and the strain of breathing through a mask can draw contaminants in.
Then there is the forcing of vaccinations by discrediting natural immunity. As Kubal said: "Now there is a study that proves that the natural immunity we get from God is 90% effective as opposed to 36% and — at the very highest, 78% — through vaccine immunity."
As Kubal said, the mandates to force vaccination led to vicious verbal attacks, loss of employment or educational opportunities, social shunning for those who opted against the injection. Some people have suffered serious side effects from the untested injections.
The credibility crisis could lead to dangerous backlash against mandates. According to Kess, mandates did not stop the spread of COVID-19, but they may be necessary if a more deadly virus is introduced, in which only sheltering in place and herd immunity are effective.
Trust in the government's competency and integrity is broken. Betsy said:
If the government would come out tomorrow and say, "Here is the next strain, and you are gonna die if you go inhale the air outside your home," I would not believe it, because it's like the cooking of the frog. They kept me in the water so long now that nothing they say will convince me.
Mistrust has divided citizens, as well. Kubal said. "People were saying, 'You're killing people by not getting the vaccine.'"  Betsy counted the costs of government actions related to COVID-19: Churches, workplaces, hospitals, and assisted-living facilities were closed. People lost jobs and incomes. Families became divided over masking, vaccines, and treatments. Those with alternate views were shunned and ridiculed. People — especially young people — have become fearful.
According to Bill, another casualty of governmental incompetency and lying has been wisdom:
Wisdom apart from the Bible is really nonsense. … It is like we need to trust God in these situations.
When you can't trust the government, intercessors need to pursue the gifts of the Spirit. "So that I hopefully by faith will know to turn to the right or the left and tell my friends to do the same," Kess said.  "And we all have to hear from the Holy Spirit: 'Is this the way that you want us to go?'"
We may need to lead others in these days. "When they get scared enough, they will ask," Kess said. "We have to be prepared. We have to have our lamps full of oil, and we have to have all the weaponry that we can possibly use to lead the people."
Let us pray:
Lord, use these crises to prepare Your people to lead others into the Kingdom. We pray Psalm 11 over these crises and those to come.
What do you think about the government's actions? Share your own prayers below.
New York City–based Joyce Swingle is an intercessor and a contributing writer for IFA. With her husband, Rich, also a contributing writer for IFA, Joyce shares the gospel of Jesus Christ around the world through theater, speaking, writing, and film. Prior to going into full-time ministry, Joyce worked for about 20 major magazines and now works in pastoral ministry and Christian counseling. Photo Credit: Canva.