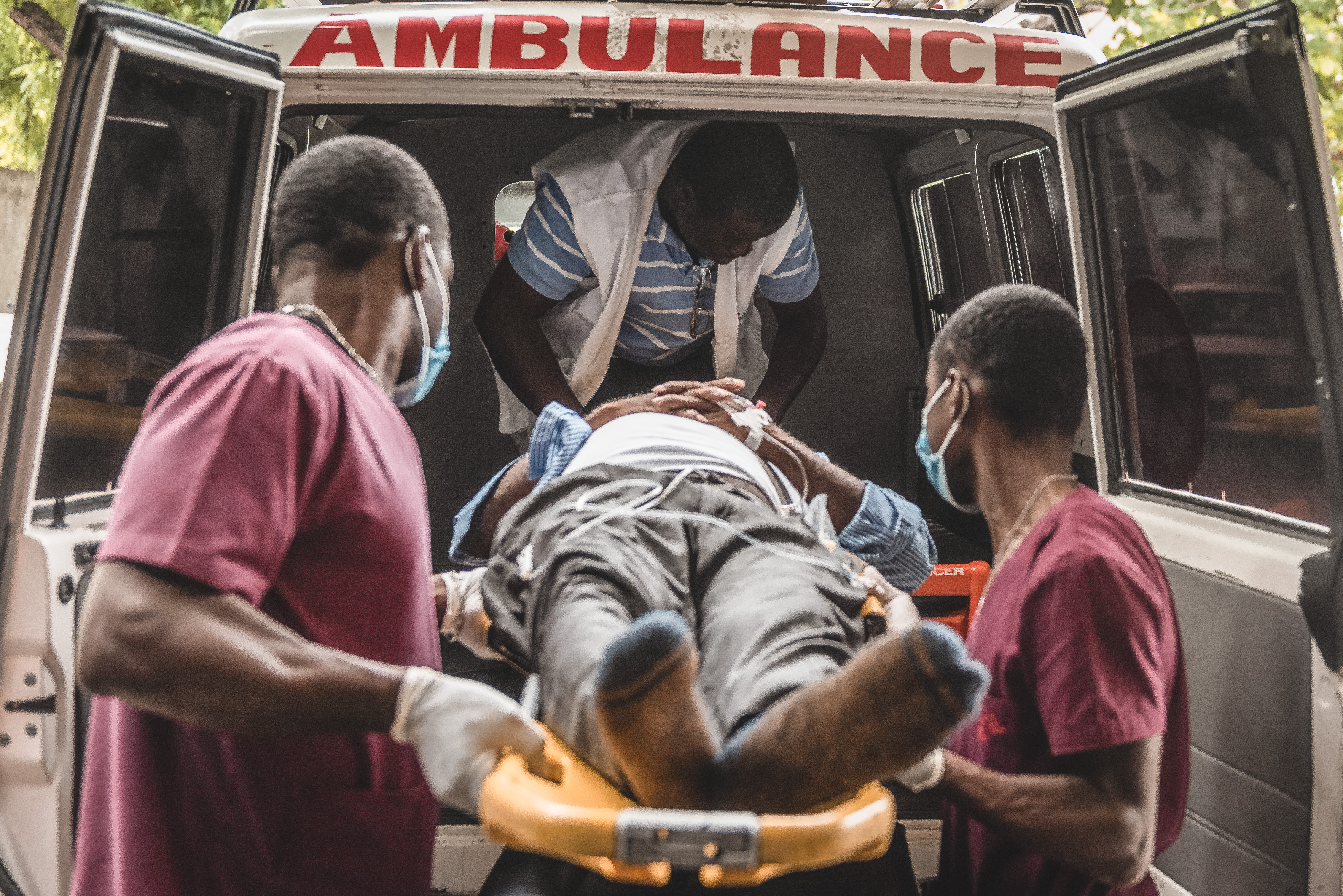 Rising rates of child malnutrition. Outbreaks of infectious disease. Armed conflict. Growing numbers of displaced people. Doctors Without Borders/Médecins Sans Frontières (MSF) responds to an extraordinary range of humanitarian emergencies all over the globe, many of which go under-reported by mainstream media and neglected by the international community. 
MSF teams bear witness to these emergencies firsthand, and  have a particular responsibility to speak out and demand urgent attention to and greater awareness of these situations. Highlighted below are several forgotten emergencies around the world, and how MSF teams on the ground in these places are delivering lifesaving medical humanitarian aid to people in crisis and working to increase access to care.
Haiti
Compounding emergencies are fueling an escalating humanitarian crisis in Haiti. Years of political and economic instability, widespread violence, and, since the beginning of October, the resurgence of cholera all threaten the health and safety of Haitian people.
MSF has been providing medical care in Haiti for over 30 years. The organization currently runs eight projects throughout the country, responding to life-threatening emergencies including trauma cases, burn victims, and survivors of sexual violence. MSF also responded to natural disasters, such as the earthquakes in 2010 and 2021. 
MSF teams currently manage more than 60 percent of Port-au-Prince's bed capacity to treat cholera patients. Since the end of October they have treated an average of 270 patients a day in its centers, compared to about 50 a day in the first two weeks of the outbreak. In total, MSF has admitted more than 8,500 patients for cholera treatment and recorded 97 deaths. The group is calling for an urgent scale-up of the outbreak response from international organizations and donors as the emergency continues to escalate.
Afghanistan
Over a year after the transition of power in Afghanistan, the country faces a cascading humanitarian crisis. MSF has expanded its medical programs there to meet the growing needs.
Following the US military withdrawal and subsequent takeover by the Taliban, international support for medical and humanitarian needs in the country has declined sharply, while the extreme hardships faced by Afghans have only intensified. Food prices have soared, meaning many people do not have enough to eat, and a prolonged drought has only added to food insecurity and malnutrition nationwide.
Even though many other international aid organizations have left the country, MSF teams have remained to ensure the continued availability of free and much-needed health care—even expanding efforts this year to provide help to severely malnourished children in Kabul, and emergency medical care following a major earthquake in June. MSF teams are now in six provinces across Afghanistan, providing a full range of health services to those who need it most.
Somalia
Somalia remains stuck in an unrelenting cycle of floods, drought, decades-long conflict, disease outbreaks, and inadequate humanitarian response that have taken a heavy toll on people who barely have time to recover from one crisis before another hits.
After four failed rainy seasons many people lost their livelihoods when their crops failed and livestock died, making it harder for families to purchase food. Many describe a state of desperation—not knowing where they will get what they need to survive and relying solely on humanitarian assistance.
As the worst drought in 40 years withers the country, MSF is working diligently to care for growing numbers of acutely malnourished children—roughly 500 each week—in Baidoa city in South West state. This emergency has been exacerbated by deadly infectious diseases, such as measles, and the rise of waterborne diseases, such as cholera, as a result of poor water and sanitation services in the overcrowded living conditions in hundreds of informal shelters and sites all over the city. 
South Sudan
Years of conflict in South Sudan have forced millions of people from their homes. Exposed to extreme violence and living in fear for their lives, hundreds of thousands of people in South Sudan are unable to access necessities such as food, water, and health care.
MSF works in hospitals and clinics throughout the country, where some of the organization's biggest programs worldwide are being run. The teams behind these programs provide basic and specialized health care and respond to emergencies and outbreaks affecting isolated communities, internally displaced people, and refugees from neighboring Sudan.
In addition, some 835,000 people across vast areas of the country were affected by catastrophic floods in 2021. MSF teams in Bentiu, Leer, and Mayom in Unity state, and Ayod and Fangak in Jonglei state, responded to the immense needs, delivering emergency health care through mobile clinics, hospitals, and health centers. Across these projects, MSF teams treated tens of thousands of people, mostly for malaria, malnutrition, respiratory tract infections, and acute watery diarrhea. In addition, key relief items were distributed to displaced families, including plastic sheeting, mosquito nets, and soap.
As time passes, the armed conflict and unprecedented flooding in South Sudan have become less conspicuous in international media coverage, but the people suffering the effects of these crises remain in desperate need of help. 
Nigeria
Continuous armed conflict over the past 13 years has also had dramatic consequences for Nigerians. Thousands have died from the fighting, and malnutrition, measles, and malaria have killed many more. Many people are unable to farm or sell their goods, and mass displacement has resulted in catastrophic living conditions.
MSF has been responding to disease outbreaks and emergency health needs in Nigeria for many years, focusing on maternal and pediatric health care throughout the country. Since mid-2021, the organization has scaled up nutritional activities in the Northwest, as a growing (yet largely ignored) malnutrition crisis is pushing people to the limits. MSF teams have treated close to 100,000 children for acute malnutrition this year alone, and in one of the areas most affected they witnessed a 64 percent increase in the numbers of severely malnourished children from January to August 2022 compared to the same period last year.
MSF's mission is to respond to emergencies around the globe, regardless of how much attention they get in the media. These crises may be forgotten by many in the international community, but not by MSF's teams on the ground all over the world.
Help ensure that Doctors Without Borders can continue this essential and often overlooked work. Your support will help MSF continue to provide lifesaving care where it's needed most. Donate Today